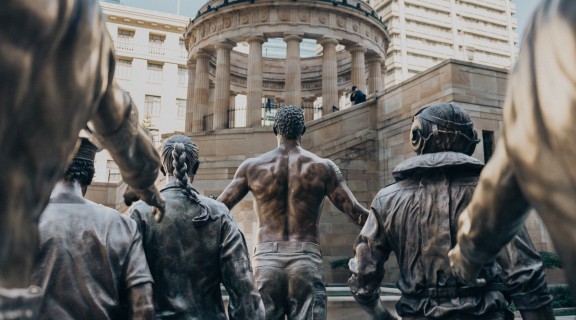 /

Indigenous Veterans' Ceremony: special opening hours
Indigenous Veterans' Ceremony: special opening hours
Anzac Square Memorial Galleries will be open special hours—from 10am to 2pm—on Saturday 27 May for patrons wishing to explore our free exhibition on the day of the Indigenous Veterans' Ceremony.
Hosted by RSL Queensland, the Indigenous Veterans' Ceremony recognises the invaluable contribution of our Indigenous service people to Australia's Defence Force, both past and present.
Despite being legally excluded from military service until 1949, Aboriginal and Torres Strait Islander people have served our nation in armed conflicts since the Boer War, and continue to serve our country today. It is estimated that about 1,000 Indigenous Australians served in World War I alone. Yet, the stories of Aboriginal and Torres Strait Islander service men and women are rarely acknowledged in the fabric of Australian history.
The Indigenous Veterans' Ceremony, which will take place around the Shrine of Remembrance from 11 am to 12 noon, aims to redress this imbalance by commemorating their valour and sacrifice, and is another step in our nation's path to reconciliation.
Before and after the ceremony, visitors can delve deeper into the history of Queensland's Aboriginal and Torres Strait Islander service community on an interactive journey from the First World War to today inside Anzac Square Memorial Galleries. Speak to our friendly team to discover some of the remarkable First Nations stories within our military collection, including WWI soldier Frank Fisher, Staff Sergeant George Bostock, and current Indigenous Elder of the Australian Army Aunty Lorraine Hatton OAM. While visiting the galleries, you can also request a complimentary poppy to place for the hero in your life, before talking time to reflect in the tranquil parklands.

Anzac Square Memorial Galleries is located at 285 Ann Street, Brisbane. Entry is through the double brass doors located beneath the Shrine of Remembrance.
Contact the organiser
Anzac Square Memorial Galleries