/

Game Changers with Culture Kings co-founder Simon Beard
Game Changers with Culture Kings co-founder Simon Beard
People aren't buying this product, they're buying this feeling, this state, this emotion. If I can generate it myself, I can give it to them.

Simon Beard
Simon Beard, the visionary behind the internationally acclaimed streetwear brand Culture Kingsopen_in_new, joins us in conversation for our next Game Changers event.
QUT Business graduate Simon co-founded Culture Kings alongside his wife Tahnee. Their journey began with a single market stall at Carrara Markets on the Gold Coast, and through Simon's marketing prowess and strategic product development, in combination with Tahnee's operational and retail know-how, they transformed their brand into a global powerhouse—while still in their twenties.
Culture Kings, established in 2008, has since become a predominantly e-commerce business with VIP clientele of celebrities such as Snoop Dogg, A$AP Rocky, and Cristiano Ronaldo. Simon and Tahnee's remarkable story is marked by their bold choices and unwavering determination to succeed. Their unique approach to retail as a theatrical experience has turned Culture Kings into an immersive destination, seamlessly integrating fashion, music, culture, and sports.
'It's like they've got a cape on their back and they fly out of that store.'
Simon Beard remains devoted to the values that have shaped Culture Kings, despite his astounding achievements. Together, Simon and Tahnee's hands-on attitude and strong work ethic have navigated the company through various obstacles, such as the 2017 fire that resulted in millions of dollars' worth of damage to stock and orders.
Following the sale of a majority stake in Culture Kings to US-based a.k.a Brands, Simon and Tahnee continue to spearhead the business from their Queensland headquarters, while retaining a significant stake in the New York Stock Exchange-listed firm. They are dedicated to staying at the cutting edge of global retail and providing an unforgettable customer experience across their 9 store locations in the US, Australia, and NZ, employing 500 people worldwide.
Hear from Simon about his extraordinary journey, innovative business approach, and the invaluable lessons he's learned along the way. The Beards exemplify the power of vision, determination, and a strong partnership in achieving outstanding success.

Seize this chance to gain insights from the brilliant mind behind Culture Kings, as Simon recounts the tale of building a world-class brand from scratch.
Culture Kings were inducted into the Queensland Business Leaders Hall of Fame in 2022.
About the facilitator
Gary Mortimer is a Professor of Marketing and Consumer Behaviour at the QUT Business School. Prior to joining QUT, Professor Mortimer spent over 25 years working with some of Australia's largest general merchandise and food retailers.
He is an active researcher in the areas of consumer behaviour and retailing. In 2020, he was appointed as the Chair of the Australian Retailers Association (ARA) Consumer Research Advisory Committee and more recently appointed as the Interim Chair of the new federally funded Jobs and Skills Council 'Skills Equipped', responsible for Retail, Personal Services, Arts, Tourism, Travel and Hospitality. Professor Mortimer also sits on the editorial boards or the Journal of Retailing and Consumer Services and International Journal of Bank Marketing.
Widely recognised as Australia's leading retail expert, industry keynote speaker and regular media commentator. He works closely with Australian television, print, online and radio media to engage broadly with audiences, outside of academia.
Can't make it in person? Join us online from home.  Don't miss a second of this conversation, tune in via live stream. 
Game Changers is presented by State Library of Queensland, in partnership with QUT Business School and supported by Queensland Business Leaders Hall of Fame.
About Game Changers
Game Changers brings innovation leaders from business, technology, and creative industries to share their insights with aspiring Queensland entrepreneurs. This is your chance to ask how entrepreneurs and business leaders build companies, reinvent themselves, inspire teams, and envision success. Game Changers is a Queensland Business Leaders Hall of Fame initiative presented by State Library of Queensland, QUT and the Queensland Library Foundation.
The talk will be live streamed and you can join the conversation online using #qblhof @slqld @QUT. Book for the livestream here.
Alternatively, you can ask questions via slido.com - use the code #qblhof
If you have questions about this event email slqevents@slq.qld.gov.au or phone 07 3842 9318.
Subscribe to be the first to know about our program of events.
Disclaimer: The views expressed by the speaker are their own and the promotion of products/services is not endorsed by State Library.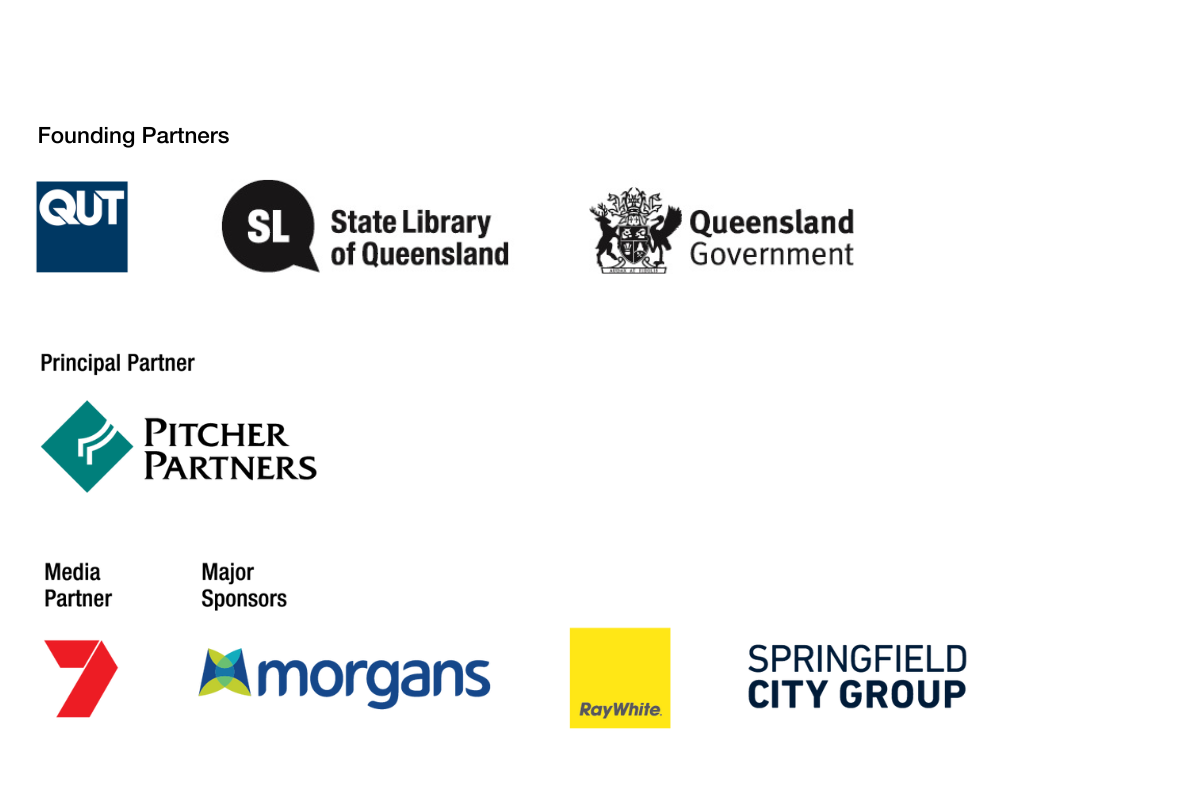 Contact the organiser
Community Connections