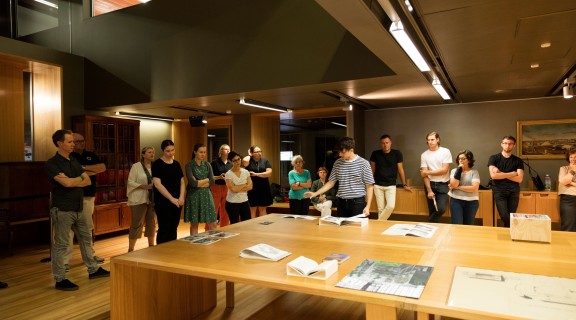 /

Design finds: black gloves experience
Design finds: black gloves experience
See First Nations collection items that influenced Brett Leavy's virtual heritage time machine, Virtual Songlinesopen_in_new, in an intimate experience at State Library. Join Brett and librarian Tania Schafer as they present significant items from the collection.
About Brett Leavy
Brett Leavy, director of Bilbie Virtual Labs, uses augmented and virtual realities to authentically represent First Nations cultural heritage landscapes. Brett descends from the Kooma people whose traditional country is bordered by St George in the east, Cunnamulla in the west, north by the town of Mitchell and south to the Queensland/New South Wales border.
Brett creates software for visualizing heritage landscapes for PC, AR, and VR and contributes to conservation and environmental management using First Nations research methodologies. He works to apply environmental policy, community engagement, and enable First Nations people better manage their continuous connection to culture.
This event is part of Asia Pacific Architecture Festival 2023.
Book now
When

Wed 14 Jun · 6–7:30pm + 1 more events

Price

Free

Bookings required

Location

Share
Contact the organiser
Applied Creativity