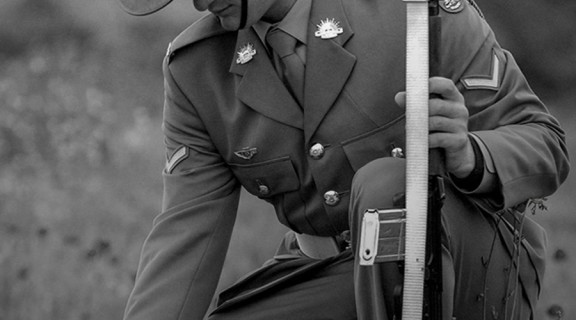 /

Commemorate Remembrance Day
Commemorate Remembrance Day
On Saturday 11 November, State Library will join millions of Australians in observing one minute's silence at 11am to commemorate Remembrance Day – a quiet moment held in recognition of those who have served, died, or suffered in all wars, conflicts, and peacekeeping operations.
Anzac Square Memorial Galleries, located beneath the Shrine of Remembrance in Brisbane's CBD, will be open special hours from 9:30am to 2pm for patrons wishing to explore the free exhibition; where stories of courage, resilience, bravery, and sacrifice are etched in the hearts and minds of all who visit, and where you'll leave holding the Anzac Spirit in ever greater reverence.
Patrons wishing to attend the 2023 Queensland State Remembrance Day ceremony before or after their visit to the Memorial Galleries are welcome to gather around the Shrine of Remembrance (on Ann Street) with formal proceedings to take place from 10:15am—11:30am.
Collect your free poppy from Anzac Square Memorial Galleries.
Back by popular demand, visitors can also delve deeper into Queensland's military history in the lead up to Remembrance Day on a free, 45-minute guided tour of the Memorial Galleries, exploring the history, traditions, and Queensland war heroes that exemplify this important day. Bookings essential. Click hereopen_in_new to register.
Are you looking for activities to help your children or scouts learn more about Queensland's military history this Remembrance Day? Come along to Anzac Square on Sunday 29 October between 10am and 3pm and have a go at our free self-guided Scavenger Hunt!
Our littlest visitors can explore the importance of Remembrance Day with their parents and carers through Storytime and craft activities at Anzac Square Memorial Galleries. Bookings essential. Click here to register.
Commemorating from work or home? Pay your respects anytime by placing a poppy online or by request at Anzac Square Memorial Galleries. It's free! Our friendly team can place a poppy on your behalf inside the Memorial Gallery of your choice or tell us which specific memorial plaque is meaningful to you, and we'll place it there. Click here to place a poppy.
Whether you're honouring Australia's broader defence force, or recognising a military hero in your own life, taking a moment to commemorate helps ensure those who made the ultimate sacrifice are never forgotten.
If you're looking for inspiration, or a reason to commemorate, browse Our Stories to learn more about the everyday Queenslanders who have served Australia on the home front and the war front for over a century.
Visit Anzac Square & Memorial Galleries for more ways to commemorate this Remembrance Day and don't forget to share your day with us by using the hashtags #AnzacSquare and #RemembranceDay2023 on social media.
Anzac Square Memorial Galleries is located at 285 Ann Street, Brisbane. Entry is through the double brass doors located beneath the Shrine of Remembrance.
When

Sat 11 Nov · 9:30am–2pm

Price

Free

Share
Contact the organiser
Anzac Square Memorial Galleries