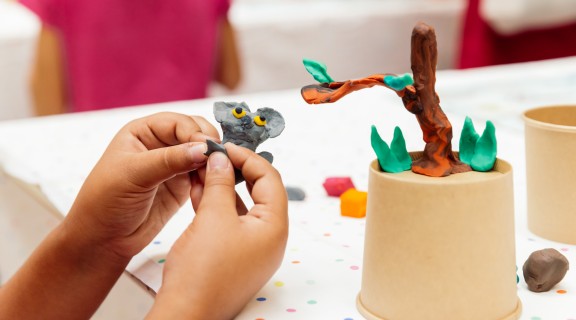 Claymation creation
Recommended ages 6 to 12 years.
Get ready to unleash your creativity! Join Bazil Grumbleopen_in_new for a fun-filled adventure as we combine clay, storytelling, and stop motion animation to bring your ideas to life. In this hands-on maker workshop, you'll learn how to craft your own characters using colourful clay.
Work together to develop an exciting storyline that you'll transform into a stop motion animation masterpiece. Learn the art of character animation and bring your creations to life to create a one-of-a-kind film that you can proudly share with family and friends. Whether you're a budding filmmaker or just love getting your hands dirty, this workshop is the perfect place to let your imagination run wild and create something truly amazing! 
We encourage participants to bring along your own device, so you can continue your project and learning at home with what is available to you. 
Places are limited and tickets sell fast, so be quick to book! 
Subscribe to be the first to know about our future events.  
Before you book
All children must be accompanied by an adult during these workshops.

Each child and adult participating will need to purchase a ticket as spaces are limited.

Adults do not require a paid ticket if they do not intend to participate in the workshop but are encouraged to come along and join in the fun.
Holiday fun discount
Receive 10% off all in-store purchases at the Library Shop and Cafe during the Holiday fun period (26-30 June 2023). Simply mention 'Holiday Fun' at the checkout.
Privacy information
We respect your privacy. Personal information we collect is used only for our internal activities and functions (Libraries Act 1988 (Qld)) and will not be disclosed unless required by law. For more information, please read State Library's privacy statement. 
The views expressed by the speakers are their own and the promotion of products/services is not endorsed by State Library. 
State Library films, records and photographs events for use in marketing and communications. If you do not wish to be filmed, recorded or photographed please advise staff upon your arrival. 
Book now
When

Tue, Wed & Thu · 10am–12pm

Price

$20

Bookings required

Location

Share
Contact the organiser
Young People and Families