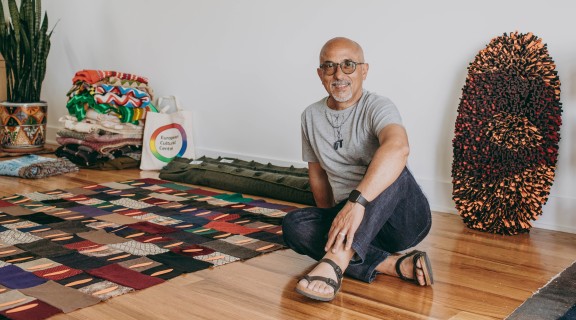 /

Artist talk with Dr Sebastian Di Mauro
Artist talk with Dr Sebastian Di Mauro
What does it take to exhibit at the Venice Art Biennale?
In 2022, Dr Sebastian Di Mauro's Greenback series was shown as part of the Personal Structures exhibition at the 59th Venice Art Biennale.
The two-year-long project explored his experience relocating from Australia to America, a journey not too dissimilar to his grandparents' emigration from Sicily to Australia. On this work Sebastian appliquéd and embroidered green US-military issue blankets with representations of the culturally significant buildings used on US 'greenback' dollar notes.
But how does an artist take their work to such a prestigious, international exhibition?
Hear Dr Sebastian Di Mauro detail his work and the process of applying for an Arts Queensland, Queensland Arts Showcase Program and Australian Cultural Diplomacy Grant Program to support the realisation of his international exhibition.
About Dr Sebastian Di Mauro
Bilingual in Sicilian — the language of his grandparents —and English, Sebastian Di Mauro has gradually developed a sculpture practice that speaks to his family's migrant experience. The 1998 exhibition Pane e Zucchero (Bread and Sugar), held in Cairns, drew directly on his father's work as a baker in far North Queensland and his grandfather's labour in the sugar-cane fields. His signature use of astro-turf to clothe the natural forms used for his public sculptures referred to the 'greener grass' sought by his migrant family. Di Mauro's paintings, sculptures, artist books and installations are collected by many of Australia's key art institutions. Dr Sebastian Di Mauro is represented by Onespace Galleryopen_in_new.
About Meet the artists
Surround yourself with extraordinary contemporary works by some of Australia's most acclaimed Australian artists and hear their stories with screenings of 35 video interviews in the James C. Sourris AM Collection of Artist Interviews.
Artwork on display includes work from Vernon Ah Kee, Luke Roberts, Fiona Foley, Judith Wright, Leonard Brown, Anne Wallace, Sandra Selig, and Eugene Carchesio,
The exhibition is curated by Julie Ewington, an authority on contemporary Australian art, showcasing the James C. Sourris AM Collection of Artist Interviews.
Meet the artists will be open until 6:00 pm in the slq Gallery before the artist talk
When

Wed 29 Mar · 6–6:45pm

Price

Free

Bookings required

Location

Share