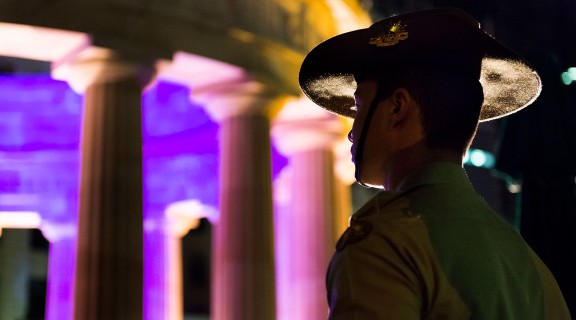 Anzac Day
Each year, on 25 April, Australians gather at dawn to commemorate Anzac Day and honour those who have served, died, or suffered in all conflicts, wars, and peacekeeping operations.
Start your Anzac Day on an interactive journey from the First World War to today inside Anzac Square Memorial Galleries – a free exhibition curated by State Library of Queensland. Located beneath the Shrine of Remembrance in Brisbane's CBD, plan your visit to the Memorial Galleriesopen_in_new, open special hours (from 5:30am--3pm) on Anzac Day to help you commemorate.

Recognised as one of Australia's most important national occasions, Anzac Day marks the anniversary of the first major military action fought by Australian and New Zealand forces during World War I; the landing of our troops at Gallipoli, Turkey, on 25 April 1915. Though they suffered heavy losses, and the campaign would fail to achieve its objectives, the actions of the Australian and New Zealand troops during this campaign began the ANZAC legend and saw the world stand up and take notice. To learn more, register for our free talk on The Gallipoli Campaign.
Patrons wishing to join us for the Anzac Day Dawn Service in Brisbane City are invited to gather around the Shrine of Remembrance from 3:30am for a 4:28am start. Visitors joining us in person are welcome to honour their heroes by laying a poppy or wreath inside the Memorial Galleries or in the Anzac Square parklands.
If you can't join us in person this Anzac Day, take a moment to pay your respects by placing a virtual poppy online, or ask our friendly team to place one in the gallery of your choice. It's free and helps ensure those who made the ultimate sacrifice are never forgotten. You can also place a poppy, play The Last Post, and listen to stories from State Library's military collection through our award-winning voice skill, Anzac Stories. To get started, just ask Amazon Alexa to "Ask Anzac Stories", and follow the prompts.
Learn more about the Queensland heroes we'll be honouring this Anzac Day and discover more ways to commemorate at https://www.anzacsquare.qld.gov.au/commemorate/anzac-day.
When

Tue 25 Apr · 5:30am–3pm

Price

Free

Share
Contact the organiser
Anzac Square Memorial Galleries