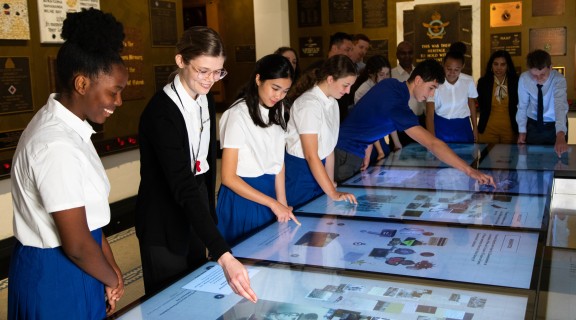 /

2023 Anzac Commemoration School Service
2023 Anzac Commemoration School Service
Teachers and students are invited to join us for a free mini tour of Anzac Square Memorial Galleries following the 2023 Anzac Commemoration School Service, taking place at Anzac Square on Monday 24 April, from 9:30—11am.
This service is open to all schools in South East Queensland and is a wonderful opportunity for students to pay their respects to Australian defence personnel who have served our nation from WWI to present. It aims to enhance understanding of the Anzac spirit amongst school students and the relevance of this spirit to the development of our nation. The ceremony is usually attended by more than 3,000 students along with official guests including the Governor of Queensland, the Premier of Queensland, the Leader of the Opposition, the Lord Mayor of Brisbane, senior military personnel and community leaders.
Following the service, students and teachers are encouraged to attend a 15-minute guided tour of Anzac Square Memorial Galleries, conducted by our knowledgeable staff. Tours will depart every five minutes until 1pm. No bookings required. Simply meet our staff at your preferred time near the entry to the World War I Memorial Crypt. Look for the large double brass doors located in the left corner of the Anzac Square parkland.
Tours will provide an overview of the Memorial Galleries and highlight resources available onsite for students and teachers. Our interactive displays allow students to embark on a journey from WWI to today, enriching their understanding of Anzac Day and the Queensland war experience. Within the galleries, visitors can explore military collections and discover the people, places and stories that exemplify the Anzac spirit.

More information about the service can be found hereopen_in_new.
When

Mon 24 Apr · 9:30am–1pm

Price

Free

Share
Contact the organiser
Anzac Square Memorial Galleries