Discover ephemera, photographs, posters, costumes and other items that celebrate the diversity of LGBTIQ communities in Queensland. Watch, listen and read stories of people coming out, struggling with prejudice and learning to embrace life.
Browse a longer curated list of LGBTIQ+ related collections at State Library on our One Search catalogueopen_in_new.
Robert Cosgrove Collection 1976-2006 [27579]
This collection includes photographs, hat pins, ticket stubs, a necklace, theatre programs, 2 T-shirts and a Mardi Gras outfit. It presents a picture of LGBTIQ+ history through the lens of ephemera and costumes belonging to Robert Cosgrove.
National Day of Action for Marriage Equality Rally
National Day of Action for Marriage Equality rallies were held in Sydney, Melbourne, Brisbane, Adelaide, Perth and Canberra, from 13-14 August 2011 to mark the 7th anniversary of the ban on same-sex marriage. In Brisbane the rally on the 13th August 2011 commenced at Queens Park [opposite the Treasury Casino], marched around the CBD and returned to Queens Park. The rally included speeches by Labor MP for the state seat of Brisbane Central Grace Grace, and Queensland Greens Senator Larissa Waters.
Discover LGBTIQ+ memorabilia
Help others find our LGBTIQ+ collections! You can request to look through boxes of our ephemera, posters and other collections. Let us know what's in the collection that relates to LGBTIQ+ communities and we will update our catalogue records to increase discoverability.
Equal Love Brisbane collection
Equal Love is a nationwide organization formed in 2004 as a response to the Howard Government's amendment of the Marriage Act prohibiting marriage between people of the same sex. In 2014, Equal Love Brisbane donated a collection of t-shirts, badges, stickers, flyers, posters and other memorabilia related to their activism and campaigning for marriage equality. Our 2014 blog story (link below) provides further images and details on this collection.
Ephemera collection
In everyday life, ephemera (such as flyers, invitations, concert programs, badges, tote bags, menus, ticket stubs and stickers) are items we often discard, however as time passes these 'ephemeral' items can become historically significant. You might be surprised to learn that State Library of Queensland collects ephemera on a wide variety of Queensland topics, including material related to the Lesbian, Gay, Bisexual, Transgender, Intersex and Queer + community. There is also a separate collection for the Brisbane Pride Festival. These ephemera collections can be requested and viewed onsite at State Library.
Collection of posters on gay and lesbian themes. Set 1.
As the title indicates, this collection contains a variety of colourful posters from various events, including rallies, Pride Week celebrations, dance parties and more. This collection can be requested and viewed onsiteopen_in_new.
Additional LGBTIQ+ themed posters can be found in other collections, such as the AIDS Archive collection.
LGBT Thought and Culture: a database
LGBT Thought and Culture is an online resource hosting books, periodicals, and archival materials documenting LGBT political, social and cultural movements throughout the twentieth century and into the present day. The collection includes documents ranging from letters, speeches, interviews, and ephemera covering the political evolution of gay rights as well as memoirs, biographies, poetry, letters and works of fiction that illuminate the lives of lesbians, gays, transgendered, and bisexual individuals and the community. It features select rare works from notable LGBT publishers including Alyson Books and Cleis Press, as well as mainstream trade and university publishers.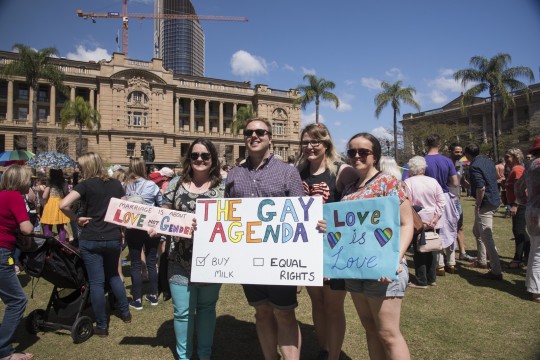 Rainbow Research Fellowship
Rainbow Research Fellowship supports research, exploration, and creation of new knowledge about Queensland's LGBTIQA+ histories and communities using the John Oxley Library and State Library collections and resources.