A near professional environment for recording, editing and mixing sound.
Reserve the Recording Studio
Record, edit and mix sound like a professional.
Mon-Fri 12-3pm & 4-7pm
Inductions required: Recording Studio Induction
Equipment and software
HARDWARE
2020 Apple Macpro
2x Samsung 27in VA 2K 144Hz Monitors
Avid HD-Native interface
Avid HD IO 8/8
Avid 96 IO
Ableton Push
Native Instruments Maschine
Rode Rodecaster
Korg Triton Taktile Keyboard
JLM Audio Eleven 500 series rack
Audio Monitoring
Audient Nero Monitor controller
Adam AC7 Nearfield Monitors
KRK 10s active subwoofer
Sennheiser HD 280 pro headphones
Heritage Audio BT-500 bluetooth audio receiver
Microphone Pre-amplifiers
JLM Audio 99v
JLM Audio NV500
JLM Audio TG500
Focusrite Octa Pre II Microphone Preamplifer (8 Channel)
Hardware Compressors
JLM Audio LA500A
JLM Audio FC500A
Analogue Synthesisers
Behringer Monopoly
Moog Grandmother
MICROPHONES
Shure SM7b cardioid dynamic (x2)
Nuemann TLM193 cardioid condensor
Nuemann TLM107 multi-pattern condensor
AKG C414 XLII Matched Pair multi-pattern condensor
RODE Broadcaster end-address broadcast condenser (x2)
RODE Podcaster USB Broadcast condensor (USB connection with headphone output)
RODE NT 5 compact 1/2" cardioid condenser (pair) x 2
RODE K2 - variable pattern dual 1" valve condenser
RODE NT-SF1 soundfield ambisonic
RODE NTR active ribbon
SOFTWARE
DAW Software
Pro Tools 2020
Ableton Live Suite 10
Logic Pro X
FL-Studio Producer Edition
Reaper
Izotope RX 7 Standard
Virtual Instruments and Plug-ins
Native Instruments Komplete 12 Ultimate
Slate Digital All Access pass (subscription)
Plugin Alliance Mega Bundle (subscription)
MCDSP Everything pack (subscription)
Izotope Music Production Suite 3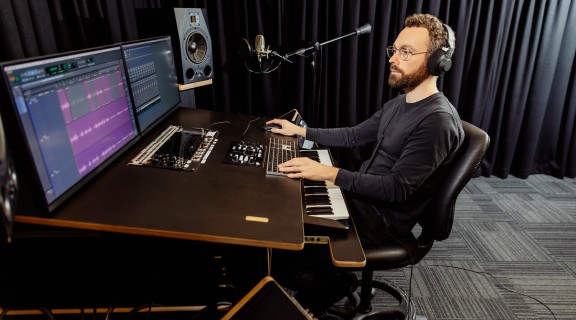 What's on
Never recorded audio before? That's okay.
We offer regular inductions and skill development opportunities for the resources available in the Recording Studio.
Find events