/

Queensland Premier's Young Publishers and Writers Award
Queensland Premier's Young Publishers and Writers Award
Congratulations to the finalists!
Rebecca Cheers
Judges' comments
Rebecca is to be commended for editing, writing, publishing and poetry, and her strong focus on making publishing accessible while supporting the work of emerging and more established writers and artists.
About the author
Rebecca Cheers is a writer, poet, zinemaker and playwright from Brisbane. She co-founded and edited the zine Woolf Pack. She holds a Masters of Philosophy from QUT, in which she researched lyric poetry as feminist biography. Her first book, No Cameliasopen_in_new, is out now with Rabbit Poetry Series.
Marilena Hewitt
Judges' comments
Marilena's impressive body of work includes print and digital publishing work, as well as their focus on community-driven projects, writing, explorations of place, and collaborations with artists, writers, designers, creatives and architects.
About the author
Marilena is a small-press and digital publisher, writer, filmmaker and architecture graduate living and working on unceded Jagera and Turrbal land. Their experimental practice is centred around documenting mass extinction with tenderness, humour and hope. Since finishing their Masters of Architecture at QUTin 2018, their preoccupation with bearing witness to the anthropocene is most recognisable in their print publication, PLATYPUSopen_in_new. Since starting this publication in 2020, they have worked with over 75 artists locally and internationally to design and produce a number of art/ideas books. They wish to continue to unconventionally 'make public' immense issues and advocate for real change.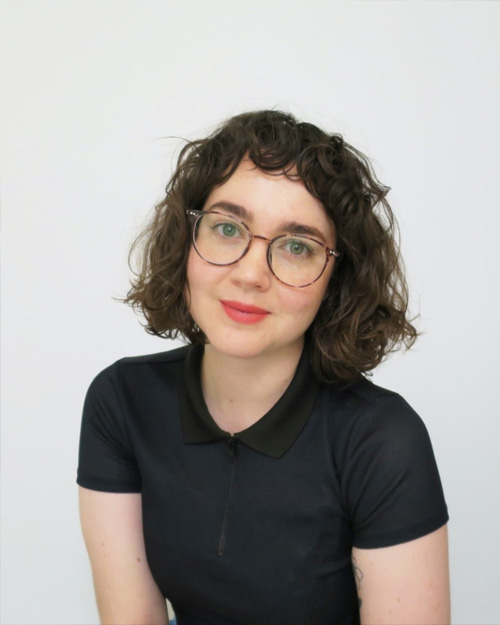 Miranda Hine
Judges' comments
The literary community has been vocal in calling for a greater commitment to the art of critique. The judges acknowledge Miranda's growing body of work as a writer, curator, producer and artist committed to both supporting and critiquing the work of Queensland artists and creators.
About the author
Miranda Hineopen_in_new is a Meanjin/Brisbane-based writer, curator and artist fascinated by how these disciplines intersect to construct, disrupt, and provide access to stories. Her articles feature in Garland Magazine, SUNNIE Magazine and the Australasian Journal of Popular Culture, and she has produced exhibition texts for OuterSpace, Museum of Brisbane, MoanaArtspace, STABLE, QCA and MetroArts. With a Bachelor of Fine Art (QCA) and a Master of Museum Studies (UQ), Miranda has received the UQ Art Museum's Emerging Art Writers' Award (2016) and Editor's Choice in the Young Art Journalism Awards (2018).
Sean West
Judges' comments
The judges acknowledge Sean West's substantive body of work as a poet, editor, performer and cultural producer, as well as his commitment to the arts and engagement with communities.
About the author
Sean Westopen_in_new is an autistic poet, disability support worker, and workshop facilitator. He was runner-up in the SCWC 2022 Poetry Award, received an Arts Queensland Individuals Fund grant in 2021, and has been shortlisted for the Arts Queensland Thomas Shapcott Poetry Prize in 2021, 2020 and 2019. He has run workshops for Queensland Poetry's SlammED!, Australian Poetry Slam, Brotherhood of the Wordless, and Upbeat Arts, among others. He is the founding editor of Blue Bottle Journal and works for Ruckus Slam in Meanjin. Find more of him and his work at http://www.callmemariah.com/