2021-22 highlights
"Volunteering is increasingly being acknowledged as existing outside of the stereotypical mould of a volunteer routinely doing shifts on-premises through an organisation. Workplaces are accommodating remote work and the COVID-19 pandemic has drastically hastened this trend. Additionally, volunteer-involving organisations have observed an increased demand for roles that offer flexible and intermittent schedules" - The State of Volunteering in Queensland 2021 Report.
State Library of Queensland's Volunteer Program is no exception. 2021-22 was a year interrupted by closures and restrictions due to Covid-19 and the Brisbane floods, and in response to these events, many volunteers took their volunteering online.
In all, onsite volunteers were active for 21 weeks out of the 52 weeks in the year. A total of 42 onsite volunteers participated in 4 projects. These projects included conducting visitor surveys, assisting with school group visits, and helping with wayfinding and activities on the Extra-ordinary Day of celebrations.
Onsite volunteers contributed over 1,000 hours in 2021-22.
Digital volunteering continued to grow. Over 60% of applications (85 of 139) received by State Library through the Volunteering Queensland portal were for digital volunteers.
"Volunteering at the State Library has been so rewarding for me. I love people, the aged and the young, and my work over the years doing tours, exhibitions, singing with the 'Rhyme Time' team was just so satisfying. Then working up in Heritage sorting Art Ephemera, before transcribing WW1 and WW2 letters and diaries, as well as journals etc. from our past, has truly been wonderful and so enjoyable. I absolutely love it and can't wait to start each new project. Working online from home during Covid has been a remarkable opportunity, teaching me new and wonderful ideas in technology, which still continues today. I am truly indebted to the State Library for giving me such amazing experiences" - Carol Skelton, volunteer.
Volunteer opportunities
State Library advertises all volunteer opportunities on Volunteering Queensland's recruitment portal.
In 2021-22, State Library received 139 volunteer referrals through Volunteering Queensland.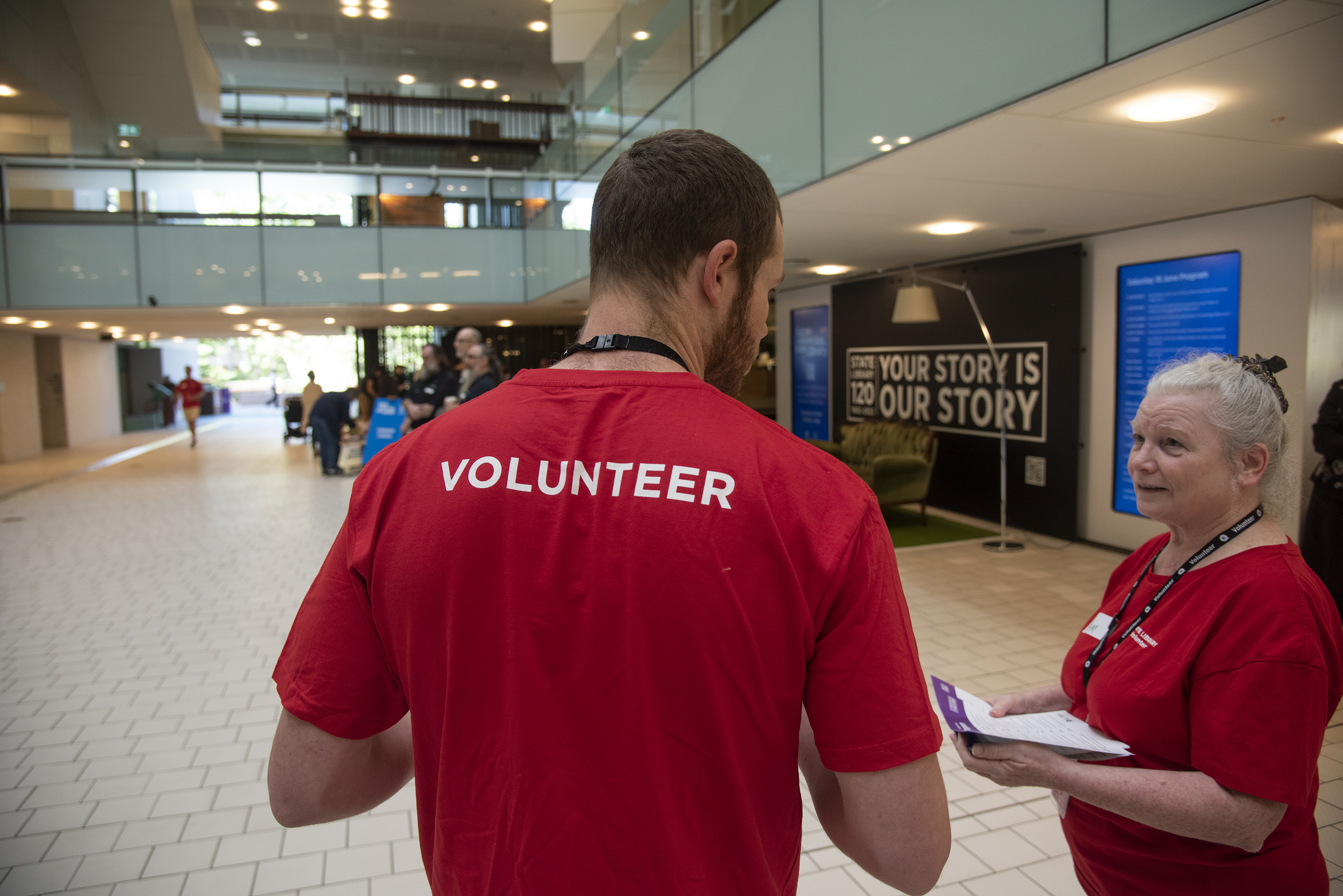 Centrelink accreditation
State Library received Centrelink accreditation as an approved voluntary work organisation in October 2020.
If you intend to participate in Centrelink approved voluntary work as part of your Mutual Obligation Requirements, download the Verification of Voluntary Work form and email it to volunteering@slq.qld.gov.au.
For more information, please contact the volunteer coordinator on (07) 3842 9633.