Gallery Walk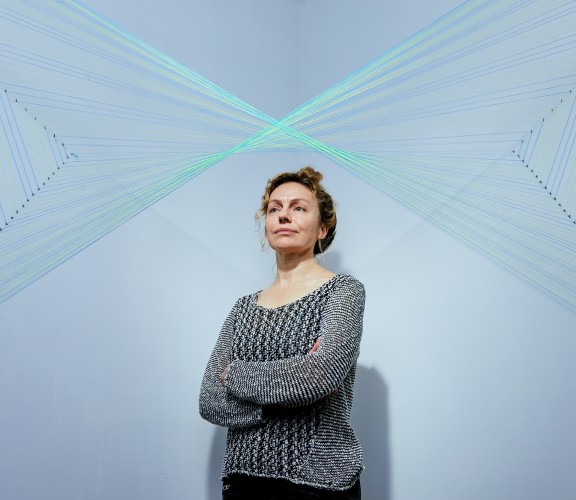 Gallery Walk
Discover stories around every corner
On view now
Free self-guided exhibition tour
Start at Knowledge Walk, level 1
#slqGalleryWalk
Thought libraries were all about books? You're in for a surprise. For art, culture and history lovers, take a self-guided tour of State Library and discover fascinating treasures around every corner. Pick up a guide on level 1 and check in to check it out.
You can explore our exhibitions and showcases online.
Visit the Library Shop online or on level 1, where you can purchase a memento of your visit.
If you want to see more, Anzac Square and Memorial Galleries are just a short walk away.
Level 4 Heritage Collections
1. Talbot Family Treasures Wall
This 25-metre display provides an up-close view of precious objects from our collections. It features rare and significant heritage items collected by, and gifted to, State Library since it opened to the public in 1902. The Talbot Family Treasures Wall is part of the Heritage Collection suite of galleries and reading rooms.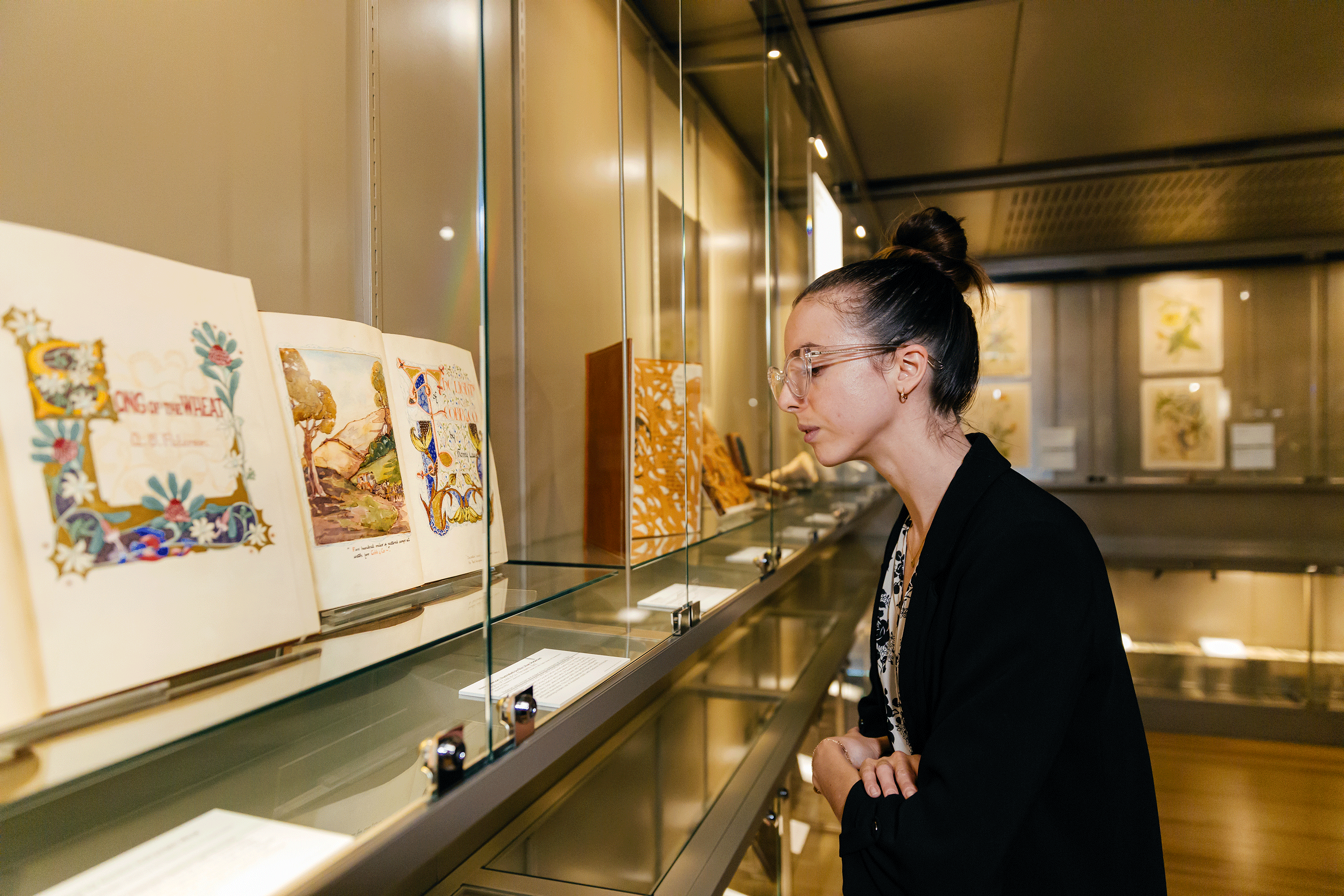 Ama goya, 2019. Zoe Porter. ALAAB POR. Australian Library of Art, State Library of Queensland
2. Australian Library of Art
Discover rare and fine books including highlights from one of Australia's largest publicly available collections of artists' books. The showcase also contains items from the Australian Art Research Collection, History and Art of the Book Collection and the unique and insightful Lindsay Collection of Pat Corrigan.
Now showing: The River City
3. Philip Bacon Heritage Gallery
This intimate indemnified gallery showcases items from State Library's vast heritage collections. Located near the John Oxley Library, exhibitions in this space delve into fascinating stories from Queensland's history, presented for a contemporary audience.
Now showing: Extraordinary stories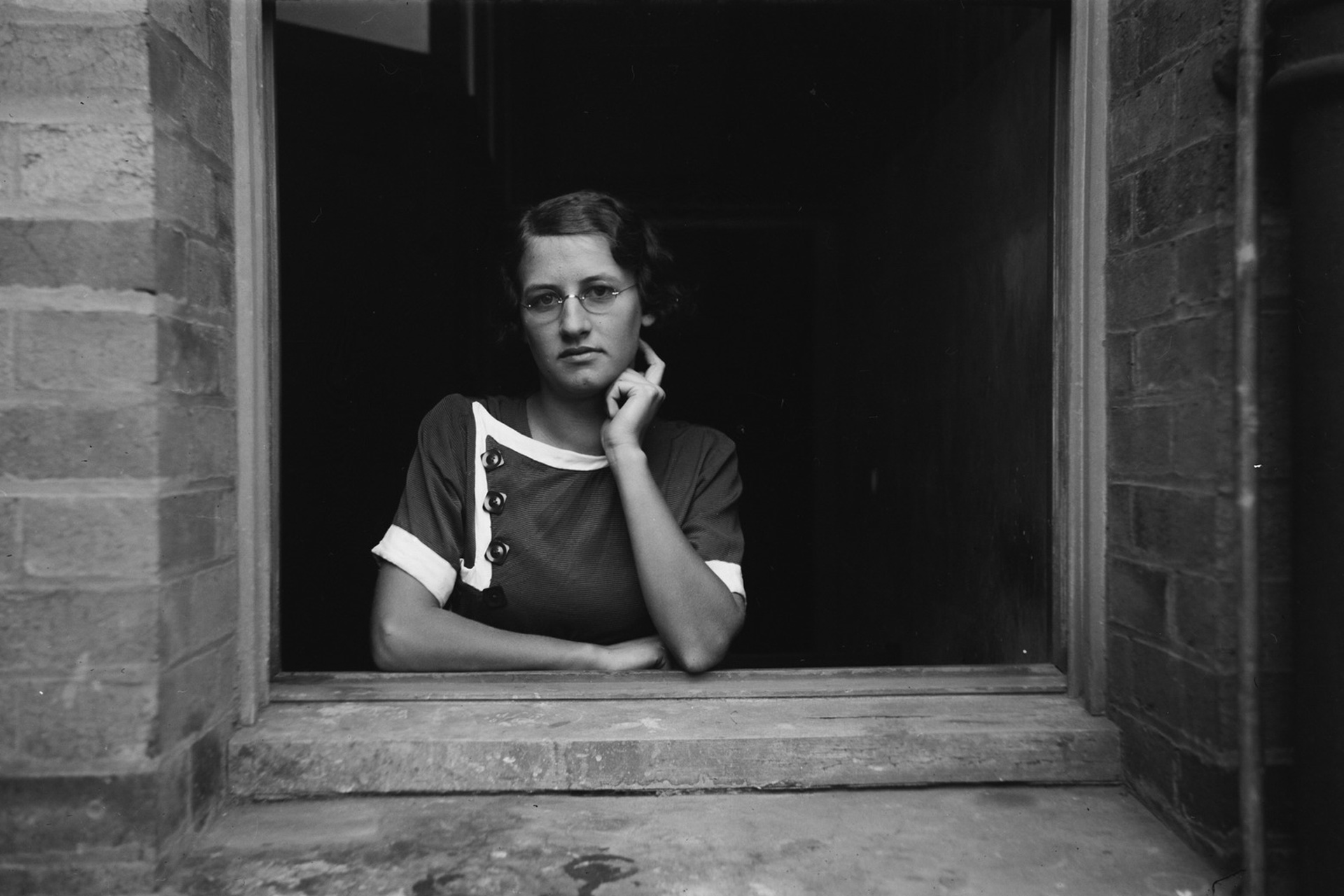 4. Baltasar and Blimunda by Robyn Medek
This two-part oil on canvas artwork inside John Oxley Library was created in 2006. The artwork refers to a novel of the same title by Nobel Prize-winning Portuguese author José Saramago and was part of Bellas Milani Gallery's Europa exhibition. The exhibition was made up of works that reference books, landscapes, places and pieces of music — many inspired by the artist's travels through Europe. Many of the works have the appearance of books (two parts, joined at the centre) and are evocative of the mood and history of a particular place or landscape.
5. Black Opium by Dr Fiona Foley
This sculptural installation featuring 777 suspended aluminum poppy heads is a response to the devastating effect of The Aboriginal Protection and Restriction of the Sale of Opium Act 1897 (Qld) on Aboriginal and Torres Strait Islander people. Black Opium was commissioned in 2006 as part of State Library's redevelopment and includes seven themed reading rooms. Created by Dr Fiona Foley, the installations convey how the Act paved the way for the Queensland government to forcibly remove Aboriginal and Torres Strait Islander people from their lands and take them to isolated missions such as Palm Island and Yarrabah.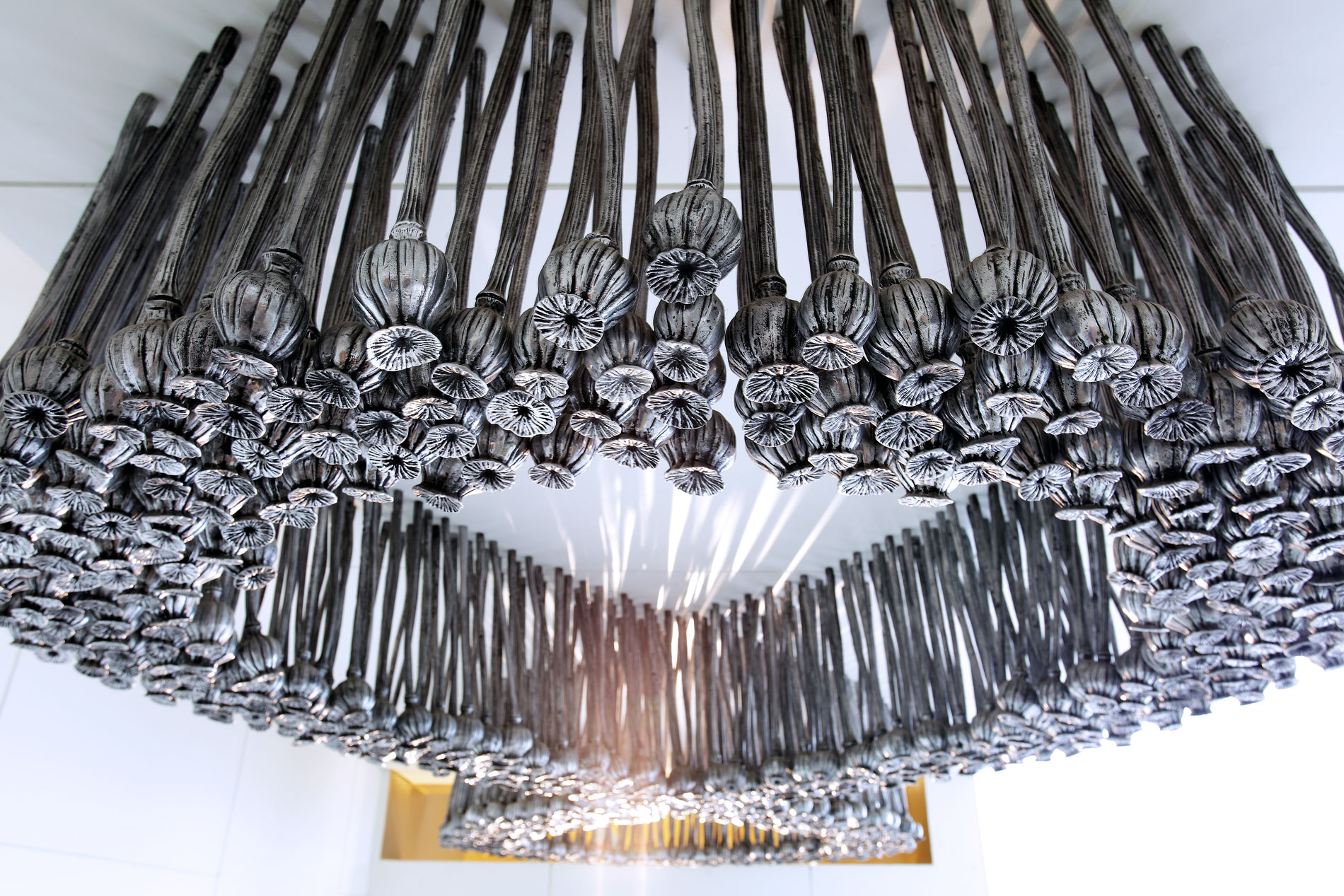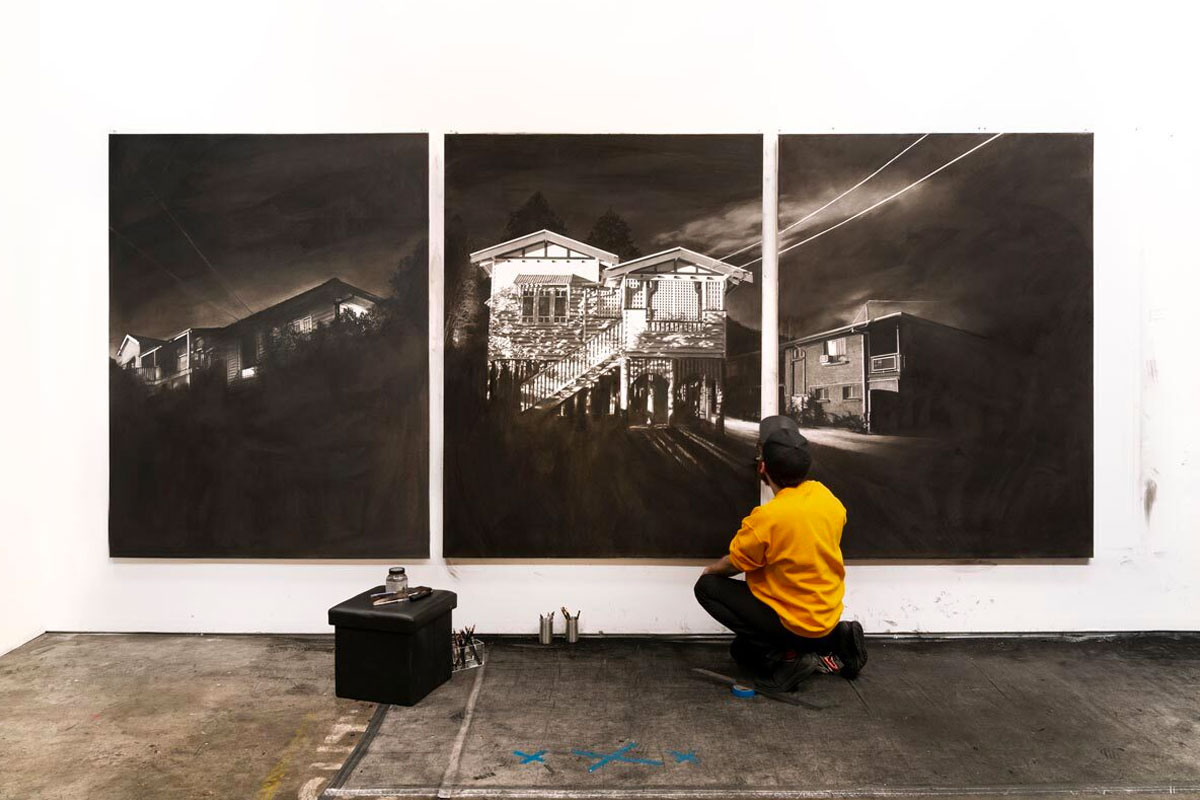 Level 3 State Reference Library
6. Sixteen by Ian Strange
This work was commissioned in 2018 for State Library's Home: a suburban obsession exhibition which explored the work of Frank and Eunice Corley. The husband-and-wife team took hundreds of thousands of photos of Queensland homes in the 1960s and 1970s. Ian Strange chose a house from the Corley collection, held at State Library, and re-photographed it at night with lighting crews. He then created an emotive charcoal triptych from the image. The artist chose a house that would feel familiar, allowing the viewer to explore their feelings about home and safety. The shadows and deep contrast allude to an unseen history.

Strange's work illuminates the less tangible elements of these homes — the emotional and spiritual dimensions we feel rather than see. He was inspired by the 1860s practice of spirit photography, which sought to capture unseen spirits and ghosts through imperfections in the photochemical process.
Level 2 State Reference Library
7. China/Hong Kong/Australia by Irene Chou
Gifted to State Library in 2007, this artwork is from The Universe is My Heart series which explores the boundlessness of the universe. Irene Chou was introduced to Western Abstract Expressionism in the 1960s by Lui Shou-Kwan and was inspired to combine Western and Chinese art while retaining the essence of Chinese traditional art. The Universe is My Heart series was created during 1992-2002, a time when the artist was suffering from the impact of a major stroke and moved to Brisbane from Hong Kong. Irene passed away in 2011.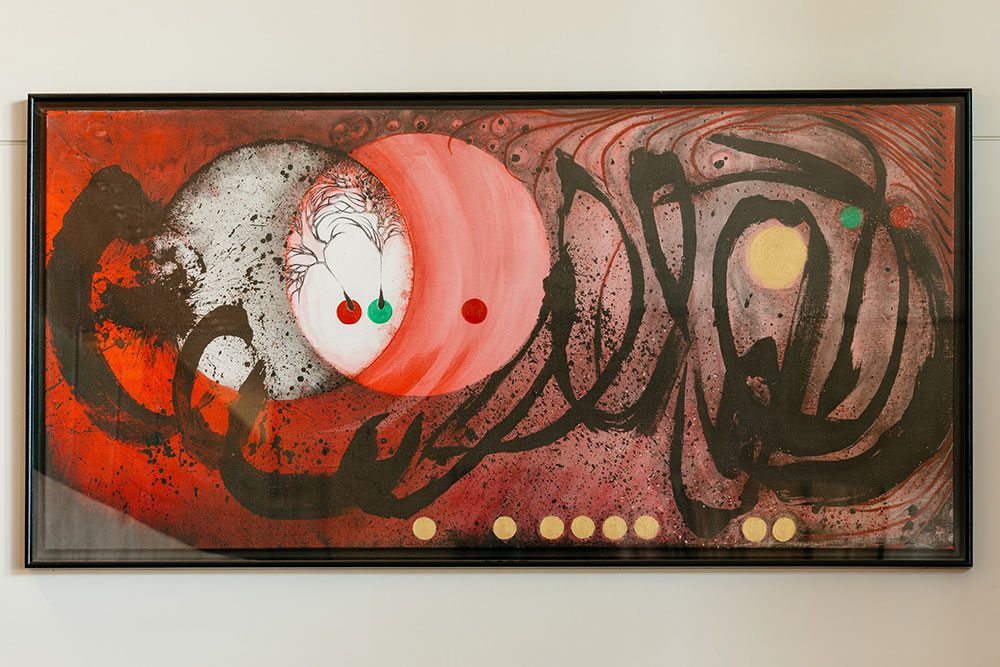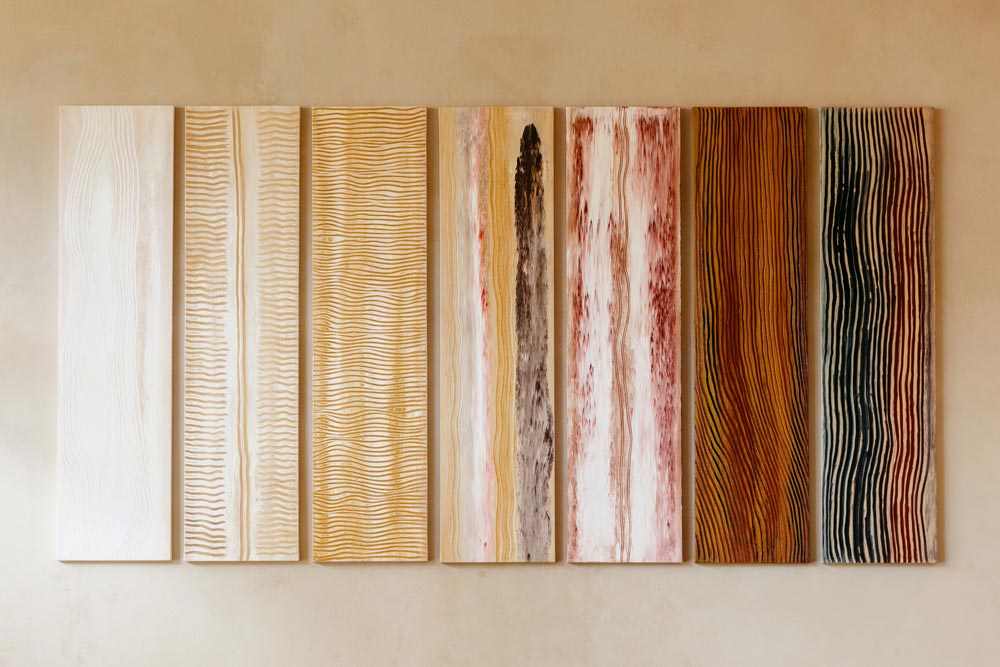 8. Old girls … they talk in the sand … w're sandbeach, Rosella Namok
This seven-part artwork was created in 2004 by artist Rosella Namok from the Kanthanampu and Aangkum language group. The artist is a founding member of a prominent group of artists known as the Lockhart River Art Gang.
In describing her art, Rosella said: "I paint about my Country and people around me. I paint about traditional culture and stories in my own style. I paint about things that happen, things we do, the weather and about how our people live. I enjoy my art."
9. slq Gallery
State Library's flagship gallery presents curated exhibitions that link contemporary themes to Queensland's historic past. First opened in 2006 with a touring exhibition from the National Library of Australia, it is State Library's largest indemnified gallery and over the years has transformed to feature everything from plants to political cartoons.
Now Showing: Meet the artists
10. Queensland Terrace
Featuring Tea & Me, an eclectic collection of teacups with remarkable backstories donated by members of the public from all walks of life. From a tin pannikin belonging to a cattle musterer, to, there's one thing that continues to unite Queenslanders — a good cup of tea.
Level 1 Reception
11. kuril dhagun
kuril dhagun was named after the kuril, a fawn-footed melomys and a species of native marsupial mouse found near Kurilpa Point where State Library is located. Dhagun means earth or place. Explore Aboriginal art and curated showcases that display the diversity of First Nations people and cultures in Queensland.
kuril dhagun is part of the Indigenous Knowledge Centres network throughout Queensland and was the first of its kind. kuril dhagun helps to create connections between State Library the Aboriginal and Torres Strait Islander people of Queensland.

Now showing: 20 years strong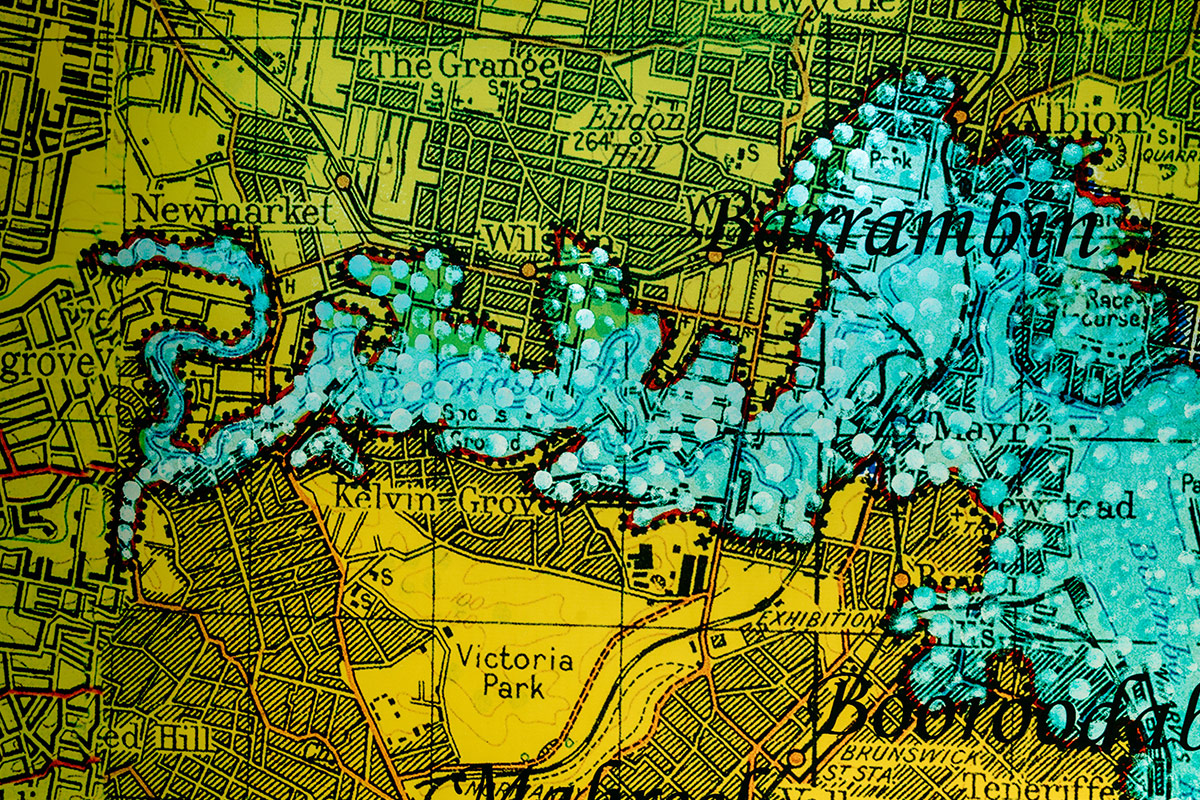 A. MAIWAR Yunggulba by Megan Cope
A continuation of the Yunggulba works within the After the Flood series, this artwork explores toponymy and geomorphology, climate change and sea level rise. Cope recreates a sense of place and identity by overlaying topographical military maps with Aboriginal place names revealing alternative historical narratives. The piece challenges notions of ownership and colonial dominance.
B. Dolly, Birds on a Wire by Laurie Nilsen
Made from steel and wire, this sculpture depicts the thousands of native animals that die every year on barbed-wire fences. The emu was a traditional totem for the late Mandandaji artist Laurie Nilsen. His choice of materials in the depiction of this totem could be seen as a colonising metaphor as barbed wire has been used to fence in, control, and sometimes kill native animals.
"They're made of barbed wire, the thing that often kills them, so it's almost like a regeneration or reincarnating them again. I don't think I'll ever get around to making as many as I've seen perish."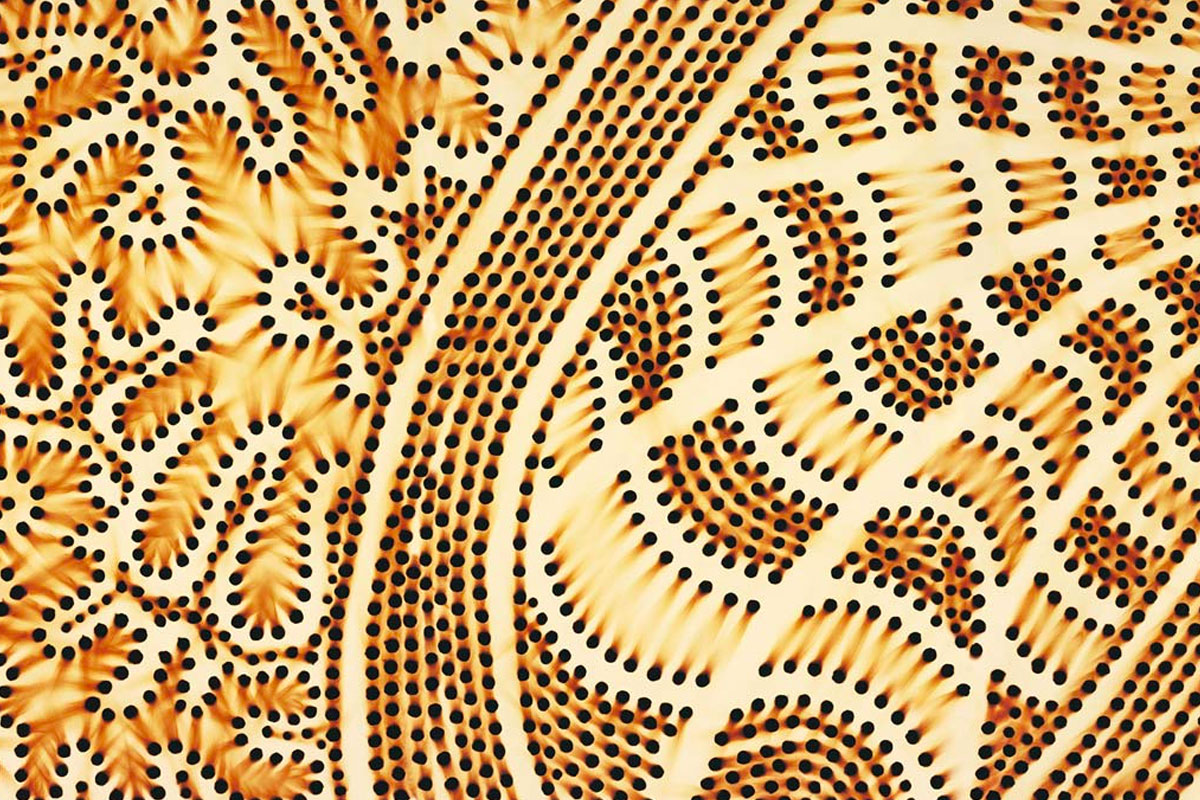 C. Kurilpa Country by Lilla Watson
This large-scale illuminated mural is based on an original artwork by Aunty Lilla Watson, and tells the story of a native water rat's habitat. Kurilpa Country refers to the land on which State Library stands. The part of the river where the library is located is known as Kurilpa, which in the Turrbal language means the home of the kuril, a native marsupial mouse. In the original work, the holes are burned in paper, and scorch and smoke marks control tones and contrast. The theme of these burnings reflect an Indigenous perception of the relationship between its land and its people.
D. Coolamon by Laurie Nilsen
Laurie Nilsen created this beautifully carved, extra-long coolamon used to catch rain, which is displayed in the Talking Circle in kuril dhagun. The coolamon was created and displayed as part of the redevelopment of State Library of Queensland in 2006.
A coolamon is a traditional Aboriginal carrying vessel with curved sides. Their shape, like a canoe, suggests the journey of life. They are traditionally used to support many points of that journey. Coolamons involve all members of the community: traditionally, men make them and women use them. Their uses include cradling babies, carrying water, fruits or nuts, winnowing grains in the traditional bread-making process, and protection from the rain.
12. Paradigm Maquette by Jon Barlow Hudson
This work by acclaimed American sculptor is a sectional model of Paradigm, created for World Expo 88 (maquette means 'scale model' in French). Inspired by the double helix DNA structure, the original Paradigm was 30 metres high and located outside the USA pavilion. During the festive season, you may see Paradigm Maquette with a cotton cover over it to protect it from the residue from fireworks. The piece is on loan from the Museum of Brisbane.
Library Shop
Conveniently located on level 1, browse a wonderful selection of Queensland authors and artists.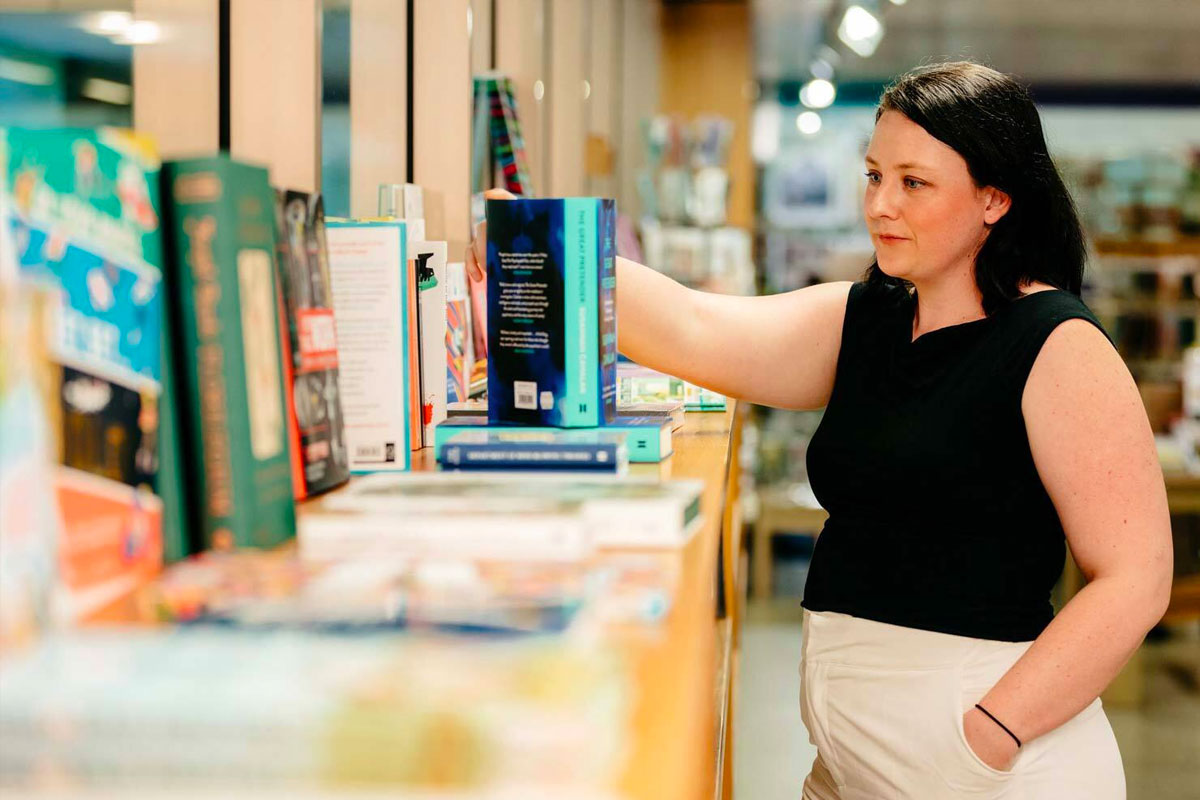 Brisbane CBD
Anzac Square and Memorial Galleries
Experience the quiet solitude of Queensland's pre-eminent war memorial.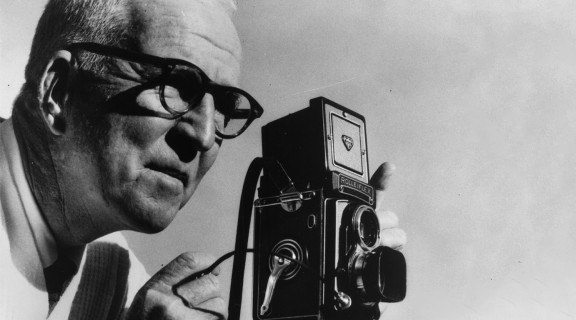 Stories behind the billboard
Discover the stories behind the ten historical images from our rich photographic collection featured on the Gallery Walk billboard located outside State Library.
Discover the stories