/

Margaret Lawrie Collection
Margaret Lawrie Collection
The Margaret Lawrie Collection of Torres Strait Islands Materials is the life's work of Margaret Lawrie, a teacher with an interest in child health. She travelled to the Torres Strait Islands with Aboriginal poet, Kath Walker (Oodgeroo Noonuccal) at the request of the Queensland Government. Margaret Lawrie was interested in the history, languages and cultures of the Torres Strait Islander peoples. She spent time in communities during the 1950s, 1960s and early 1970s.
Genealogies
Between 1964 and 1973, Margaret Lawrie recorded many Torres Strait Islander genealogies (family trees). The Margaret Lawrie Collection has the genealogies of seventeen Torres Strait Islander communities:
Badu
Mabuiag
Thursday Island
Bamaga (located on the mainland)
Muraleg (Prince of Wales Island)
Ugar
Boigu Island
Murray Island
Warraber
Dauan Island
Naghir (Mount Ernest Island)
Yam Island
Erub (Darnley Island)
Poruma (Coconut Island)
Yorke Island
Horn Island
Saibai
Kubin Village / St Pauls (Moa Island)
Seisia (located on the mainland)
Explore the collection
Margaret Lawrie travelled to the Torres Strait many times between 1964 - 1973, often staying for months at a time. Becoming friends with many Torres Strait Islanders she was approached by some to record and write down their stories as well as family histories. This resulted in Margaret conducting research into the cultural history of the Torres Strait and collecting transcripts, audio recordings, photographs, slides, art works and stories. Together they formed the basis for the publication of "Myths and Legends of Torres Strait" (1970) and "Tales from Torres Strait" (1972). The Margaret Lawrie Collection was donated to the State Library of Queensland in 1996. [TR 1791]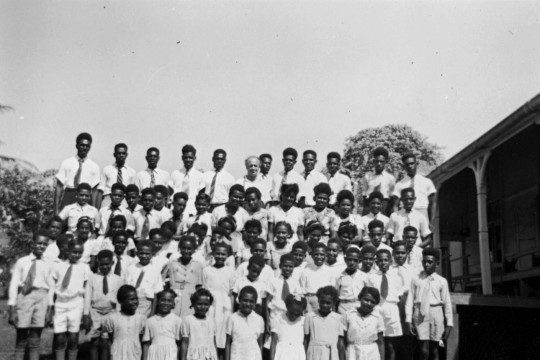 Using the Margaret Lawrie collection
State Library has digitised the genealogical charts and has an online index of names in the genealogies.
Although anyone can search the Margaret Lawrie Collection index records, there are restrictions on those allowed access to the digitised genealogical charts because much of the information is private or sensitive.
Copies of genealogies are provided only to individuals or families who are researching their own family history.
Copies of genealogies are provided to Land Councils for the purpose of Native Title Claims upon the provision of a request on official letterhead with names of families researching the claim and claims number.
Any use of the information other than for private and study use is the sole responsibility of the person making the request.