Young writers get inspired at SLQ's inaugural Young Writers Conference
By Anonymous | 12 March 2020
On Saturday 25 November, 100 young writers gathered at the State Library of Queensland for the inaugural Young Writers Conference, and the 2017 Young Writers Award ceremony.
While the Young Writers Award—which is open to writers aged 15 to 25—is now in its twenty-first year, the Young Writers Conference is a new initiative from SLQ's Reading and Writing team. The event is designed to inspire and educate young Queensland writers, encouraging them to connect with one another, learn about the industry and further their writing. It's also an opportunity to showcase the Young Writers Award, which was separated from the Queensland Literary Awards in 2016 to give its winners, runners-up and highly commended entrants more profile.
The inaugural conference was a sell-out success, with a packed program of panels, workshops and Q&A sessions featuring award-winning young Queensland voices (many of whom are past Young Writer Award winners): Lech Blaine, Steph Bowe, Shastra Deo, Laura Elvery, Rebecca Jessen, Mindy Gill, Bri Lee and Grace McCarter. Publishing and editing professionals Kristina Schultz from University of Queensland Press, Jerath Head from Griffith Review and SLQ's Grace Lucas-Pennington from black&write! also offered key industry insights about the publishing process.
The day kicked off with a panel about how to get a book published in your twenties and continued with sessions on writing memoir and poetry and workshops on editing your own work, writing narrative fiction and creating complex characters. In the afternoon, participants picked up top tips about how to pitch, submit and sell their writing and how to approach and work with publishers and editors. The conference wrapped up with a short Q&A session featuring SLQ's Megan McGrath, who organised the event, and Jackie Ryan, Programs Manager at the Queensland Writers Centre.
Key advice from conference presenters included being part of a writing group, submitting work regularly to competitions, joining professional writing organisations and connecting with Queensland's vibrant writing community.
One of the day's highlights was the Young Writer Award ceremony, which took place at lunchtime on the Queensland Terrace. State Librarian Vicki McDonald presented the winners, runners-up and highly commended writers from the 15–17 years and 18–25 years categories with their prizes, and the crowd enjoyed readings from winners past and present. The 2017 winning stories are now available to read on the SLQ website:
Highly Commended entries
past winners
The conference and awards were a wonderful celebration of emerging Queensland voices, and a source of inspiration and education for young writers looking to further their writing and make valuable industry connections. We look forward to doing it all again in 2018!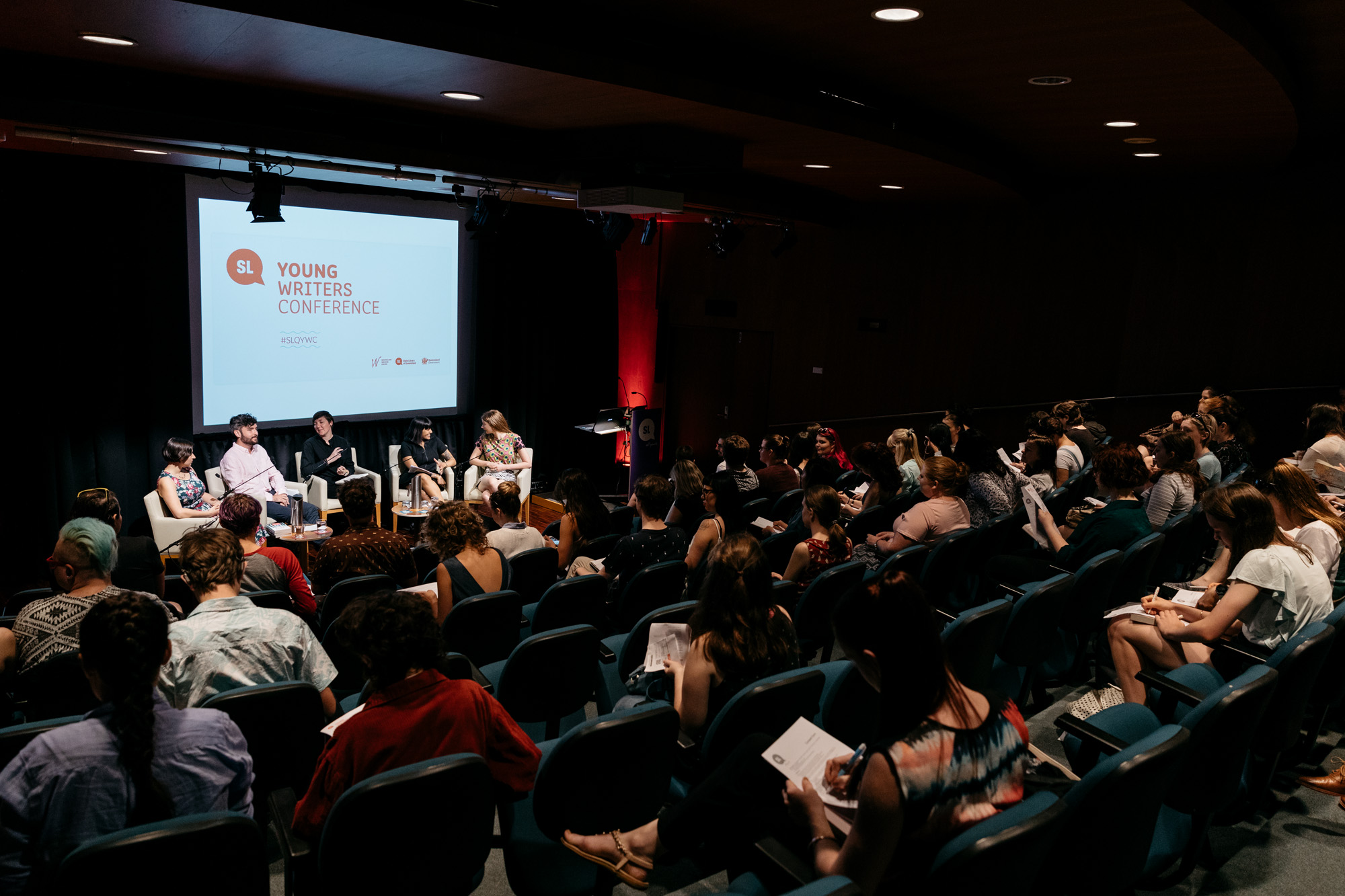 At the Young Writers Conference 2017 with Steph Bowe, Lech Blaine, Bec Jessen, Shastra Deo and Bri Lee. Photo by Josef Ruckli.
At the Young Writers Conference 2017 with Steph Bowe, Lech Blaine, Bec Jessen, Shastra Deo and Bri Lee. Photo by Josef Ruckli.
About the author
Carody Culver, A/Project Officer, Reading and Writing, Community Connections, SLQ
ReadingWriting@slq.qld.gov.au
Comments
Your email address will not be published.
We welcome relevant, respectful comments.