World Photobook Day in Brisbane
By Christene Drewe | 28 October 2014
The Siganto Foundation Artists' Book Research Fellow, Dr Doug Spowart reports on activities he and his partner Victoria Cooper organised at The Edge to celebrate World Photobook Day in Brisbane.
For photobook people, the 14th of October is World Photobook Day (WPD) and celebrations worldwide are coordinated through the Photobook Club group. On this day in 1843, the British Library catalogued Algae of the British Isles: Cyanotype Impressions by Anna Atkins, and is therefore considered historically significant as the first official record of a published photobook.
The first event was arranged for Queensland Centre of Photography (QCP) members to view recent photobooks, artists' books, photo-zines and photo-papers acquired by the Spowart and Cooper Collection. Around 30 contemporary publications, mainly by Australian photographers and artists, were presented to a group of around 18 participants. This selection included two books, Ying Ang's Gold Coast and John Elliott's Ju Raku En, which were launched only in the last few weeks. Staff members from the Australian Library of Art & Queensland Memory attended this opportunity to view examples of this emergent book genre.
The main Photobook Club WPD event took place in the evening and was attended by around 24 participants. Each brought along their favourite photobook to share and discuss with their fellow attendees. The oldest book presented was a photographic portrait book from the 1860s, and the more recent books included, W Eugene Smith's The BIG Book, Spada's Gomorrah Girl, and Spottorno's PIGS. Many participants contributed their own print on demand books, or bespoke handmade artists' books thereby representing the spectrum of the photo and the book.
A special part of the evening WPD event was a presentation by Dr Gael E. Phillips about Anna Atkins, her family and motivations for her cyanotype work. Phillips, a local Brisbane resident, is a distant cousin of Atkins shared her extensive research of this significant family connection. The assembled group were presented with the fascinating story of Anna Atkins ('Anna Children' – her maiden name), her father – George, relatives and networks in photography, science and society in nineteenth century England. Two attendees Dr Marcel Saffier and Sandy Barrie both significant photo historians showed a strong interest in Phillip's research and talk.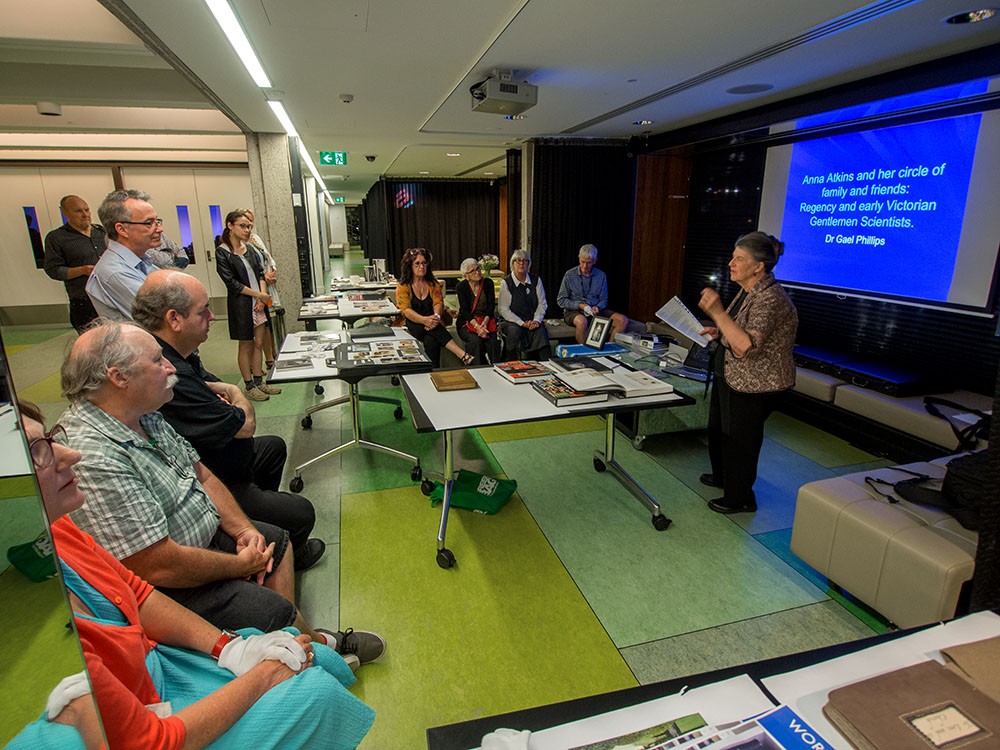 Apart from the two events curated by Spowart and Cooper this year, two new South-East Queensland organisers also presented WPD events. This provides evidence that there is a strong interest in seeing, talking about, publishing and collecting photobooks.
As part of my Fellowship activities I am scheduling further events to keep the interest in my research growing, and to promote a greater awareness of the significant resource of 'the photograph and the book' held by the State Library of Queensland.
Comments
Your email address will not be published.
We welcome relevant, respectful comments.