William John HOULAHAN #1128
By Marg Powel & Des Crump | 5 April 2018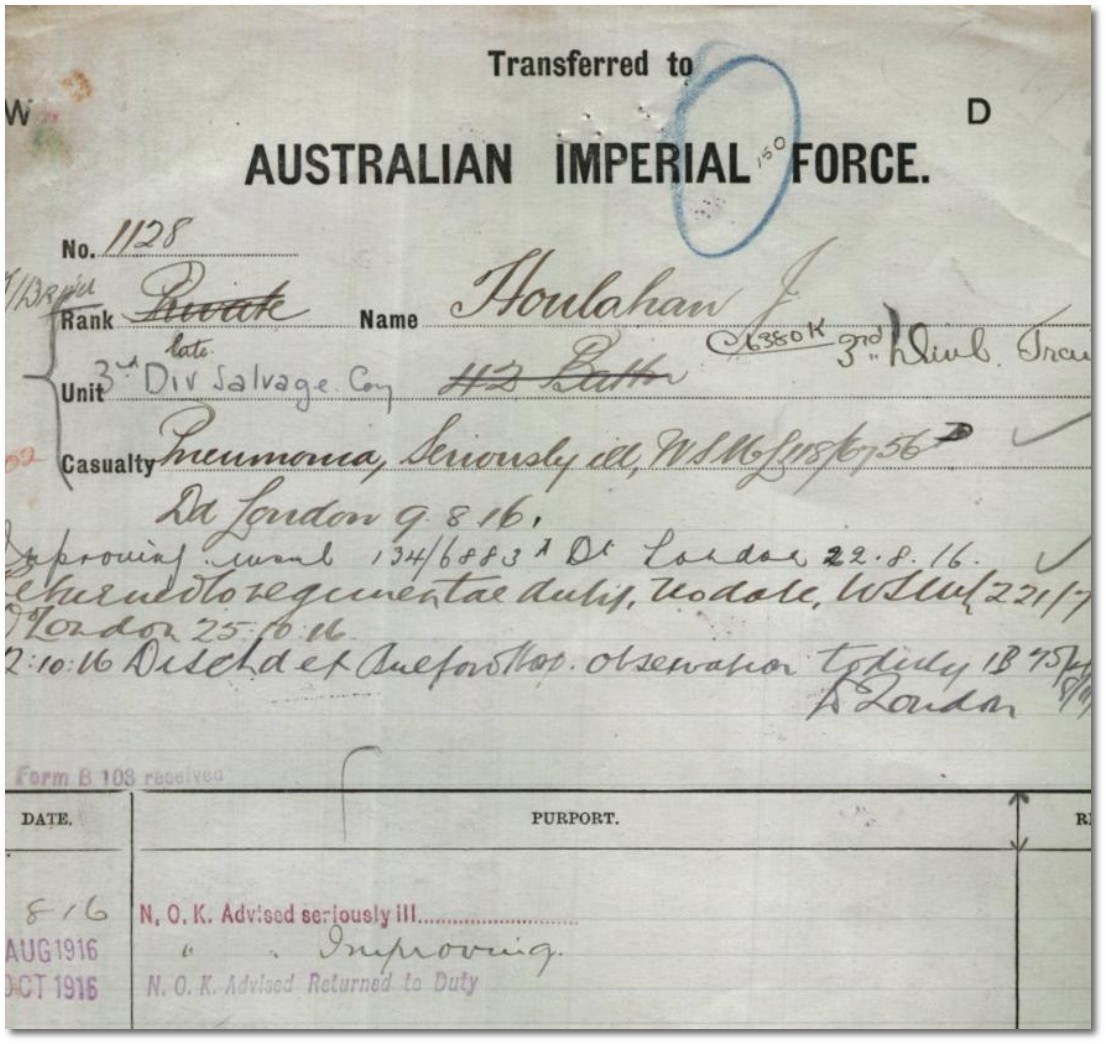 Extract from AIF service record for Jack Houlahan
Indigenous Australian, Jack HOULAHAN, 42nd Infantry Battalion, 3rd Division Salvage Company
William John (Jack) HOULAHAN (Houlihan) was born at Thargomindah in 1895 to William Houlahan and Lizzie a Murawari woman from Currawingi Station. Jack had been employed as a stockman on Ray Station, near Quilpie before volunteering to serve with the first AIF in February 1916.
Houlahan travelled to the training camp at Enoggera, just outside Brisbane and was assigned to the 42nd Infantry Battalion, B Company, destined for the Western Front. He embarked on board the troopship Borda bound for England, however on arrival he was admitted to the camp hospital seriously ill with pneumonia.
After several months Houlahan left for France to join his battalion in the field, enduring the harshest of winters in the front lines. In March 1917 he was transferred to the 3rd Division Salvage Company which had recently been formed, and operated on the Western Front.
Men of the Salvage Companies recovered items which could be reissued, repaired, or recovered for scrap. By 1917 both sides were very short of raw materials, especially metal such as spent cartridge cases and shell cases were recycled.
The 'War diary and Intelligence Summary' for 12 July 1918 not only gives a detailed account of their duties but an insight into their intent - "A party of the Salvage Coy. was detailed to collect Agricultural machines from abandoned farms ... the cutting of the crops for the French."
As the Salvage Divisions were demobilised at the end of the war, Jack Houlahan was appointed Temporary Driver attached to the 3rd Divisional Train and transferred to operations in England.
Jack arrived home in Australia in October 1919, and later married Ethel Hooper from New Angledool in 1928.
Read more ...
The information in this blog post has been researched by State Library staff and volunteers, it is based on available information at this time. If you have more information that you would like to share or further research uncovers new findings, this post will be updated.
Comments
Your email address will not be published.
We welcome relevant, respectful comments.