Sharing touch and feel books – those board books you might see at the library, bookshop or newsagent where there are textures built in to the illustrations on the page – has fantastic benefits for your little one, from introducing new words to engaging their senses and helping build their comprehension skills.
The best touch and feel books include physical textures that are included in the illustrations and also help to move the story along. This means toddlers will be able to use the experience of the "feel" to get a deeper understanding of the story and the words. With babies who'll want to grab and experience the book with fingers and mouths – as babies do! – you can just share the simpler words like "rough", "smooth", and "soft".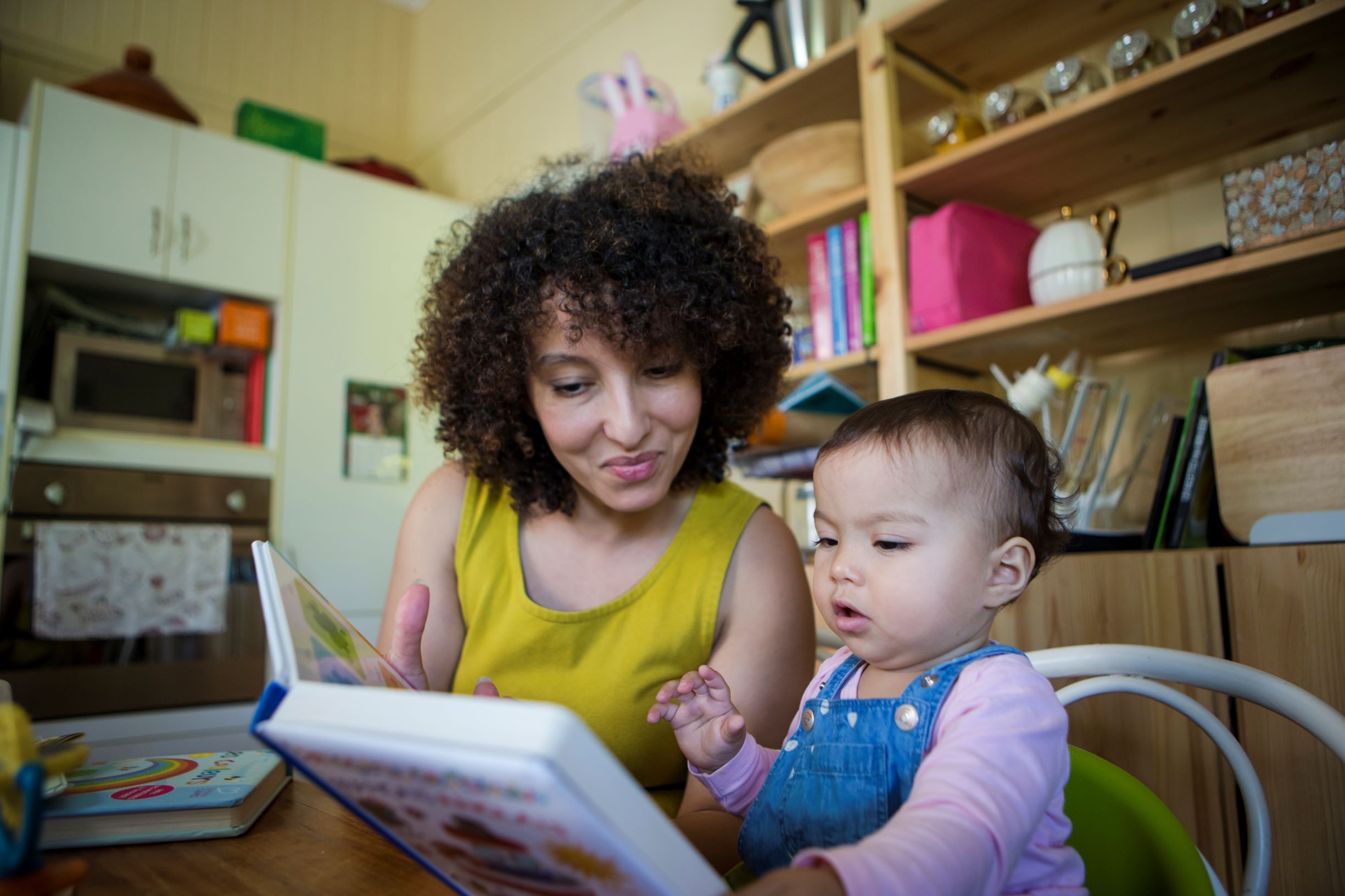 Babies will love feeling the different textures on the book and you can introduce them to simple words like "rough" or "smooth"
Inspiring conversation and building comprehension
No matter what the book is about, touch and feel books are great for development and conversations. They provide opportunities to engage babies and toddlers with lots of great words and experiences and fire up their tactile senses. All those everyday textures and sensations are brand new to infants and help them explore the world through touch.
Researchopen_in_new shows that young children exposed to books that engage more than one sense tend to develop better understanding and enthusiasm for reading. You and your child will enjoy sharing these fun and challenging books. The vivid pictures, simple text and basic story lines are easy to follow and good for early readers. The sturdy board book format is very strong and perfect for little fingers to handle over and over again.
Touch and feel books are sturdy and lots of fun to share with young children
Five reasons to share touch and feel books
They're engaging. They encourage interaction through the touch and feel panels, which helps make reading fun and instils a lifelong love of books.
They build vocabularies. Children learn to associate the textures they feel with the word it describes.
They enrich language. Children can learn multiple describing words for textures such as soft, fluffy, downy, and woolly.
Fine motor skills are used. These books often have intricate tasks such as flaps to undo, doors to open, rough, bumpy, smooth or shiny textures to enjoy.
Multiple senses are used. Children learn through seeing, hearing, doing, and touching.
Books to borrow from your local library
Ask your local public library staff for some touch and feel books or look for these titles and others in the same series on your next visit to the library.
That's not my wombat written by Fiona Watt
Little fish and friends written and illustrated by Lucy Cousins
Faces: a black-and-white book written by Alix Bosco
Colours: a first touch and feel book published by Pat-a-Cake
Baby dinosaur published by DK
Comments
Your email address will not be published.
We welcome relevant, respectful comments.