White Gloves Tours - presented in Townsville
By JOL Admin | 9 April 2009
White Gloves presentations were held at Townsville CitiLibrary's Thuringowa branch on the weekend of 4/5 April as part of the celebrations marking the 75th anniversary of the John Oxley Library.
Brian Randall from the John Oxley Library addresses the audience.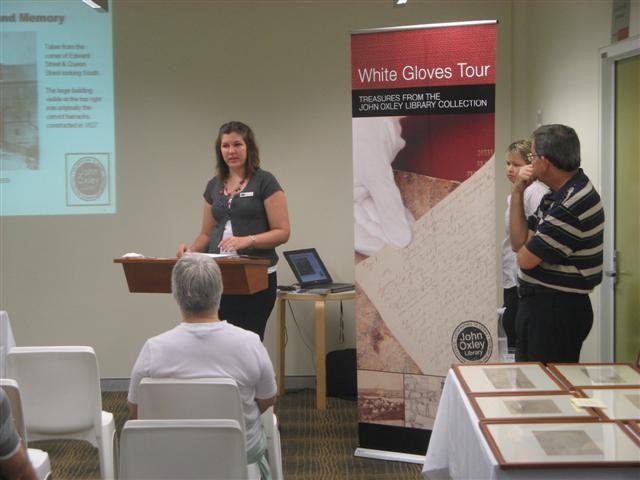 A'Mhara Russell from James Cook University speaking at the session.
participants viewing the material.
Around forty participants listened to speakers Brian Randall and Simon Farley from the John Oxley Library and A'Mhara Russell from James Cook University as they presented a range of original historical items.
Participants were able to look at, hold, turn pages and generally examine the treasures on display. The material being presented included early photograph albums, voyage journals, diaries and journals from the John Oxley Library. On display from the Eddie Koiki Mabo Library at James Cook University were a series of sketches by Sir Oswald Brierly, drawn during his voyage on HMS Rattlesnake.
HMS Rattlesnake material was a particular feature. In addition to the Brierly sketches, the journal of young HMS Rattlesnake midshipman Charles Card was also amongst the John Oxley Library material. It is likely that this is the first time that these items have been together in one place since the actual voyage of 1848.
Participants took full advantage of being able to handle the material with white gloves donned by all.
Check back on the John Oxley Library Blog for a report of the White Gloves sessions held in Charters Towers on 6 April.
Comments
Your email address will not be published.
We welcome relevant, respectful comments.