What a conundrum – libraries are the best performers but the least important Council service!
By Administrator | 11 September 2017
Every two years the Local Government Association of Queensland undertakes a Community Satisfaction Tracking Survey. This research undertakes benchmarking and analysis of community satisfaction with Local Government services in Queensland. 700 households are surveyed examining the performance of the service and how important it is. Check out the full report here Community Satisfaction Tracking Study 2017
Libraries fit into the Community Lifestyle Services section of the research, and yes – big drum roll, in their overall performance libraries and information services rate higher than every other service in that category which includes parks and playgrounds, animal control, sport and recreation, community services/development. This graph from the report tells the story beautifully: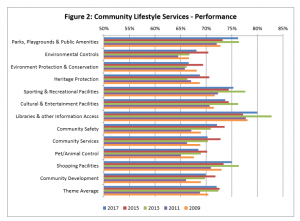 Ref: page iii of LGAQ Community Satisfaction Tracking Study 2017
Ref: page iii of LGAQ Community Satisfaction Tracking Study 2017
However, on the other measure included in the study - importance, libraries rate the lowest, compared to the other services offered by Councils including basic infrastructure, customer services, etc.
These results pose quite a challenge for library advocates – we are the best performers across all Council services yet we are considered to be the least important – what to do?! How can we use this data to demonstrate our value? How can we use the positive aspects of this research to gain increased support whilst acknowledging that the community doesn't seem to think library services are as important as basic infrastructure?
SLQ will be undertaking a library advocacy project next year to align with the new VISION and we will endeavour to tackle these challenges. We would love to hear your ideas! Don't hesitate to contact me on deb.miles@slq.qld.gov.au.
Comments
Your email address will not be published.
We welcome relevant, respectful comments.