WANTOK 2013 celebrated at SLQ
By JOL Admin | 14 November 2013
Guest blogger: Emelda Davis - National ASSI Secretariat
Australian South Sea Islanders (Port Jackson) delivered WANTOK 2013 ASSI Capacity Building Forum at the State Library of Queensland from 1-3 November. This is the first of a series of three workshops funded by the Commonwealth 'Community Cohesion' grants program which saw the event opened by the Prime Minister Tony Abbott's representative, the Hon. Jane Prentice and a number of state and international officials, Elders and community leaders who came together to share and celebrate 150 years of heritage in Australia. The ASSI.PJ Historical Advisory Panel lead by Professor Clive Moore and Professor Gracelyn Smallwood delivered a formal recognition of the harsh reality experienced by the 55,000 Islanders brought to Queensland as indentured labourers from 1863 – 1908. Homage was also paid in the form of a chronology history of SSI / ASSI achievements dating back to 1902 presented by ASSI.PJ Vice president Danny Togo. The forum saw international academics and Pacific Island delegates travel from far and wide which included acting Vanuatu Prime Minister Ralph Regenvanu, Vanuatu Indigenous Descendant Association and the Tafea Australian Connections delegation of 30 women performing a sacred dance never performed outside of Tanna Island.
Tafea women dancers at WANTOK 2013. Image courtesy of Emelda Davis
WANTOK 2013 realised a landmark achievement with the election of the new Australian South Sea Islanders National Representative Board and saw the Australian South Sea Islanders (Port Jackson) branch voted in as the National Secretariat. The National ASSI Representative Board elected were: Natalie Pakoa – President, Dennis Bobongie (Vice President), Alan Johnson (Treasurer), Jennifer Darr (Secretary), Lesley Yasso, Natalie Franks, Louise Pfeffer, Sandra Georgio, Christine Monday, Darryl Lingwoodock, Fiona Mount, Emelda Davis. Image courtesy of Nathan Hart (up and coming Tweed Heads ASSI photographer).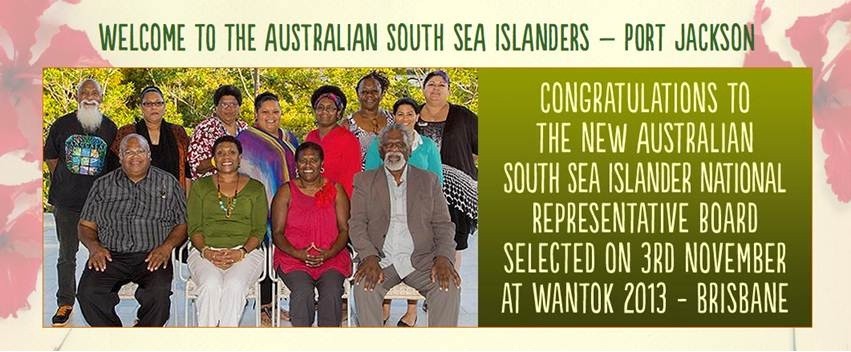 Comments
Your email address will not be published.
We welcome relevant, respectful comments.