Victor Denton First World War Memorial, Nobby
By JOL Admin | 9 March 2015
The Victor Denton war memorial located at Nobby is the first known memorial of the First World War to have been erected in Queensland. This memorial honours Private Victor Denton, a trooper with the 2nd Light Horse Regiment, who was killed at Gallipoli in June 1915. The concrete and stone memorial is located in the Denton family section of the local cemetery alongside the grave of Victor Denton's parents.
The plot is surrounded by a low fence comprising concrete tapered plinths which are joined by a steel rod with the memorial itself resting on a square base with a chamfered top edge. From this base projects a short pedestal, also with a chamfered top edge. The front face of the memorial has a marble plaque affixed bearing an inscription in memory of Victor Denton in cut and blackened lettering. The memorial's pedestal is surmounted by a broken column with a simple moulded base.
Soon after his death, the residents of the local district established and subscribed to a fund to erect a monument to Victor Denton, reflecting the high regard in which he was held as well as the level of patriotic feeling existent at the time. The monument was built by Bruce Brothers, monumental masons located in Toowoomba, who also constructed a number of other memorials in subsequent years, for instance the Westbrook First World War memorial. The actual unveiling of the memorial is associated with the famous Dungarees march, as reported in the Warwick Examiner and Times on 20 November 1915. When the Dungarees squad arrived at Nobby during their march they were met just outside the town by Mr. F.W. Werne and "given a hearty welcome". A procession was then formed and they marched to the cemetery where the Reverend Elliott unveiled the monument to the memory of Private Denton. At the unveiling, the "Last Post" was sounded and "Nearer my God to Thee" was sung. After further events in the town the Dungarees group moved on to their next destination.
The Nobby School memorial gates also commemorate those who served and fell during the First and Second World Wars with marble plaques bearing the names to each side of the gate. This memorial gate was officially opened in November 1947, on the 50th anniversary of the school. It comprises sandstone columns with a single iron gate.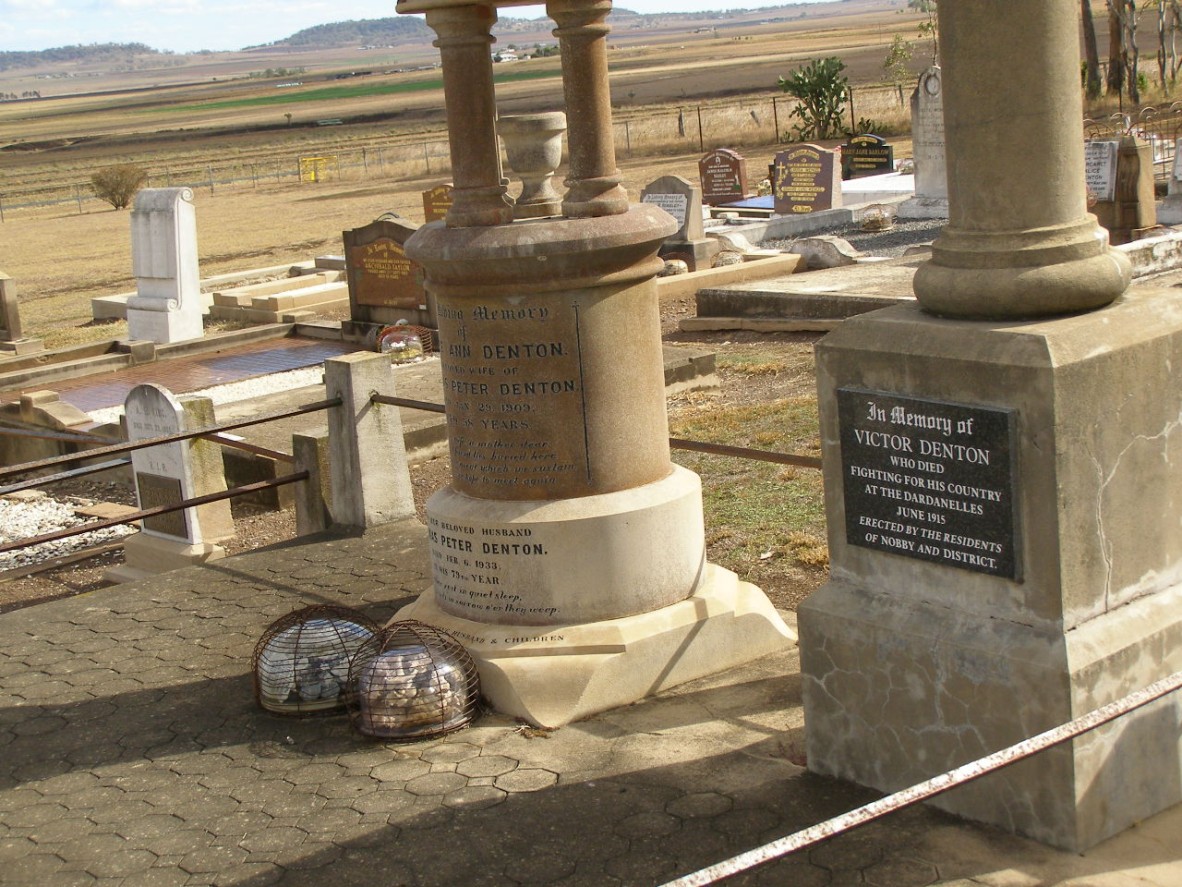 Victor Denton First World War Memorial, Nobby
Comments
Your email address will not be published.
We welcome relevant, respectful comments.