St George ANZAC Centenary Exhibition
By JOL Admin | 3 May 2016
Twelve months ago, the St George RSL Club presented the region's first exhibition of its kind - The Balonne Shire ANZAC Centenary Exhibition. With the auditorium of the RSL decked out with camouflage netting hung from the ceiling and using images obtained from the Australian War Memorial, contributions from members of the public and schools from the region were perused by numerous school groups and members of the public. Entry was via a small cinema where an introductory First World War video was shown, setting the scene and mood for visitors and guests to the exhibition. Organisers were overwhelmed by the positive response from locals and visitors alike, most of whom described the Exhibition as "Amazing!"
Karen Berry from the RSL has kindly shared some images of the exhibition:
Battle at Hill 60 contribution from the St George State High School
Further images of the exhibition can be viewed here or by going to State Library of Queensland's Anzac Day Today collection in Historypin and doing a search for St George. This collection contains image of how Queenslanders commemorate Anzac day today.
In January 2016, Karen, as representative of the St George RSL, was awarded the community event award for the ANZAC centenary exhibition at the Australia Day awards ceremony.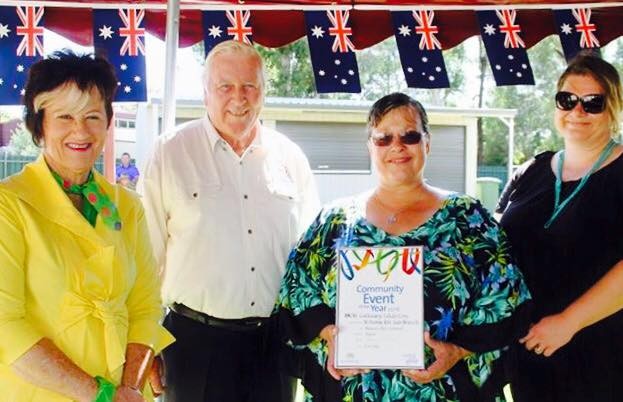 Mayor Donna Stewart presented the Australia Day awards which was received by Karen Berry
In response to receiving the award Karen said:
We share this award with everyone who came together to make such an important event possible. What made it so special was that we were able to honour our Anzacs in our own special way. We will always remember them. Lest we forget.
An image from the exhibition paying tribute to the local heroes has since been added as the cover photo for the St George RSL facebook page.
Karen is one of the network of heritage leaders from across Queensland actively working towards the uncovering and sharing of First World War stories. Her attendance at the first Heritage Leaders Workshop held at State Library of Queensland in 2014 assisted Karen with the development of this extensive display.
I feel strongly that, without the experience, knowledge and tips I gained from the 2014 Leaders Workshop, our Exhibition would not have been anywhere near as good as it ended up being.
State Library welcomes the participation of Karen and her fellow heritage leaders at the next Heritage Leaders Workshop to be held 11 to 13 May 2016. The important work of these dedicated heritage leaders assists in creating a First World War legacy for future generations.
St George held Anzac Day ceremonies at the cenotaph, Hospital Memorial and the St George Cemetery. They had a great parade, which included all three schools as well as veterans and the pony club, culminating in the main service for the day and an F-15 flyover as well. Karen's dawn service speech included the recognition of a number of local servicemen:
Those like shearer Allan Rogers who was born here in St George, or labourers such as William Smith from Mungindi or Maurice Quinlan from Thallon, or graziers like Francis Rutledge from Yamburgan or Keith Munro from Boombah, or station hands such as Ranald Winks from South Burgorah or Claude Maskey from Cowildi near Dirranbandi or Balonne Shire councillors like Richard Black who even took his own car to the war…

Gallipoli was a world and a life away from the Balonne Shire in the early 20th Century!

But our soldiers all became Anzacs and they are why we are here today.
These and many others are recognised in the Memorial Wall which was unveiled on Anzac Day.
Niles Elvery  | Regional Coordinator, Q ANZAC 100,  State Library of Queensland

Niles Elvery | Regional Coordinator, Q ANZAC 100, State Library of Queensland
Comments
Your email address will not be published.
We welcome relevant, respectful comments.