Sovereign storytelling: Kirli Saunders on experimenting and allowing imperfection
By Reading and Writing | 15 March 2022
The Sovereign Stories showcase at State Library celebrates a decade of First Nations writing and editing excellence through the black&write! project. In this series of interviews, we talk to emerging First Nations authors about their memories of sharing stories with family, the creative process, and the power of storytelling in their lives.
The amazing Kirli Saunders is a master of many creative avenues. She is a multi-award winning writer and poet for a range of audiences. She is also a visual artist, playwright, teacher and consultant. We're thrilled that (the very busy!) Kirli agreed to speak with us. A proud Gunai woman, Kirli has several projects out this year (please read on!) and loves to connect with others through the magic of storytelling.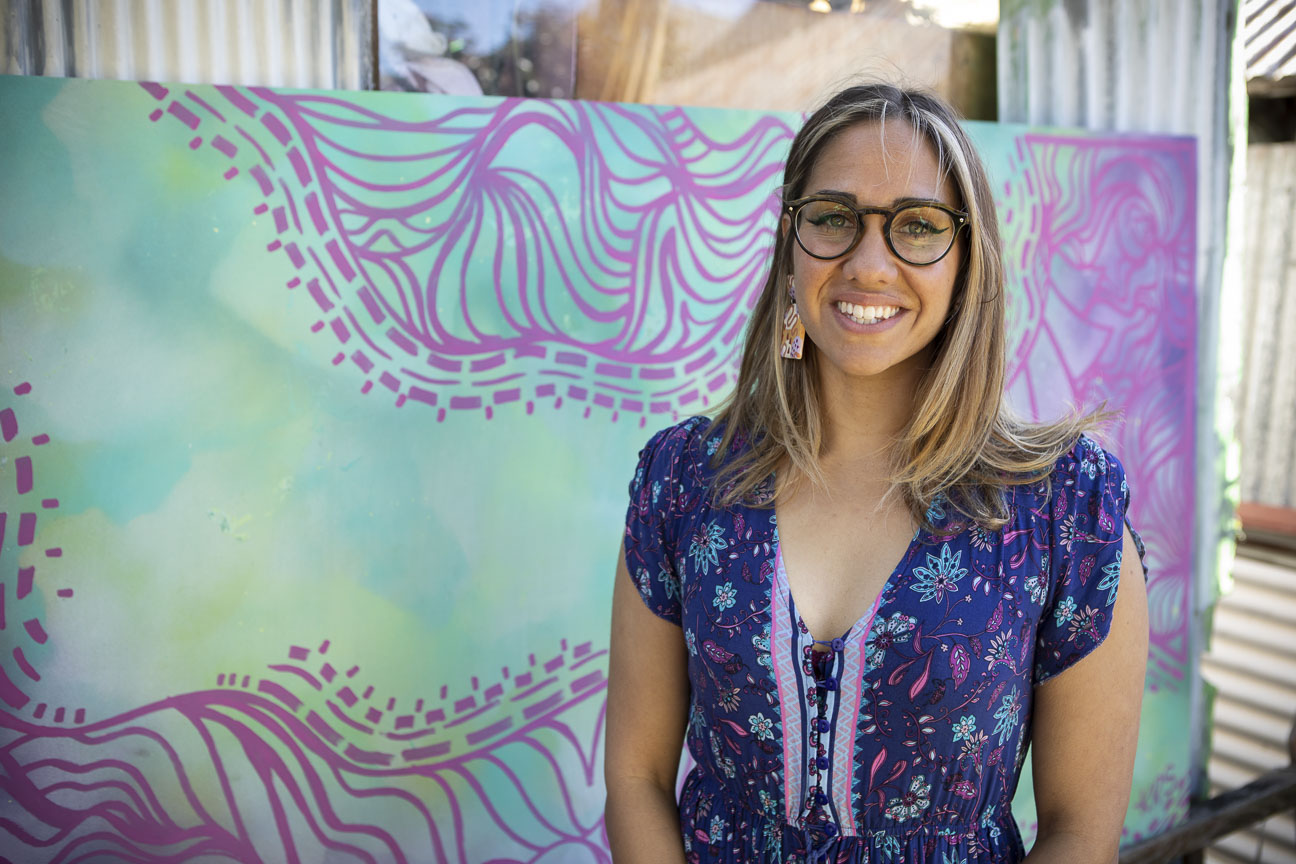 Kirli Saunders, pictured with her artwork
What is your earliest memory of somebody telling you a story?
I was lucky to be raised by storytellers. My earliest memory would have been Dad tucking us into our bunk bed and spinning a bed-time story as he did. We'd drift off to sleep with a world curated just for us. We loved his ghost stories especially. I was also surrounded by artists, musicians and readers, and having Nan and Pop, my Aunty and Uncles, and parents model to us the magic of storytelling in all its forms has really impacted me and made me want to offer that to our littles.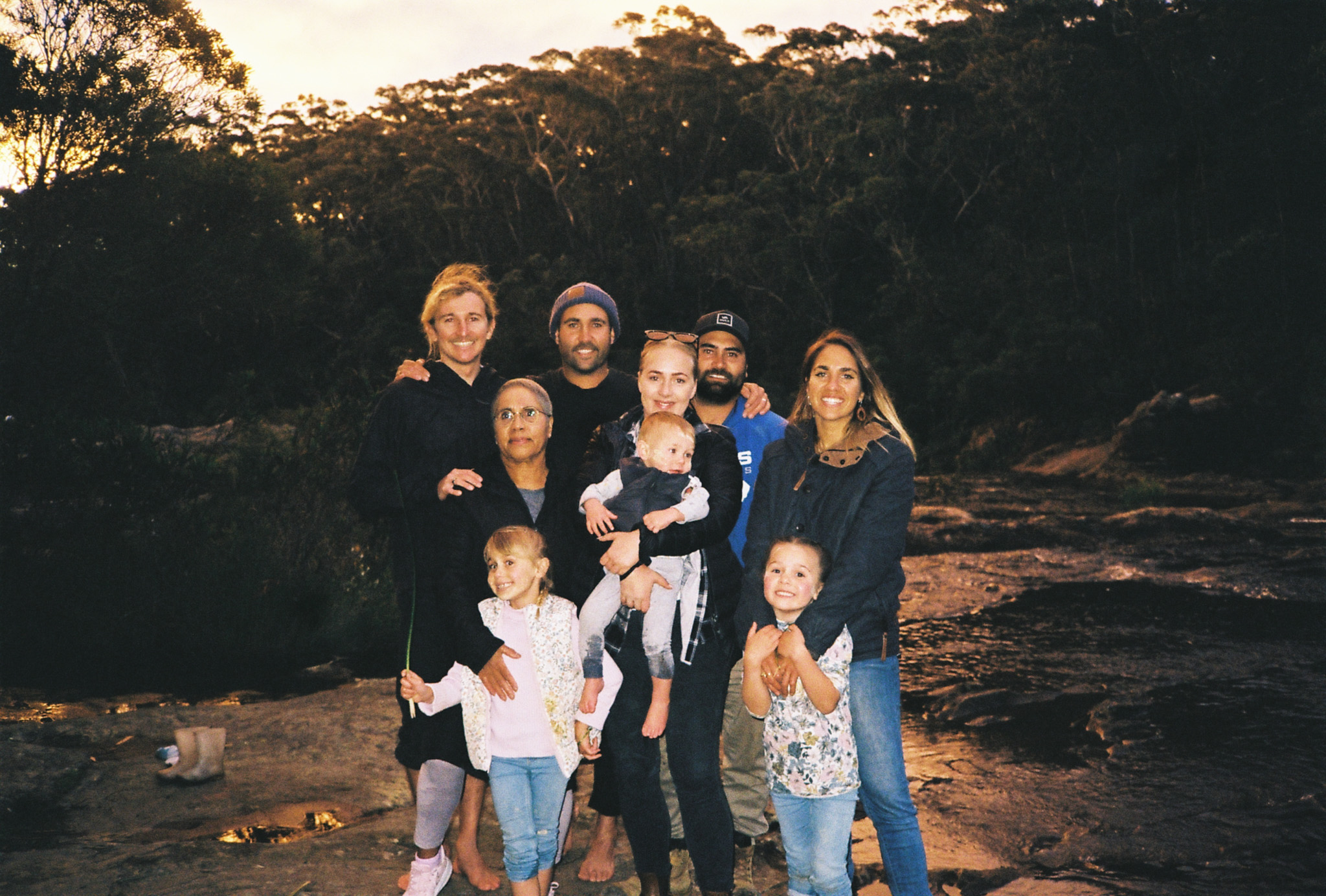 Kirli, on the right, with her family, while filming a short called 'Wallflowers & Evergreens'
Can you describe the power in telling your own story? Have you witnessed it in others too? Where has storytelling taken you? 
As a First Nations and Queer woman, telling my own story is paramount. It means I can tell my story my way. Historically our voices have been silenced or omitted, so I feel grateful to add to the swell of our stories that are flowing louder than ever, and to shift the narrative to something more truthful and honouring of our communities.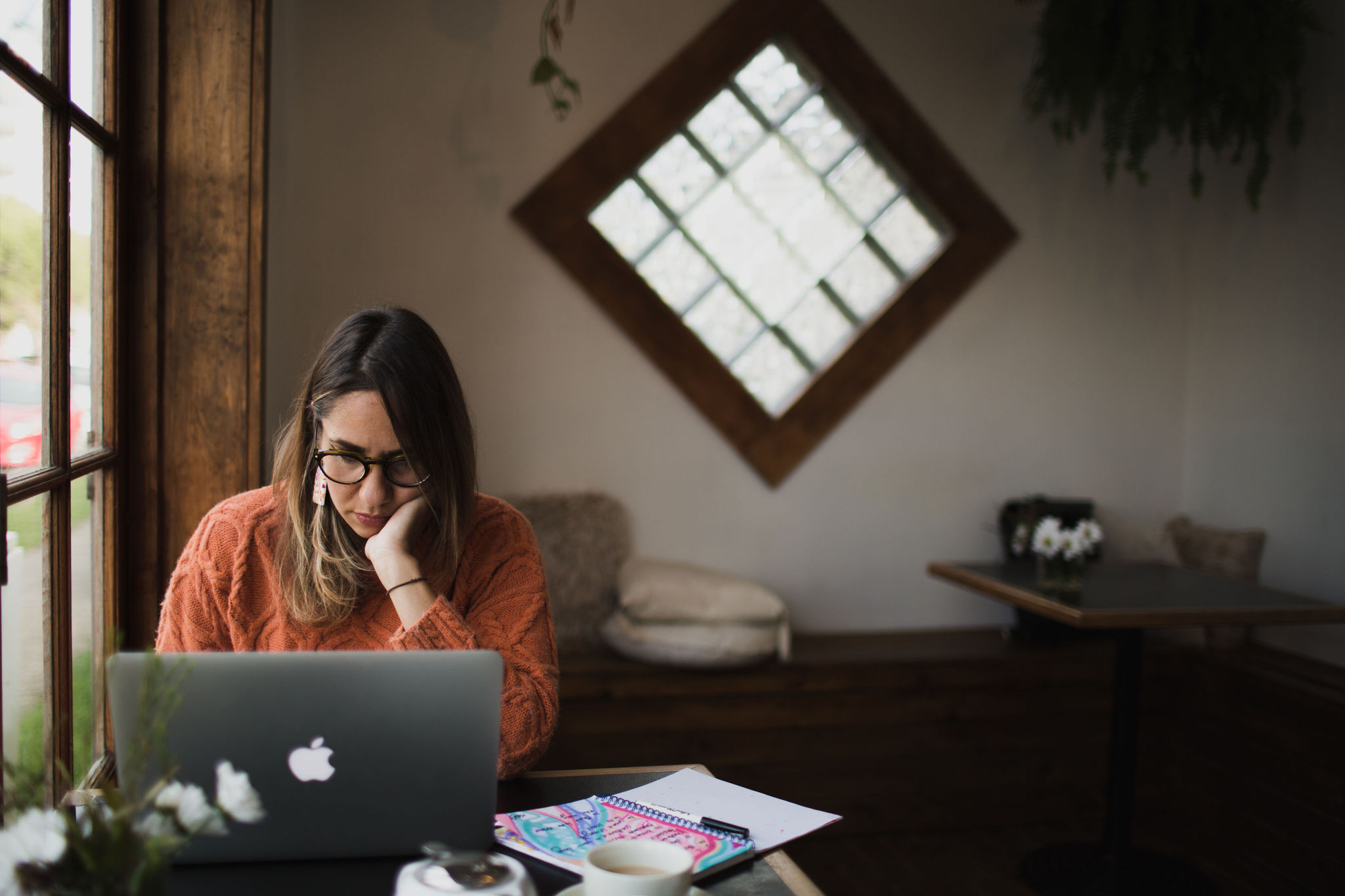 In 2022, Kirli will appear at several writers' and artists' festivals, and she will produce her debut play
What are some shared or popular stories that have endured within your family?
Familial stories of who we are and where we come from, Dreaming and spiritual stories passed down through our community and the books we circulate between us. My sister lives in the US, so I make sure she has Aboriginal writers from home to keep her company. In recent years, I've loved sharing the work of Tara June Winchopen_in_new, Melissa Lucashenko, Claire G. Coleman, Jazz Money, Ellen van Neerven, Evelyn Araluen, Tony Birch, Bruce Pascoe, Chelsea Watego, Alexis Wright and Nardi Simpson.
Can you recall a moment in your life when you doubted your creativity, or didn't trust the creative process? How do you try to overcome moments like this?
This happens frequently as an artist, especially when you're starting out. I don't have a degree in the arts – everything I know is from experimentation, practice and mentoring. When I wrote The Incredible Freedom Machinesopen_in_new, I didn't have an agent. I sent the manuscript to Matt Ottley (an award-winning illustrator I admired) and he graciously took it to his publisher, Rebecca Young (an equally impressive author). It has since been published in five languages around the world and celebrated in literary prizes. I love sharing this story, because I really feel that if I can do it, become published as someone without formal training but with a story to tell, then I think anyone can pursue their creative passions.
When I feel myself doubting or feeling like an imposter, I go for a surf, I walk in the bush, listen to poetry, listen to music, pat a dog or horse, call one of my brother boys who are artists or call one of my mentors. I get messy and just skim the surface of the work, allowing that imperfection. And usually something better emerges from that space of acceptance.
Showing up is such an integral part of writing.
Can you describe what you are you working on now, and what keeps you inspired?
I get inspired by seeing other Black writers and artists share their stories and by co-creating with them.
I've got two book birthdays this year, Returningopen_in_new is my visual poetry collection being released with Magabala later this year. I love working with an all First Nations crew there, and with Grace Lucas-Pennington as my editor. This collection is raw. It explores feminism, decolonisation and connection with our truer selves, blending poetry and art, and spanning print, painting, digital art, film and fibre.
Our Dreaming (Scholastic), my second children's picture book illustrated by Dub Leffler, is also coming out this year. Dub is a master and I can't wait to explore the concept of the Dreaming for our little ones with Dub's illustrations!
Going Home is a play I'm writing with the support of Australia Plays Transform and Merrigong Theatre. It follows a family returning to the lands they were forcibly removed from, and honours our families, and our stories of homecoming.
Find out more about Kirli Saundersopen_in_new
Thank you to Kirli Saunders for generously sharing her insights into stories and creativity. You can see the Sovereign Stories exhibition for free and in person at kuril dhagun, level 1, State Library, or watch the digital stories online.
Comments
Your email address will not be published.
We welcome relevant, respectful comments.