Sovereign storytelling: Adam Thompson on Nan's scary tales and writing as meditation
By Reading and Writing | 25 November 2021
The Sovereign Stories showcase at State Library celebrates a decade of First Nations writing and editing excellence through the black&write! project. In this series of interviews, we talk to emerging First Nations authors about their memories of sharing stories with family, the creative process, and the power of storytelling in their lives.
Adam Thompson's debut short story collection, Born Into This, was published in February 2021. Adam is such a smart, evocative and witty writer. The stories in this excellent book are wide-ranging in tone and setting. It was a pleasure to talk to Adam about why he writes and the great impact his family has on his words.
What is your earliest memory of somebody telling you a story?
I guess it's staying with my great grandmother, Ivy, when I was a little boy. She lived alone in a suburb of Launceston called Waverley. She had a little one bedroom unit in a large complex of units. I stayed with her all the time. None of my other cousins did, for some reason. We would sleep in the same bed. We didn't watch TV at her place – I don't even think she had one.
Of a night, Nan would tell me stories about her younger life on the islands (off north-east Tasmania). I liked repetition and would ask her to tell me the same stories each time I stayed. Some of them I can't really remember. But there was a story about the mopoke owl being the harbinger of death. And another about a lizard someone used to feed milk in a little saucer. One day they forgot to feed it and the next day they found the lizard with a tear in its eye. After that it never came back.
My Nan's stories were unnerving. I was a scared child and slept with the light on until I was seven.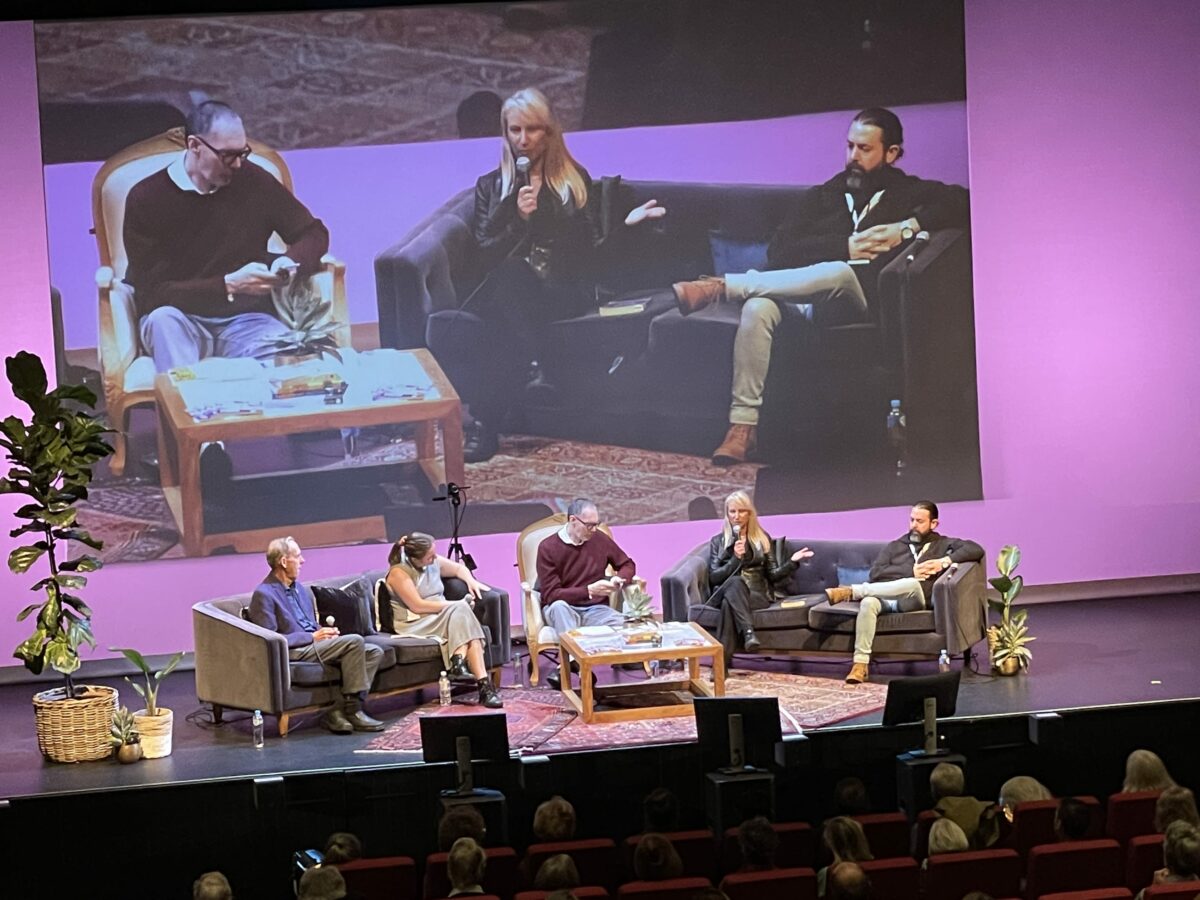 Adam onstage at Margaret River Readers and Writers Festival in May 2021 with Bob Brown, Caitlin Maling, Will Yeoman and Jonica Newby
Can you describe the power in telling your own story? Have you witnessed it in others too? Where has storytelling taken you? 
I love to create stories and share them with others. And I love getting feedback from people who read or listen to the stories. I think that the power in telling your own story is making people feel something. Stirring their emotions. People are guided by their emotions, so in a way you are influencing them and their thinking. When you combine that with a cause or theme that you are passionate about, you can be effective in creating change.
I know other writers and storytellers who feel the same as I do. But people have different motivations for storytelling. I think at the heart of most storytellers is the want to entertain. We have our unique delivery, our signature. There is some ego involved, perhaps.
It's hard to say where storytelling has taken me because it's always been part of my life on different levels. I guess in more recent times it has created opportunities to reach large audiences through publication. I have people valuing my stories as a way to understand pakana culture and life, and wanting to use them in schools. I think that is pretty powerful. And taking stories that my community can relate to so closely – and making them available to people on the other side of the world – that is pretty special.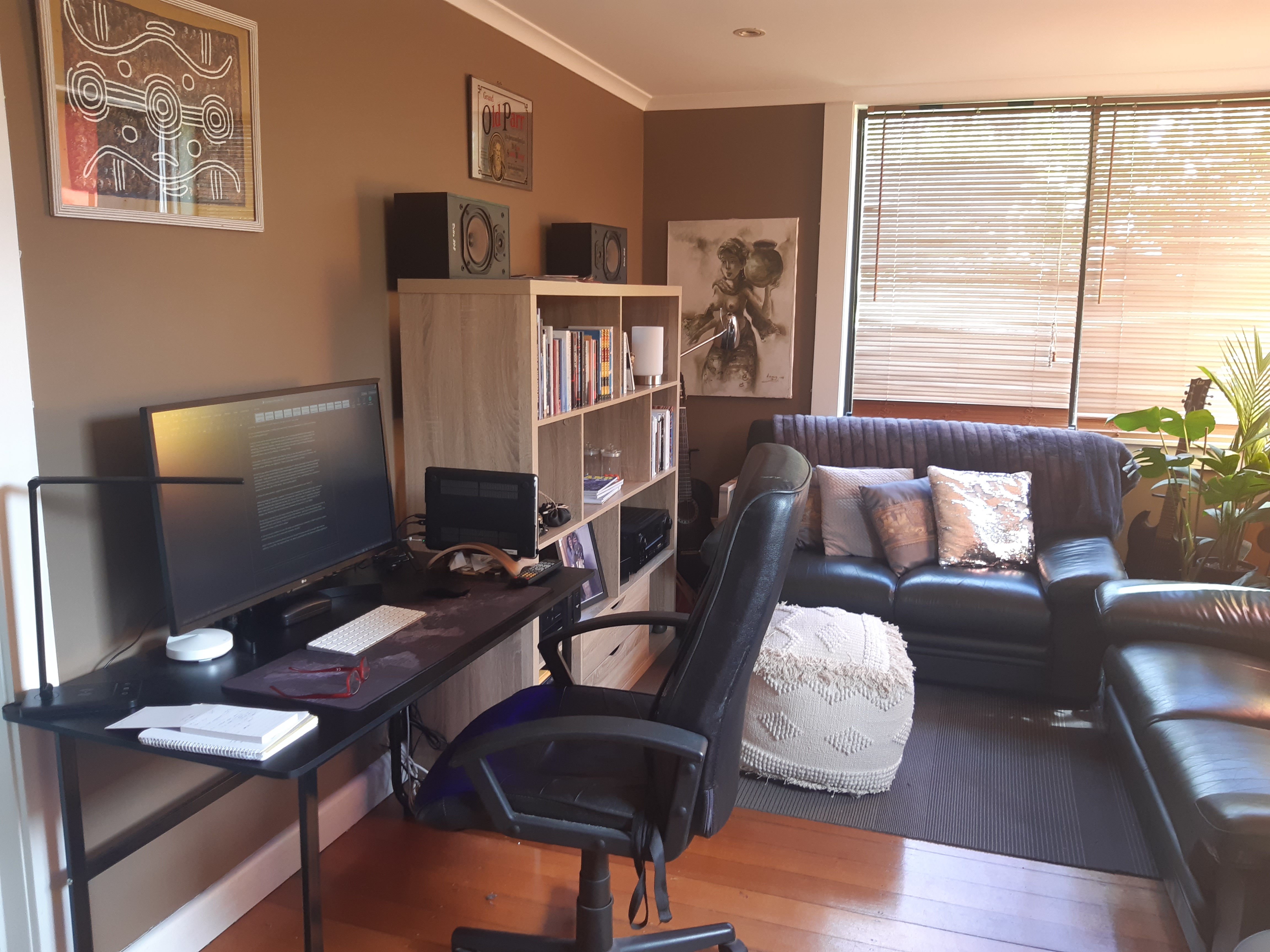 Adam's writing space at home where he's tapping away at another short story collection and his debut novel
What are some shared or popular stories that have endured within your family?
Without getting too detailed, I suppose it's the stories of people within our families who have gone before us. How we understand our past and where we come from. On my father's side, I have a great grandmother who lived until she was 105. She is a bit of a legend. I remember visiting her when I was a kid. And I remember when she got a letter from the Queen after turning 100. It's strange now thinking that I personally knew someone who was born in the 1800s.
On my mum's side we have this really interesting Aboriginal history. There are many stories of life on the islands going back many generations to the tribal women. I get to go to these places, these islands with such a rich history, much of it still visible in the hut ruins and old muttonbird sheds. The characters in those stories are so unique.
Can you recall a moment in your life when you doubted your creativity, or didn't trust the creative process? How do you try to overcome moments like this?
Haha! I doubt my creativity almost every day! You get to know yourself as you get older and see patterns in your life. I've observed that I am quite a cyclical person. My interests change regularly so it can be difficult to stay focused. My opinion of myself as a creative person also changes regularly. One day I'm the real deal. The next I'm a complete fraud.
Like many creatives, I've battled with the process. I don't know why but I tend to engage in creative activity in an almost panicked state. I think it comes from a fear of what people will think of the work. My goal lately has been to treat writing as a form of meditation. Make it a relaxing, flowing, enjoyable experience – which is what it should be. I have also started painting and drawing as a way to overcome creative fear. It helps. I'm not very good, but that's the point. Forget what others think. Just do it for yourself.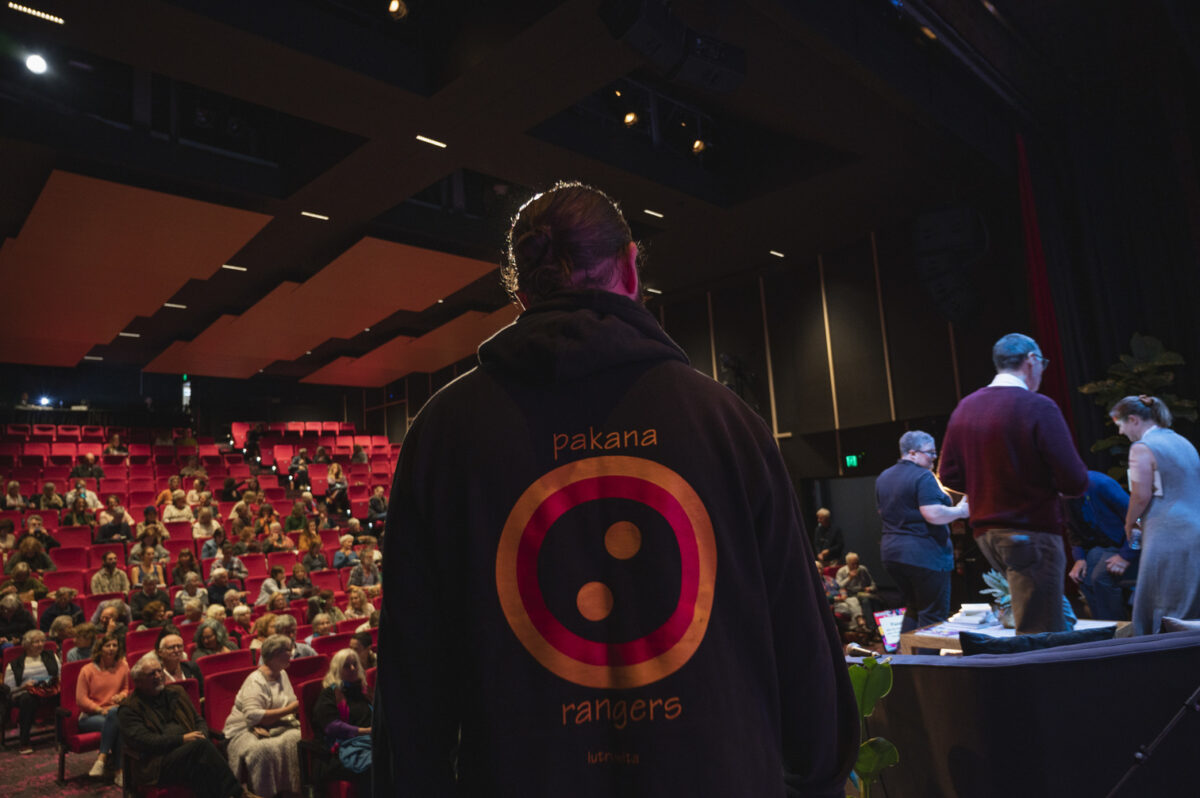 After publishing Born Into Thisopen_in_new, Adam has participated in several writers' festivals – here he is preparing to go onstage in Margaret River
Can you describe what you are you working on now, and what keeps you inspired?
I am writing a novel and another short story collection. The novel is contemporary and set in my home town of Launceston. I haven't long finished a story for the Unconformity Festivalopen_in_new's new online literary space, MOONLAND. And I am also about to start writing for screen again, with a few projects in the pipeline. I left my day job recently to live a more a creative life and spend more time writing.
I am inspired by a few things. The positive feedback from my debt book, Born Into This (UQP 2021), has made me want to write more books. Seeing other writers being so productive with their art inspires me (and scares me at the same time). The publicity opportunities arising from my book have been pretty cool. Writers Festivals have been fun and an opportunity to travel within this COVID period. I was lucky to get to the Sydney and Margaret River writers festivals this year. I have met lots of talented and supportive writers and book people. Hanging out with them is very inspiring.
And then of course there is my family and community – who I want to keep proud.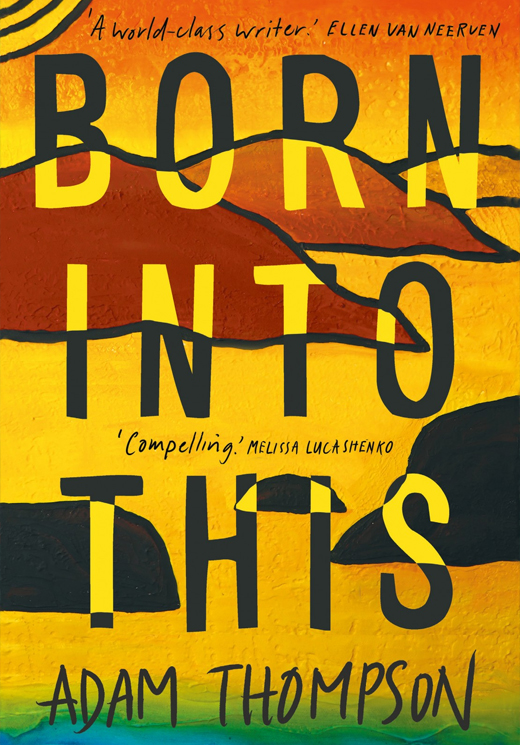 Comments
Your email address will not be published.
We welcome relevant, respectful comments.