Serving Country Forum at SLQ
By JOL Admin | 16 October 2014
On Friday, 26th September State Library of Queensland (SLQ) hosted the Serving Country Forum. The forum was the first of many upcoming symposiums part of the Q ANZAC 100 commemorations that will take place over the next five years.
The forum was facilitated by Joshua Creamer, Native Title Barrister and Chairman of Titans 4 Tomorrow.
The day began with a moving Welcome to Country by Song-Woman and Law-Woman of the Turrbal people, Maroochy Barambah. Janette Wright, CEO and State Librarian SLQ, then announced that as part of the Q ANZAC 100 commemorations, State Library of Queensland will be offering four fellowships to look at Queensland's untold stories of the First World War. More information about the fellowships can be found on the Q ANZAC 100 website.
Jackie Huggins AM FAHA addressed the audience with an inspiring keynote address. Jackie told of her family's relationship with military service and how it stays with her to this day.
Des Crump from The Indigenous Languages Coordinator at SLQ set helped the tone for the day with his keynote response. He covered the history of Indigenous military service and gave an insight into how we research this topic.
As the day continued we heard from Gary Oakley of the Australian War Memorial, David Williams who was the researcher for Black Diggers.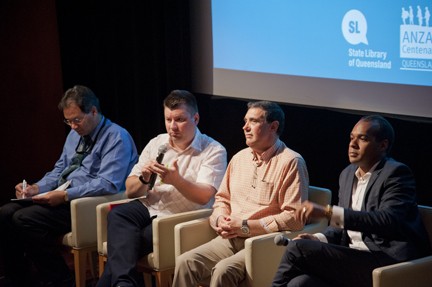 Wesley Enoch, director of Black Diggers, Dale Kerwin from the Aboriginal and Torres Strait Islander Dedicated Memorial Committee Queensland, and Tony Albert who has designed an memorial for Indigenous Soldiers to be installed in Hyde Park by Anzac day 2015, sat on a panel session talking about memorialisation and how we honour our Black Diggers.
We finished the day hearing from Sally Lawrence and Uncle Eric Law from Cherbourg. Sally Lawrence has been an integral part of the team researching the boys of Barambah project within Cherbourg community. Uncle Eric law, is a descendant of one of the Boys of Barambah and the chairman of the project.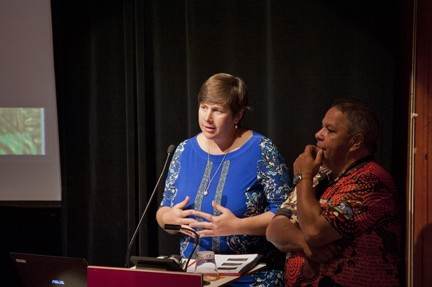 Rory O'Connor spoke about Indigenous involvement in the ANZAC day parades and setting up a memorial at Yugambeh Museum for the Indigenous ANZAC remembrance celebrations. We finished the day hearing from Linda McBride Yuke about her family's relationship with Military Service.
If you were not able to attend on the day, a recording of the forum can be found on the State Library of Queensland's webcast page.
Comments
Your email address will not be published.
We welcome relevant, respectful comments.