Right to Information Day 2018 : Building trust and transparency
By Administrator | 17 September 2018
Right to Information Day is celebrated worldwide on 28 September.

Right to Information Day 2018
In 2002, Freedom of Information organisations around the world created a global network to promote people's right of access to information and open transparent governance. That date is now recognised as international Right to Know Day, and has grown to celebrate the use of government information in innovative and engaging ways. It is also an opportunity to celebrate living in a democratic society where citizens can engage with, and participate fully in, government.
In Queensland, Right to Information Day acknowledges the Right to Information Act 2009 (Qld) and its contribution to enabling easier access to government-held information. This year, the theme of Right to Information Day is Trust and Transparency, and the focus is on encouraging the public service to act openly and transparently to build the trust of the community. The community are also encouraged to become involved – to exercise their rights and engage with agencies to access information.
State Library of Queensland is an official partner of Right to Information Day, and is committed to conducting its work with openness, transparency and accountability, and ensuring that Queenslanders have access to information and resources they require now and for future generations.
Queensland marks the occasion by hosting the Solomon Lecture – an annual event honouring Dr David Solomon AM, Chairman of the 2007-2008 Independent Freedom of Information Review Panel, which led to right to information and information privacy reforms. This year's lecture will be delivered by Professor Ken Smith of the Australian New Zealand School of Governance at 11am on 24 September 2018 at 1 William Street, Brisbane. The Deputy Commissioner, Public Service Commission, Queensland, Mr Peter McKay, will also speak. For more information, and to book your free ticket, visit https://solomonlecture.eventbrite.com.au. If you cannot attend, you can watch the livestream, which can be accessed via https://www.oic.qld.gov.au/rtiday2018
Watch a brief message from the Information Commissioner about Right to Information Day, and for more information about Right to Information Day visit https://www.oic.qld.gov.au/training-and-events/right-to-information-day.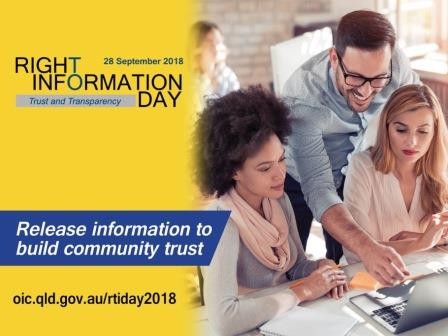 Right to Information Day 2018
Comments
Your email address will not be published.
We welcome relevant, respectful comments.