Remembering the Battle of Dead Man's Ridge
By JOL Admin | 6 August 2015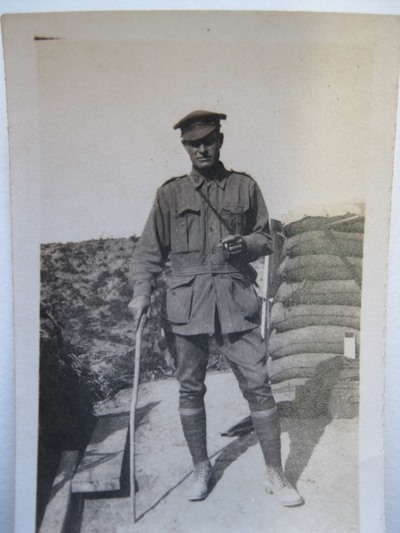 William Glasgow at Gallipoli, 1915
William Glasgow at Gallipoli, 1915
The Gallipoli battle of Dead Man's Ridge which took place on the 7th August 1915 is a virtually unknown encounter, being overshadowed by the well-known Australian attack at The Nek, long considered one of Australia's great military tragedies and immortalised in the 1981 movie "Gallipoli".
However, it was at the Battle of Dead Man's Ridge, that the troops of the 1st Australian Light Horse, under the command of Colonel William Glasgow, suffered a greater proportion of casualties than those suffered at the Nek and through Glasgow's well thought-out plan of attack managed to reach the enemy's third trench. It was also the battle in which Will Glasgow, a grazier from Gympie, Queensland, displayed his sterling leadership abilities, gaining the admiration of his men and beginning his rise through the ranks to become Commander of the 1st Australian Division and the highest ranking Queenslander to serve in World War I.
Men of the 1st Australian Light Horse at Gallipoli (Australian War Memorial ID No. C02727)
Men of the 1st Australian Light Horse at Gallipoli (Australian War Memorial ID No. C02727)
The Australian attacks at Gallipoli in early August were planned to lure enemy units away from the proposed landing of British forces at Suvla Bay. Through this manoeuvre it was hoped to cut the Gallipoli Peninsula in two and so isolate large numbers of Turkish troops. The plan was that the infantry would capture the Turkish stronghold at Lone Pine, the 3rd Light Horse Brigade would attack the Nek and the 1st Light Horse Brigade would attack the Turkish trenches at Dead Man's Ridge.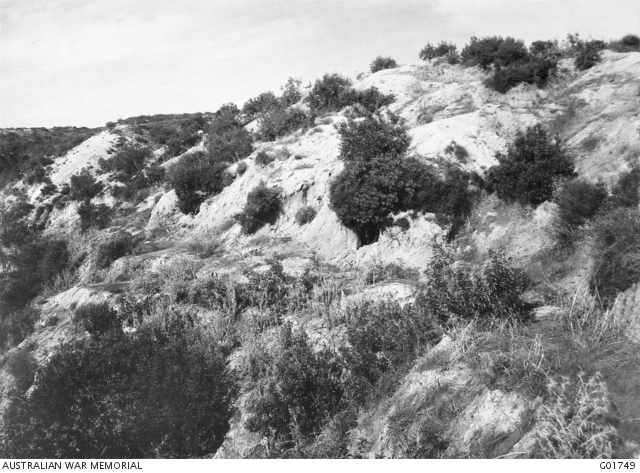 Back of Quinn's Post (right) and Dead Man's ridge (left), 1919. (Australian War Memorial ID No. G01749)
Back of Quinn's Post (right) and Dead Man's ridge (left), 1919. (Australian War Memorial ID No. G01749)
The attack by the 1st Light Horse comprised about 200 men, mainly from New South Wales. Although not obliged to, Glasgow went over the top with his troops. His intelligent plan was not to simply charge forward, but to have a party of bomb throwers, each one protected by a bayonet man, to first bomb the Turks in their trenches. In this way Glasgow, with his troops, although suffering heavy losses, managed to reach the third Turkish trench, the only success of the Light Horse charges on that day. Glasgow, himself, made a statement to the Australian Senate in 1925 describing the incident:
We succeeded in reaching the third enemy trench. The operation proved very costly and our numbers were so reduced that we were hard put to keep the enemy off. We were in an angle of the trench, and were being bombed from all directions. Our situation was rapidly becoming extremely desperate, as we were running out of bombs, so we signalled to our comrades in the old original line acquainting them of our difficulties. In a very short time one of our comrades was observed to jump out of the old trench and run across 'no-man's-land' with a sugar bag full of bombs for his Australian mates in the captured enemy trench. I may add that this area of 'no man's land' was covered by the enemy with both rifle and machine-gun fire, and had a bullet struck one of the detonators in the bag the man would have been blown to pieces. His clothes were practically shot away but, fortunately, he escaped unhurt. His action was the most gallant I have ever seen. (Commonwealth of Australia Parliamentary Debates, Third Session of the 9th Parliament, Vol. 3, 13 August - 24 September 1925, p. 1676).
The regimental diary of the 1st Light Horse provides a brief description of the attack and identifies the gallant men who dashed across 'no man's land' with the bombs:
August 7, 1915, Pope's Post - General attack by our forces along the whole line. Our attack was made at 04:30 from Pope's Hill on the Chessboard Trenches North of Bloody Angle. The attack was gallantly led by Major J.M. Reid. The storming party reached the third line of trenches, occupied about 30 yards of them and held them for 2 hours but the enemy counter attacked in great force. They severely bombed the forward party and forced them to retire. Lt. G.H. L. Harris, displayed great gallantry in leading 1st line of storming party and although wounded remained in the foremost position gained until retirement. 566 Cpl Keys, T J, 437 Pte Tancred, R C, 397 Pte Barrow, F displayed great bravery in carrying bombs to the storming party over ground swept by machine gun and rifle fire. (Australian War Memorial. https://static.awm.gov.au/images/collection/bundled/RCDIG1012895.pdf)
Privates Fred Barrow and Ray Charles Tancred were both mentioned in despatches, while Corporal Brian Irving Keys was mentioned in despatches and recommended for the French Croix de Guerre medal. The original recommendation reads "Corporal Keys, Brian Irving, No. 566, "C" Squadron 1st L.H., 7/8/15, Pope's Hill. Conspicuous action in carrying bombs across an open bullet swept space to the firing line from his own trenches & also in bringing back wounded men from same spot at the same time himself being wounded". (Australian War Memorial, List of recommendations accompanying despatch, http://static.awm.gov.au/images/collection/pdf/RCDIG1068798--43-.pdf)
Glasgow's men managed to drive the Turks back and hang on to the trench. However Glasgow could see that the charges at Quinn's and The Nek had been disastrous failures and, with no possibility of ultimate success, decided to withdraw his men. The wounded were first evacuated and then parties of men dashed back into their own trenches. Glasgow was one of the last to leave, carrying one of his wounded troopers with him. Overall the party of about 200 had suffered 154 dead, wounded and missing, with Glasgow being the only officer to retire unscathed.
Stretcher bearers evacuating the wounded at Gallipoli. (State Library of Queensland, Negative No. 166998)
Stretcher bearers evacuating the wounded at Gallipoli. (State Library of Queensland, Negative No. 166998)
The Reverend George Green of the 2nd Light Horse Regiment describes the event in a diary held by the John Oxley Library, stating "A miracle. Glasgow led 200 men in charge, got into 3rd Turkish trench, was out 2 hours returned unhurt. All other officers killed or wounded only about 50 men returned whole...Oh the wounded in the valley! Ghastly morning".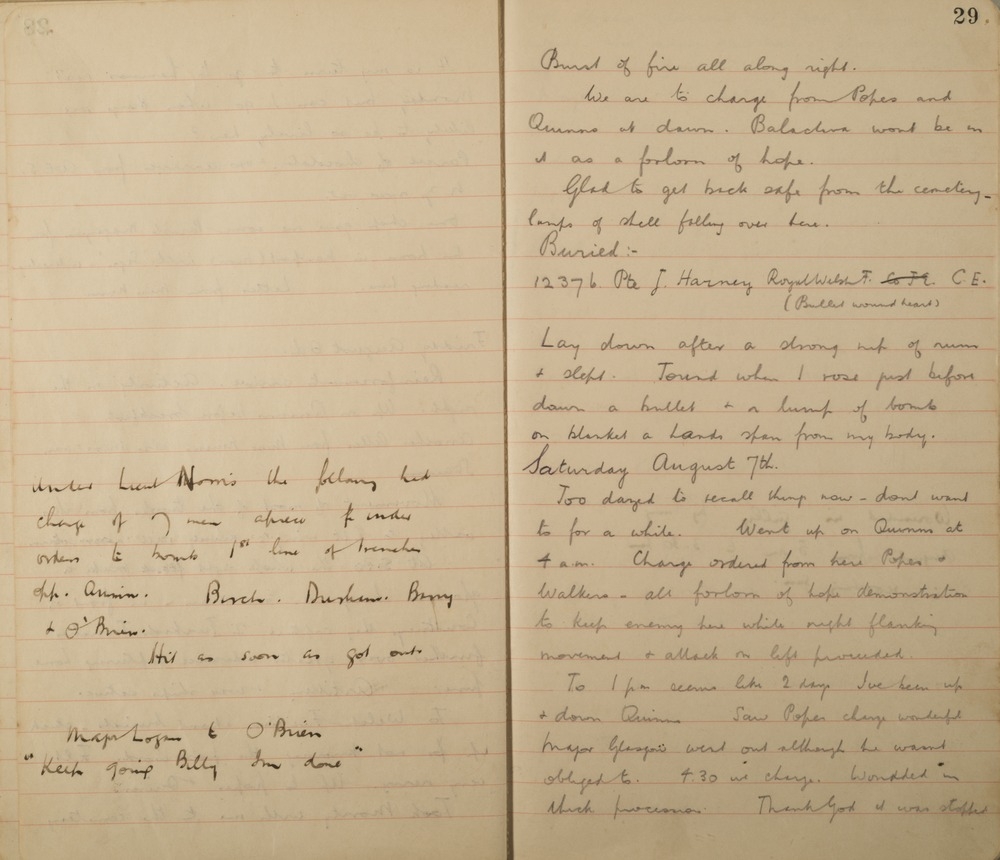 John Oxley Library, OM77-14/7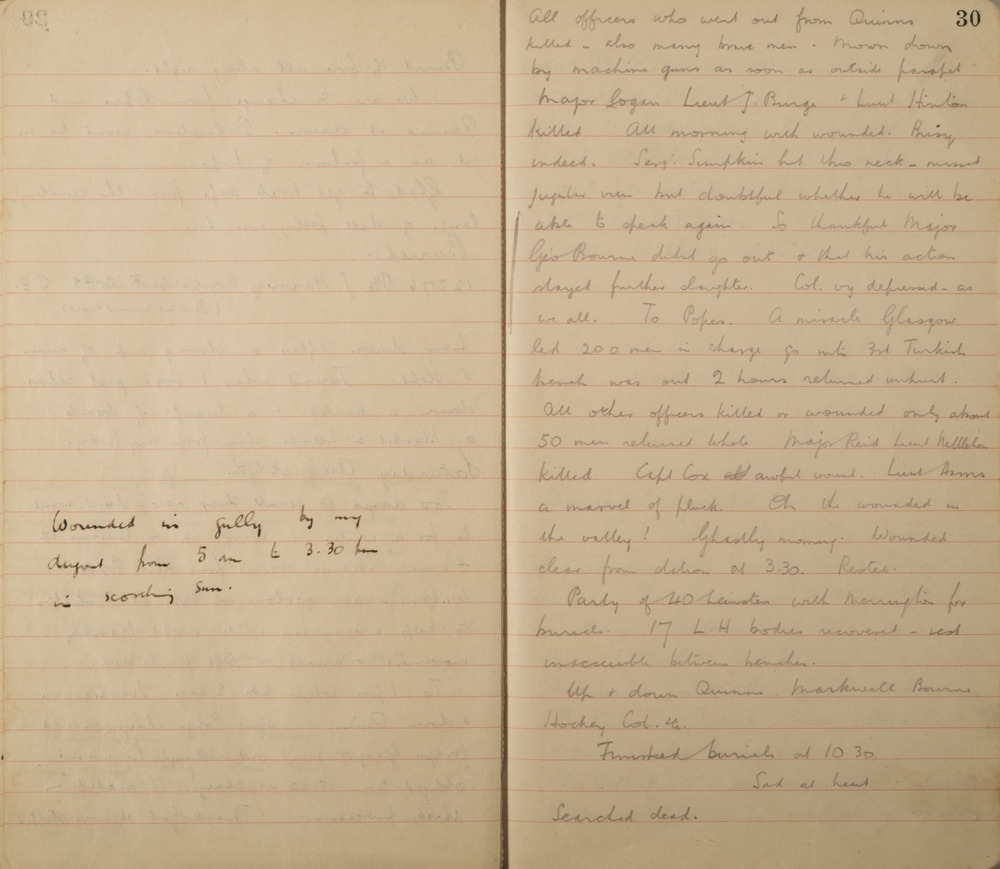 OM77-14/7, George Green Gallipoli Diary, Vol. 5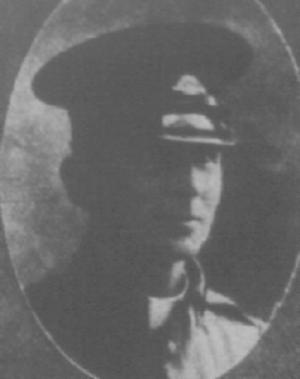 Reverend George Green, Queenslander 17 October 1914, p.21
Reverend George Green, Queenslander 17 October 1914, p.21
Although the charges from the Nek and Quinn's were terrible failures and caused great loss of life, Glasgow's charge was partially successful. The next day he was confirmed as Lieutenant Colonel commanding the 1st Light Horse. In a letter to his wife, Annie Isabell Glasgow, he writes of the promotion in his own unassuming way:
Promotion in the field is nothing as it cannot happen unless vacancies occur & they very rarely shift men from one regiment to another. I was very flattered as the 1st L.H. Reg (N.S.W) men would have had me for their c/o altogether but when their Colonel turned up I handed over to him. The 3rd L.H. Regt. (S.A.) who have lost their Colonel were also good enough to hope that I would go to them. I am however, I have just been told by the General, to get my own regiment as the Colonel is being invalided. You need not mention this. I would not have told you until the thing really came about but you always appear anxious to hear of my advancement. At present I am in command (John Oxley Library, Acc: 29571, item 103, 14 August 1915).
John Oxley Library Acc: 29571/103, 14 August 1915
John Oxley Library Acc: 29571/103, 14 August 1915
In September Lieutenant Colonel Stodart, commander of the 2nd Light Horse, was evacuated for a surgical procedure and Glasgow was immediately transferred to command his old regiment, being promoted to Lieutenant Colonel. General Birdwood described him as "an exceptionally fine leader" and recommended him for a CMG (Order of St. Michael & St. George) for his actions at the Battle of Dead Man's Ridge. This was the beginning of Glasgow's rise to prominence during the First World War and of many successes in the field of battle, culminating on the Somme, and his promotion to Major General.
On the centenary of this significant battle it is timely to remember the valour and gallantry of these Australian troops and the high price which was paid on the Gallipoli Peninsula 100 years ago.
The Sir William Glasgow Collection (Accession 29571) is currently being digitised and will eventually be available through our catalogue. The George Green Gallipoli diaries are part of the John Oxley Library's 2nd Light Horse Regiment Records (Accession OM77-14) and have been digitised: http://hdl.handle.net/10462/eadarc/5855
Lynn Meyers, QANZAC 100 Content Curator
Comments
Your email address will not be published.
We welcome relevant, respectful comments.