Reflections on attendance at the RLQ and Small Libraries Learning Program
By Administrator | 8 May 2018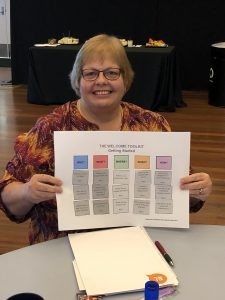 Julie Guteridge at the WELCOME toolkit workshop
Julie Guteridge at the WELCOME toolkit workshop
Big Ideas for Small Libraries has led us to Small Libraries doing Big Things! by Julie Guteridge − Cloncurry Shire Council library service
The WELCOME toolkit opened up many ideas for working within our community and discovering what the community wants from our services. This led into our afternoon digital inclusion session where we discussed the latest who's, what's , and why's that are happening in the digital world today. There is so much to learn so we can share those leanings with others and State Library always goes the extra mile to support us and assist us with obtaining the necessary resources.
We look forward to implementing some of the ideas provided to assist us in connecting with Aboriginal and Torres Strait Island people. Our numbers have been increasing over the last five years.
Since the launch of Rural Libraries Queensland (RLQ) and our catalogue, word has finally started spreading about our Eresources. It's amazing how much is available and no charge to our borrowers. The selection keeps getting bigger and better.
Cutting the RLQ anniversary cake
Cutting the RLQ anniversary cake
It was a big bonus to get to be part of the celebration of the RLQ anniversary! The staff there are amazing (and the cake was pretty yummy too)!!!
Thank you for the opportunities provided.
Comments
Your email address will not be published.
We welcome relevant, respectful comments.