Reel Rescue
By R. Hillier | 9 July 2020
Not even a pandemic could quell the enthusiasm of State Library staff in progressing Reel Rescue – a moving image digitisation project funded through the generosity of donors to the Queensland Library Foundation.
This campaign aims to digitise the more than 4000 vulnerable films and videos from State Library of Queensland's extensive archive, as well as new acquisitions of motion pictures. Since June 2018, this project has raised more than $285,000 and funded the assessment and digitisation of hundreds of titles which are gradually being uploaded to our One Search catalogue.
Entrant in Princess Competition, Gayndah Orange Festival. Still from 29226 Bill Rahmann films (Film 17). John Oxley Library. State Library of Queensland.
Largely home movies and amateur productions, the significance of these films often lies in their normality – every day, simple activities and events recorded by amateur film makers and home movie buffs. School fetes and centenaries, family holidays and leisure activities, small businesses, city streets and rural life. Sometimes intentionally, but quite often by accident, these film makers incidentally documented the ever evolving lifestyles of Queenslanders and their environment, both natural and man-made - the very fabric of our State. Flickering images of the constantly changing architecture, sporting and cultural events, public celebrations and processions, backyard birthday parties, visits by dignitaries, trips to the show, the clothes we wore, the cars we drove and the places we went all contribute to a picture of what Queensland was and continues to be.
Still from 'The Amazing Children'. 31306 Paul Ruckert collection (Item 5). John Oxley Library. State Library of Queensland.
Two major collections have recently been made available for public viewing, these being the films of celebrated Brisbane film-maker Paul Ruckert and a second instalment of films in the wonderfully eclectic Bill Rahmann collectionopen_in_new.


Traffic policeman, Woolloongabba Fiveways. Still from 29226 Bill Rahmann films (Film 26). John Oxley Library. State Library of Queensland.
Paul Ruckert's contribution to Queensland was deemed significant enough that in 1999 he was interviewed by Ray Martin as a part of Channel 9's Our Century series. Ruckert made films for much of the last century, many produced in his Norman Park house and screened in the 32 seat theatrette downstairs. His early films form the 1930s were quite often experimental comedies revolving around his own family and his boisterous sense of humour. During these decades he also produced a large number of advertisements for local businesses. Later, he developed into a widely respected maker of nature documentaries mostly highlighting the Queensland bush. He also contributed to international magazines on his pioneering work with extreme closeup and time lapse cinematography. The films in our collectionopen_in_new display all of these elements of Paul Ruckert's work.
The Victoria Bridge and Treasury Building. Still from 31807 Merryl McKay film footage of Brisbane. John Oxley Library. State Library of Queensland.
Bill Rahmann was a very capable amateur film maker who between the 1940s and 1980s documented a wide variety of the goings on around him. Many of his filmsopen_in_new focus on local events such as street parades, country festivals, visiting dignitaries, grand openings, natural disasters and the last day of Brisbane's trams. He also created some endearing holiday and road trip films and occasionally strayed into social commentary with his films covering issues such as congestion and loss of heritage buildings.
Still from KR Darling Downs advertisement. 4061 George Wilson Cooper collection. John Oxley Library. State Library of Queensland.
In addition to these major archives have been a treasure trove of smaller collections. Other highlights from the last year have included two wonderful 8mm studiesopen_in_new of inner Brisbane in the 1950s filmed by teenage hobbyist Merryl McKay, and three humorous early black and white advertisements for KR Darling Downs created by Queensland animation pioneer George Wilson Cooper.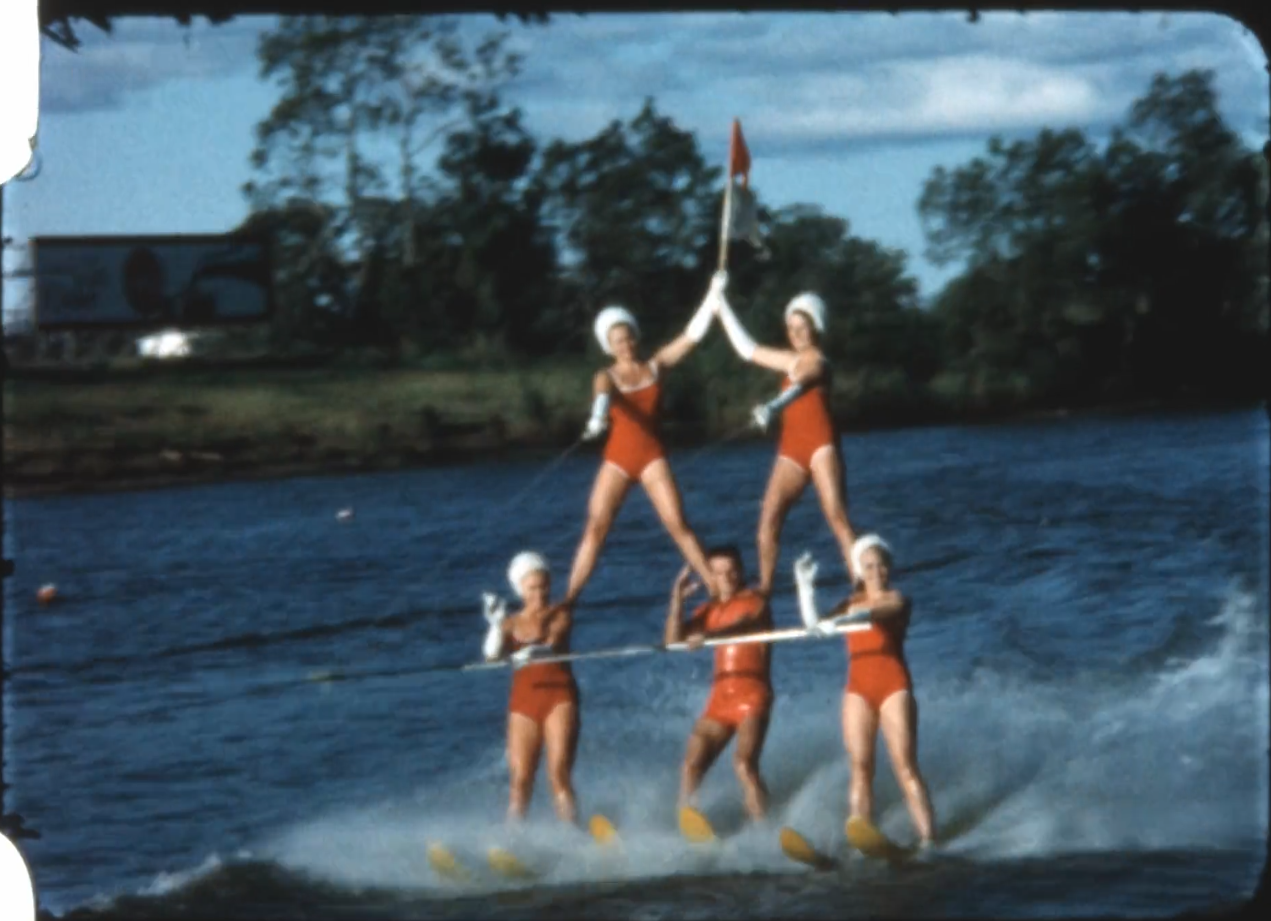 Performers at Surfers Paradise Ski Gardens. Still from 32000 Phyllis Maitland film footage of the Gold Coast. John Oxley Library. State Library of Queensland.
Still from 31677 Gumahah Station home movies. John Oxley Library. State Library of Queensland.
Reel Rescue is a project that will require ongoing funding to enable State Library to keep up with the recording of Queensland history and culture through moving image mediums. Support Reel Rescue by visiting the Queensland Library Foundation or emailing foundation@slq.qld.gov.au.
Comments
Your email address will not be published.
We welcome relevant, respectful comments.