Rediscovering ANZACS
By Marg Powell, Specialist Library Technician, Metadata Services | 24 January 2015
Guest Blogger - Judy Gilloway, SLQ Volunteer
Sometimes the same kinds of chance encounters happen as a means of items being donated and finding their way into the SLQ collection. Last October at a Sunday afternoon performance of the critically acclaimed Black Diggers in Brisbane, such an event occurred.
A few friendly words were exchanged between complete strangers who happened to be seated beside each other. The Question of "What brings you here?" started a conversation about a box of war medals and other items that had been found under a house in Chelmer in 1972, which had been bought in an Estate sale. The new owners carefully kept these items despite being flooded in the 1974 Brisbane floods and subsequently moving to a new home.
Items from Captain Edward Newton's collection
Items from Captain Edward Newton's collection
Q ANZAC 100
"I would prefer that these items be preserved as part of memorabilia and not to be traded through eBay etc for personal gain. Some of the items are over 100 hundred years old and have an unknown history but have been carried or worn and survived to this day."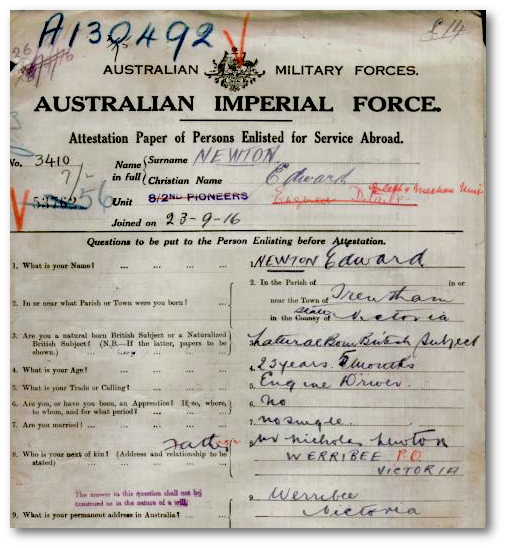 WW1 Service Record, NAA
Firstly as a Sapper with the Australian Electrical & Mechanical Mining & Boring Company 1916-1919, then as Captain 1st Australian Mobile Laundry & Decontamination Unit, 1940-1944.
"I am moved by the information you have gathered. To think that for forty plus years we have had in our possession the personal belongings of a man who survived two wars and lost a brother at Gallipoli and the loss of his wife."
Brian and Barbara King
Comments
Your email address will not be published.
We welcome relevant, respectful comments.