Queensland Places - Thursday Island - T. Satow, Merchant & Importer
By JOL Admin | 5 August 2015
One of the more well known businesses operating on Thursday Island in the 1890s was the firm run by Mr. Torajiro Satow, known simply as T. Satow. In the pictured advertisement, dating from that time, his business was described as merchant and importer, ship builder and agent for pearling boats.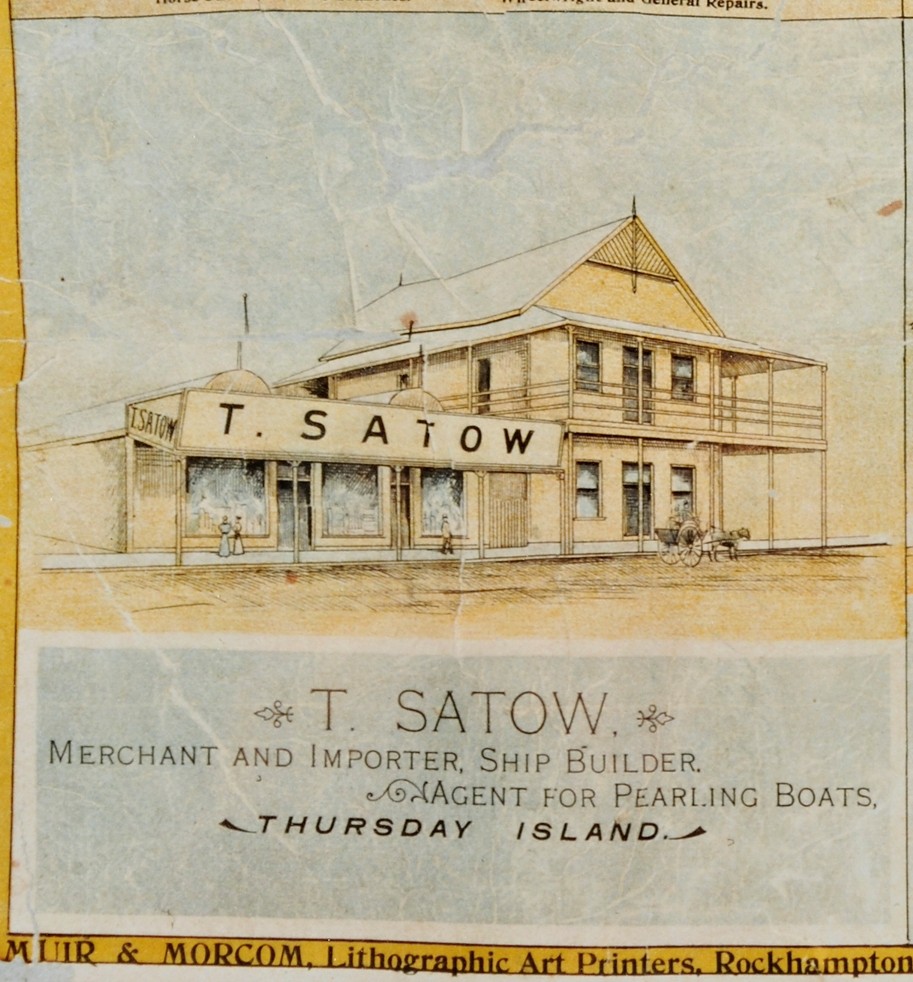 T. Satow, Thursday Island, 1897
T. Satow, Thursday Island, 1897
Mr. Satow, from the reports and descriptions in various newspapers during the 1890s, was a leading business figure who enjoyed significant success in the early part of that decade, but later ran into financial and other problems. These difficulties appear to have worsened through the 1890s and the business went into liquidation in March, 1900.
It also seems that Mr. Satow's business problems may have been exacerbated by his own involvement in various political activities. Mr. Satow had always been a keen advocate for the Japanese people living on Thursday Island and at one point was the president of the Thursday Island Japanese Club, which numbered around 350 members in 1894. The Japanese Club's aims were to advocate for and assist the island's Japanese residents, however Satow appears to have extended his involvement in Japanese affairs beyond local issues and was often described in newspaper reports as being an "agent of the Japanese government". This would seem to be an accurate description as Mr. Satow was registered at the 1897 Pearl Shell Commission as a Japanese Government representative.
These reports, within the context of local and wider fears over the possible influx of large numbers of Japanese immigrants, put him into conflict with many Thursday Island residents, including members of the actual local Japanese community. The depth of this internal conflict was demonstrated by Mr. Satow being declared an enemy of the Japanese residents of the island, by a majority of the island's Japanese themselves. This resulted in his being deposed as president of the Japanese Club.
In the pictured advertisement, we see Satow's well built premises with his office and shop to the left and what may have been his residence to the right, with the name of the firm displayed prominently above the shop front. Mr. Satow passed away in 1900, the same year in which his once prosperous business went into liquidation.
Brian Randall - Queensland Places Coordinator, State Library of Queensland.
Comments
Your email address will not be published.
We welcome relevant, respectful comments.