Queensland Jazz and the Australian Musicians' Union
By JOL Admin | 17 April 2018
Guest blogger: Dr Lauren Istvandity - John Oxley Library Fellow 2017.
The Australian Musicians' Union (AMU) has a long history, the documentation of which can serve as a great resource in understanding the changing dynamics of the music industry over time. National and state branches were set up in 1911 to advocate for the working conditions of musicians and others working in the industry, including composers, conductors, arrangers and copyists. With membership not restricted by genre, the Union provided services for those in classical and contemporary scenes though orchestral members, who more often had full-time employment, often represented a significant portion of union members.
In 1961, the Queensland District of the Australian Musicians' Union released a souvenir bookletopen_in_new to celebrate their Golden Jubilee, which is included in the collections at John Oxley Library. The 45 pages of this edition provide an insight into the prominence of jazz in Queensland at that time, which had risen in popularity during World War II, and continued to be a common form of everyday live entertainment. The booklet serves as a goldmine of information, point to individuals, bands and venues that were prominent in jazz scenes across the state.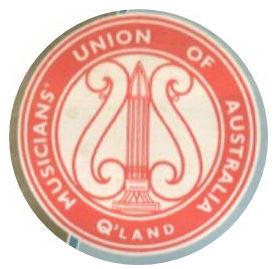 The emblem of the Musician's Union of Australia
The emblem of the Musician's Union of Australia
The AMU provided guidance on the rates of pay and entitlements of those in the industry, per district. For working musicians, this provided an excellent basis from which to negotiate the finer details of engagements, from pay per musician, to meal provision and break times, which were especially important for longer and later gigs.
The Golden Jubilee booklet advises of the latest fees for working musicians, notably this refers to jazz musicians working in groups or as soloists. In 1961, the state award for a 5-piece dance band ranged from £18 18 s. plus leaders and equipment cartage fees (equal to over $537 today) for a three hour gig before 10:30pm, to £34 3s. 11 p. plus fees (over $972) for performance until 1am.
In earlier times, penalties were enforced for both musicians and employers operating outside rules set by the AMU. For example, musicians had to register with the union before undertaking paid work, where union cards often needed to be shown before commencing a gig.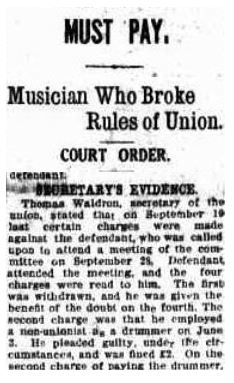 Article in Daily Standard (Brisbane), 29 July 1925
Article in Daily Standard (Brisbane), 29 July 1925
The MUA's 1961 release refers to achievements of prominent jazz musicians of the preceding decades, including Billo Smiths's unmatched tenure as bandleader at the Trocadero Dansant (Melbourne Street, South Brisbane). Lists of venues and band leaders active around Queensland reveal the extent to which jazz was dominating music scenes at the time. These include the stalwarts of the Brisbane scene, such as Cloudland (under Tich Bray) and the Bellevue Hotel (under Lou Meacham) to suburban sites like the Camp Hill Hotel (under Bernie Kempster) and the Sands Hotel Cleveland (under Ray Sparks). Also listed are venues in greater Queensland, including Queensland Hotel (Coolangatta), Strand Hotel (Cairns); Hotel Allen (Townsville); and Lennons (Toowoomba). Prominent jazz musicians are listed as serving on the 50th Committee of the Queensland branch, including Neil Wilkinson, Eric Hall, Lloyd Adamson, David Meredith, Mervyn Oates.
The AMU still exists today, though in modern times, membership of the AMU became less regulated and the rules less enforced, though membership is still required to access the advocacy services available. The Golden Jubilee release serves as a helpful record of the rise of jazz in Queensland.
If you have any information that could contribute to an understanding of jazz in Queensland, please contact Dr Lauren Istvandity via www.qldjazzmemories.com.
Further reading from Dr Lauren Istvandity
Comments
Your email address will not be published.
We welcome relevant, respectful comments.