Private Don Sisley, 5th Field Ambulance
By Marg Powell | 2 September 2015
The dashing chap pictured is Donald Moir Sisley, who at the age of 19 enlisted just one month after Australia pledged it support for Britain to fight against Germany in the First World War.
Assigned to the 1st Australian General Hospital which gathered strength at Enoggera in Brisbane, he left Australia in December 1914. Sisley served in Egypt in several hospitals including the Military Infectious Diseases Hospital, Choubra, Cairo where the Commanding Officer and nursing staff were all Australians, at that time, caring for the sick and wounded from the Gallipoli Peninsula.
Born in Charleville, Sisley been working as a clerk for the Australasian United Steam Navigation Company; his experiences in Egypt must have been way beyond his imaginings. He wrote home to friends on the back of photographs, this one from Cairo.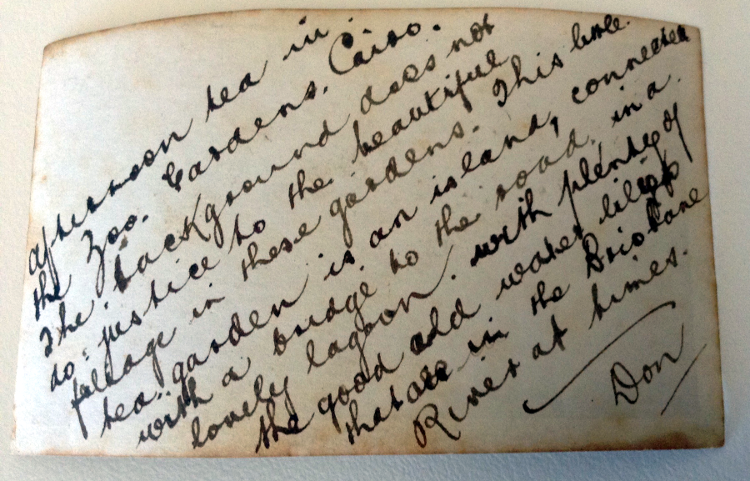 "Afternoon tea in the Zoological Gardens, Cairo. The background does not do justice to the beautiful foliage in these gardens. This little tea garden is an island, connected with a bridge to the road in a lovely lagoon with plenty of good old water lilies that are in the Brisbane River at times". Donald Sisley, 3072 Caldwell Family papers and photographs, State Library of Queensland.
From the photograph of Private Sisley in uniform we can tell much of his story. On his right arm we can see the Anzac 'A' badge: In 1918 the right to wear it was extended to service "on the islands of Lemnos, Imbros, and Tenedos, on the transports or hospital ships at or off Gallipoli or these islands or in the AIF line of communications units from Egypt".
Below this – with a matching one on the left arm is the 'Anzac Leave' Rosette. In September 1918, the 1914 enlistees were issued with the Anzac rosettes to wear on their uniform whilst on leave, so they wouldn't be accused of shirking, although few appear to have worn them as the war ended not long after they were issued.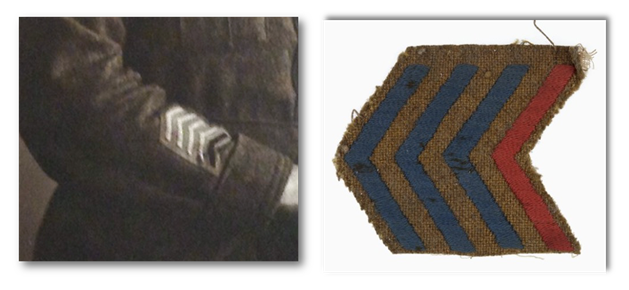 On his right sleeve he is wearing Overseas Service Chevrons: These were embroidered or woven inverted chevrons worn above the cuff on the right arm. For each year of war service a blue chevron was awarded and those men who had embarked in 1914 received a red chevron to indicate that year's service.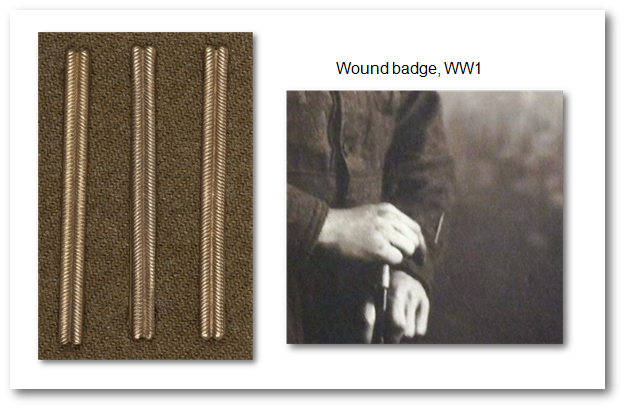 On his left sleeve he has a Wound Badge: a strip two inches long of narrow gold braid, worn perpendicularly on the left sleeve to mark each occasion a soldier was wounded badly enough to be evacuated from the front line.
By mid 1916 Sisley was with the 1AGH in Rouen, France where they dealt with battle casualties from the front lines.
In early 1917 Sisley transferred to the 5th Australian Field Ambulance where he worked to transport and retrieve casualties under enemy fire near Pozieres. Then in August he was attached to the 5th Australian Machine Gun Company.
In 1918 Sisley was poisoned by mustard gas and evacuated to England for treatment. Private Sisley returned to Brisbane on transport duty in February 1919 via the troopship Nestor.
Don Sisley married Dorothy Hamley in 1922, and worked as a wool classer up until his retirement in the 1950's. Their son Noel, a pilot with the RAAF in the Second World War, tragically died when his plane crashed in England in 1945.
His older brother Philip Numa Sisley, who also enlisted in 1914 embarked with the 4th Infantry Battalion. Philip was killed by a sniper while attacking a machine gun post, near Strazeele, France, April 1918.
Many thanks to QANZAC volunteer Peter Hamilton for researching this Anzac's story. Donald Sisley's image was located in a collection of papers relating to the Caldwell Family of Indooroopilly, Brisbane.
Read more ...
Comments
Your email address will not be published.
We welcome relevant, respectful comments.