Privacy Awareness Week 2021
By Kirsten Perris, Library Technician, Information & Client Services | 4 May 2021
This week, 3-9 May 2021, is Privacy Awareness Week (PAW)open_in_new. PAW is supported by both federal and state governments. It is a yearly reminder to us all about the importance of protecting our personal information. It encourages us to learn new ways to do this or rediscover things we can do that we might have forgotten.
COVID-19 is still impacting our world and therefore many of us are still spending a lot of time online, whether it's working from home, interacting with loved ones or friends, or shopping online. As a result, our personal information, such as contact details or financial information, is more vulnerable to being unofficially revealed or accessed. It's very easy to become relaxed or careless when dealing with personal information, but we all need to take responsibility in valuing and protecting personal data.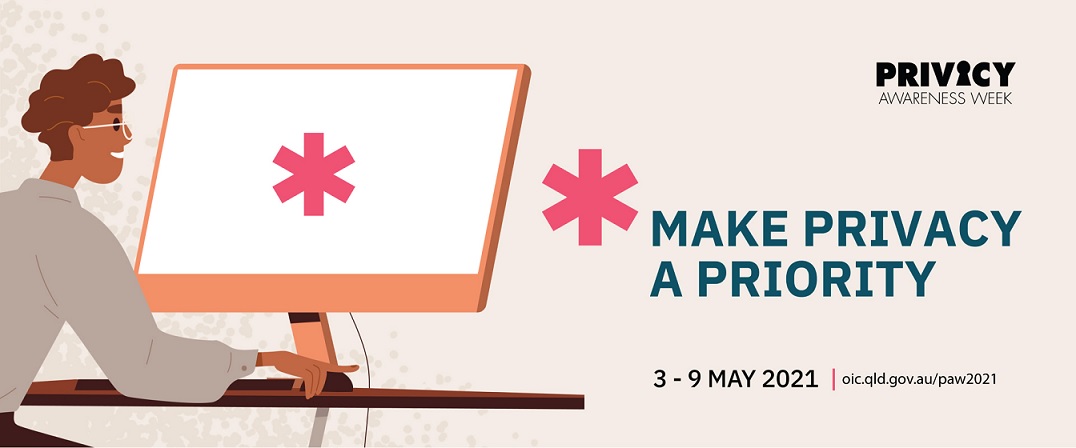 'Make privacy a priority', Privacy Awareness Week 2021
This year's theme is 'Make privacy a priority'. The Queensland Government's Office of the Information Commissioneropen_in_new (OIC) has provided some useful tips for protecting personal data:
Protect your information by thinking before posting and sharing information about yourself and others. Don't share too much and think carefully about what you are sharing as it's on the Internet forever.
Read the terms and conditions so that you know what it is you're agreeing to. It's so easy to agree without reading through the details just so you can access a website or download that new app.
Keep security at the forefront of your mind. Try not to let your computer remember passwords, especially for banking or email accounts, and make use of multi-factor authentication. This makes it harder for people to access your passwords and protects you from unauthorised access.
'Make privacy a priority', Privacy Awareness Week 2021.
On OIC Queenslandopen_in_new's website, you can find some tips on how you can reduce and/or avoid privacy breaches that are caused by human error. You might also want to check out last year's tips to stay smart and protect personal information when working from home, which are still very relevant.
Other places you may find useful information are:
If you're a library member then you might want to check out the following from our collection. Not a member? Join up. It's free to join.
Privacy and Information Week is a great time to think about your personal information, read some great hints on keeping your personal data safe, and take the time to review your privacy settings.
#PAW2021
Comments
Your email address will not be published.
We welcome relevant, respectful comments.