Prisoners of War
By Marg Powell, Specialist Library Technician, Metadata Services | 26 April 2017
From the WW1 collections of SLQ
SLQ holds collections that relate to eight Prisoners of War that hailed from Queensland, and through the QANZAC 100 project we have been able to tell you their stories.
We are looking for more ...
From the letters and diaries of these Queensland POW's we have learnt of their life in the camps; treatment by their captors and more heartfelt subjects of their feelings of despair and hope, shame of capture, attempts to escape and their return home.
232 soldiers were captured by the Turkish forces; 3850 by the Germans in France and Belgium in the First World War.
Missing vs POW
Naturally they clung to this hope until authorities could confirm their whereabouts or certify their death. This process was often delayed by many months, keeping them in a state of untold anxiety, but as we now know, often there was no trace.
Boards of enquiry were held in the field to determine whether the missing were in fact killed, taken prisoner, or in rare cases deserters.
Angels of Hope
Elizabeth Chomley & Annie Wheeler
The Australian War Memorial holds her records and over 400 photographs.
Annie Wheeler was also in London, and with a small team of volunteers assisted families from North Queensland with their requests for information, forwarding money and parcels, with the hope they would reach the intended recipients, either in hospital or in prison camps.
The State Library of Queensland holds her index cards, correspondence and family photographs.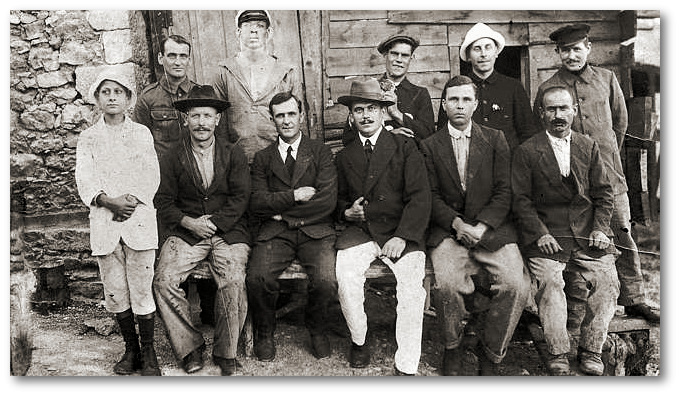 Maurice Delpratt, front row, third from the left
Life in the camps
Food was scarce, prisoners clubbed together to purchase what they could and distributed it amongst fellow internees. Guards were brutal and the work they were put to, even more so. Commandants withheld Red Cross supplies, and parcels addressed to prisoners rarely made it to the captives.
Turkish prisoners such as Delpratt, Wheat & Creedon, were put to work in construction gangs, in particular on the Bagdad railway, built through the Taurus Mountains. It took a heavy toll on the men, who were undernourished and many died from the harsh conditions imposed upon them. Bart Creedon died of illness in February 1917.
395 Australia soldiers died during captivity in WW1
Despair, hope, escape
"In about six weeks 75 out of the 140 of these prisoners died, or were rather killed, because when they became a nuisance to the orderlies and guards, they were murdered by an injection of some poison of a needle." Able Seaman J H Wheat.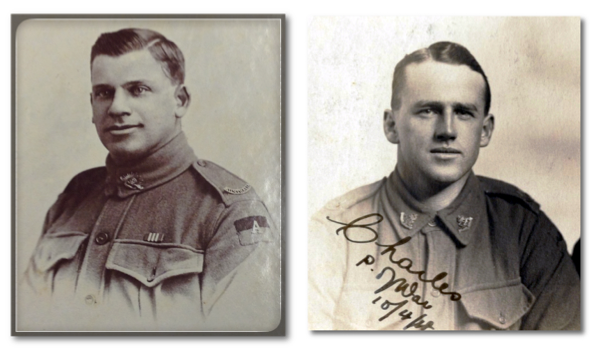 Percy Cooke and Charles O'Shea
Our Collections
Percy COOKE, MM, 15th Infantry Battalion
Percy Cooke, age 32 was wounded and captured during the Battle of Pozieres in August 1916. He escaped from Ossenberg, Germany where he had been working on a farm. Together with another Australian George Reed and a Scots Guard named Osborne, they made their way to Holland and arrived in England in April 1918.
SLQ Collection | WW1 Blog | Service Record
Daniel (Bart) CREEDON, 9th Infantry Battalion
Bart Creedon, aged 21 was captured June 1915 on Gallipoli, while sheltering in a dugout, wounded in both hands. He died of illness whilst a prisoner, almost two years later, in Angora, Turkey.
SLQ Collection | WW1 Blog | Service Record
Maurice DELPRATT, 5th Light Horse Regiment
Maurice Delpratt was also captured in June 1915 on Gallipoli. Held by Turkish forces, like many prisoners he was moved to a number of camps, and through his letters home, describes working on the Bagdad Railway. Delpratt survived his long internment and returned to Australia in July 1919.
Corrie Wheeler and Morris Hawkins
Morris HAWKINS, 47th Infantry Battalion
Larger than life, Morris Hawkins published his experiences and described his capture 5th April 1918 at Dernancourt, France and his journey through enemy lines, that lasted until Armistice was declared in November 1918. Rather than wait for official repatriation Hawkins and several other internees made their own way to Calais and on to England three weeks later.
SLQ Collection | WW1 Blog | Service Record
Charles O'SHEA, 36 Australian Heavy Artillery Group
Gunner Charles O'Shea was taken as a prisoner of war on 10th April 1918 during a battle at Ploegsteert, Belgium. Reported missing, his brother received a note to say he was being held in a German prisoner-of-war camp where he remained until the end of the war. After extended leave in England O'Shea returned home in March 1919.
Edward Thurecht middle row, fourth from left
Edward THURECHT, 47th Infantry Battalion
Ted Thurecht was wounded in the back and right arm on 13 April 1918 at Dernancourt, France. His brother who had been fighting with him had gone out searching for him, but Ted had been captured and was taken to a camp in Czerzk, Poland. Ted was repatriated home early in 1919.
SLQ Collection | WW1 Blog | Service Record
John Harrison WHEAT, Royal Australian Navy
Wheat and his comrades were transported to various locations in Turkey after their vessel the AE2 was torpedoed in April 1915. He was put to work on the construction of a railway through the Taurus Mountains to Baghdad. Wheat attempted to escape twice, and was finally repatriated to England as part of a prisoner exchange in October 1918.
James Corrie WHEELER, 15th Infantry Battalion
Corrie Wheeler, a miner from Townsville was captured after his Company was surrounded by the enemy, 11 April 1917, at Bullecourt, France. Initially sent to the main camp at Limburg, he was hospitalised at Mons, interned Schneidemuhl Prison Camp, Poland; and finally due to ill health transferred to hospital at Soltau. Wheeler was repatriated to England 26 December 1918.
SLQ Collection | WW1 Blog | Service Record
Further reading:
Images:
Marg Powell
Comments
Your email address will not be published.
We welcome relevant, respectful comments.