Phillip PRINCE #5165
By Marg Powel & Des Crump | 23 February 2018
Phillip Prince. Image courtesy of the Prince family.
Indigenous Australian, Phillip Prince, 49th Infantry Battalion
Phillip Prince was born in Augathella, Qld to Edward (Charlie) Prince and Jane Boyd in 1891. In November 1915 while Australian troops were still serving on the Gallipoli Peninsula, Prince volunteered to serve with the first AIF, age 24. He was a big strapping man, almost 6 ft tall, and had worked for properties in the Maranoa region prior to enlisting - Diamantina Lakes, Morning Plains and Waverly Stations.
Initially assigned to the 16th Reinforcements for the 9th Infantry Battalion, he embarked from Sydney on board HMAT Star of Victoria in March 1916 bound for Egypt. The reinforcements were there absorbed into the newly formed 49th Infantry Battalion and sailed for France, disembarking at the port of Marseilles.
They arrived in northern France in June 1916 and soon after were engaged in the battle of Mouquet Farm in August, suffering heavy losses. In November 1916 Phillip Prince was buried by a shell exploding nearby. He was dug out by a mate three hours later and evacuated to hospital in Amiens and then England for treatment for a painful condition affecting his left knee.
Phillip Prince, 49th Infantry Battalion. Image courtesy of the Prince family.
Early in 1917 he was granted several weeks leave and after reporting back to camp at Perham Downs, he was still not fit to return to the front and classified fit for light duties only. He was temporarily appointed as a driver for the 69th Infantry Battalion and stayed with the depot at Sutton Veny as he gradually recovered.
Eventually in November 1917 he was allowed to return to active service with his old Battalion the 49th, arriving in Peronne, east of Amiens in December 1917. He remained in the front lines until March when he was taken ill with bronchitis. Unable to shake it he was evacuated to England where he spent several weeks coming back to strength. Again granted two weeks leave, he reported back to No. 3 Command Depot at Hurdcott to await the next draft to go to France but was struck down with a bout of influenza.
Prince returned to active service in France in July 1918, and several weeks later, on 12 August he was wounded, receiving a gun shot wound to the back. At this time the Battalion was involved in the trenches near Bray on the western Front. Again he was evacuated to hospital, at Rouen then England where he was able to heal away from the desperate conditions in the trenches.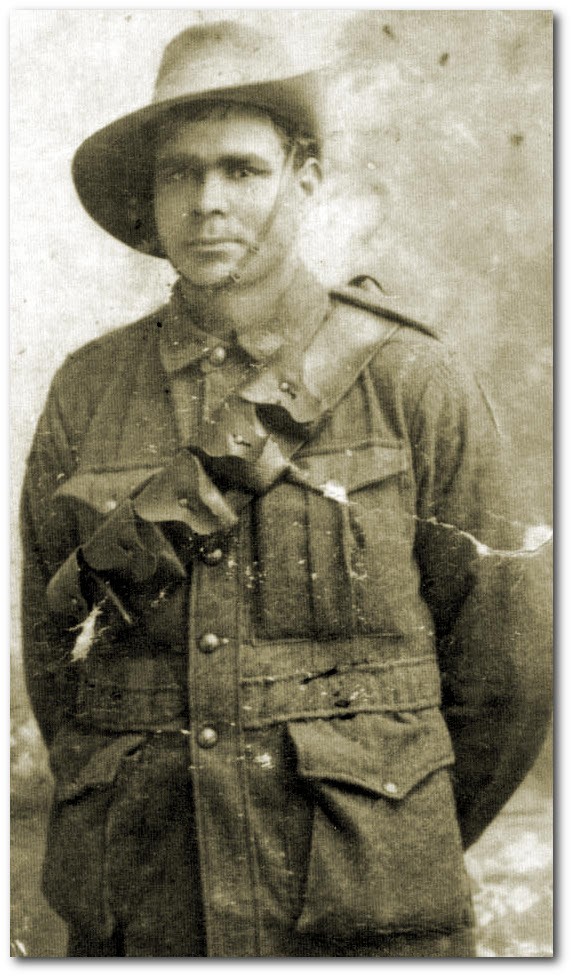 Phillip Prince, 49th Infantry Battalion. Image courtesy of the Prince family.
Prince took leave in October 1918 but unfortunately again contracted influenza, and was admitted to hospital at Warwick. While he was recovering he was thought to be missing for 22 days and initially charged with being AWOL. Prince was never required to return to his Battalion in France, the armistice was signed while he was convalescing and he returned to Australia in March 1919, where he was medically discharged.
Prince returned to the Maranoa region, working for a time as a station hand and boundary rider at Oakwood and Hoganthella Stations, near Augathella; he married Annie McCann in 1921. Prince moved to Brisbane in the late 1920s where he worked on the wharves as a stevedore and was able to receive treatment from the Repatriation hospitals. His knees continued to cause him difficulties resulting in arthritis as he aged, and he suffered recurring bouts of bronchitis. Phillip Prince died in 1966 from heart disease and is buried at the Hemmant Cemetery in Brisbane.
Read more ...
Watch ...
The information in this blog post has been researched by State Library staff and volunteers, it is based on available information at this time. If you have more information that you would like to share or further research uncovers new findings, this post will be updated.
Comments
Your email address will not be published.
We welcome relevant, respectful comments.