Paragon Café, Dalby
By JOL Admin | 20 September 2019
Milton (Miltiadis) Dimitrios Samios bought the cafe in 1935, renovating it, adding carpet and supplying the waitresses with green uniforms and head piece. At the time of purchase the café earnings were about £90 per week. As the business expanded Milton employed three men and six women in the café, and within a year was earning £200 a week. (pg. 476)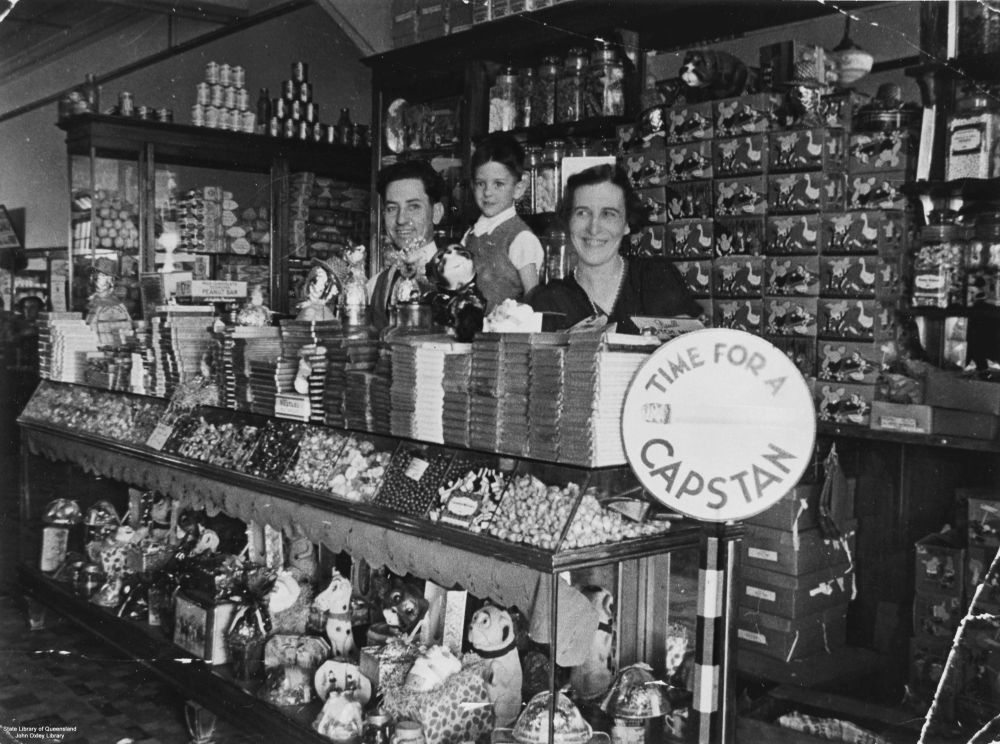 Milton and Constantina Samios and son Jim inside the Paragon Café in Dalby, ca. 1936. John Oxley Library, State Library of Queensland. Neg 41450
The cafe displayed stacks of chocolate bars lined up on top of the counter and an assortment of lollies in the glass cabinet. Ornaments and toys were stored on the lower shelf of the counter and tinned food, jars and cardboard boxes line the shelves behind the family. A large sign to the right of the counter advertised a brand of cigarettes.

Denis Conomos's 2002 publication The Greeks in Queensland: a history from 1859-1945open_in_new has been an invaluable source helping to bring the Samios story to light. Below are various references to their story living in Dalby.

The increasing integration of the Greeks into the general community was becoming more pronounced in the smaller country towns than in the larger ones across Queensland. (pg.509) Milton Samios was vice-president of the town band and a member of the Chamber of Commerce. (pg.514)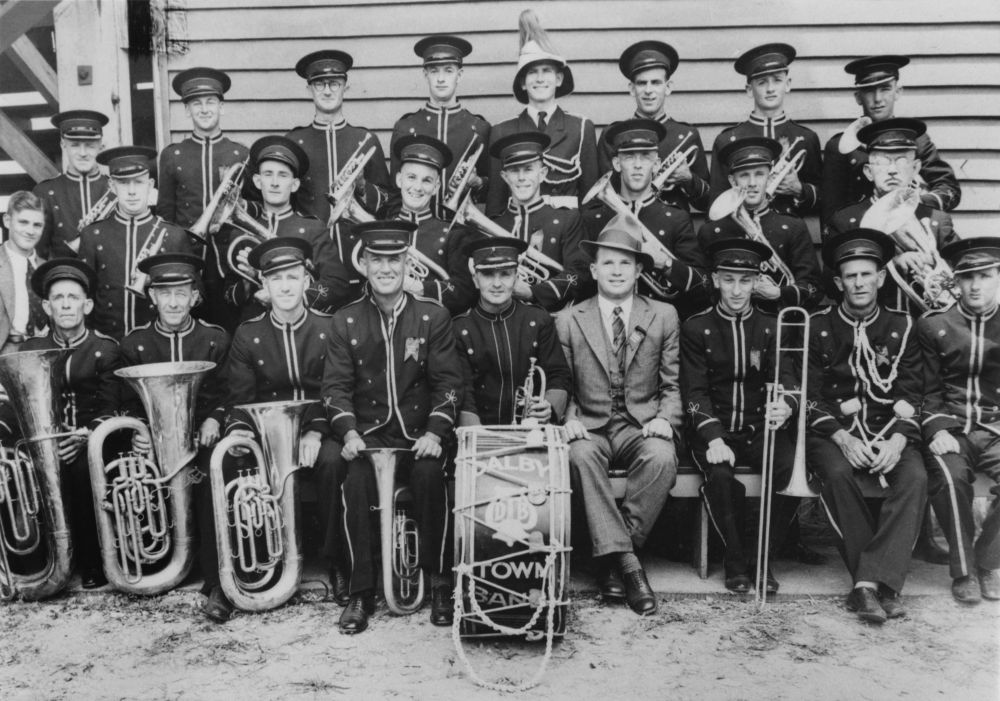 Dalby Town Band, Queensland, 1937. John Oxley Library, State Library of Queensland. Neg 12347
The absence of a Greek school in smaller communities increased further integration of the children into the general population. (pg.510) Jim attended the Roman Catholic Church but when he reached the appropriate age, the priest, Monsignor Nolan requested Jim be confirmed into the Catholic Church. Milton told him his Church wouldn't permit his son to be confirmed in the Roman Catholic Church. After this incident Jim was enrolled to attend the Anglican Sunday School while his sister Helen attended the Convent School. (pg.516)
During the war years a shortage of labour and other prevailing conditions affected café trading hours. In Dalby, Greek café owners agreed to close one day of the week. To help Milton run their business, Constantina Samios employed the services of an English nanny to look after the children. At 6pm each evening she would return the children to the café so Constantina could take them upstairs and prepare them for bed. (Pg.546-548)
Milton and Constantina were active participants in organising the Greek Appeal Day in Dalby, 2 May 1941. A street procession lead by Greek families dressed in national costume made their way to St Joseph's Hall where a concert was held. Between 2,000 – 2,500 Dalby people attended, helping to raise £450 for the Greek cause overseas. By the time the concert was held, Greece had fallen to the Germans. (Pg. 562-564)
Source: The Greeks in Queensland: a history from 1859-1945open_in_new/ Denis Conomos 2002, pp.476-564
Exhibition - Meet me at the Paragon
State Library's latest exhibition, Meet me at the Paragon explores how the creation of American-style cafes enabled Greek migrants of the early to mid-1900s to carve out a new life in a foreign land. The exhibition runs from 27 September 2019 until 15 March 2020.
Comments
Your email address will not be published.
We welcome relevant, respectful comments.