Pamela Connan Papers
By JOL Admin | 3 February 2014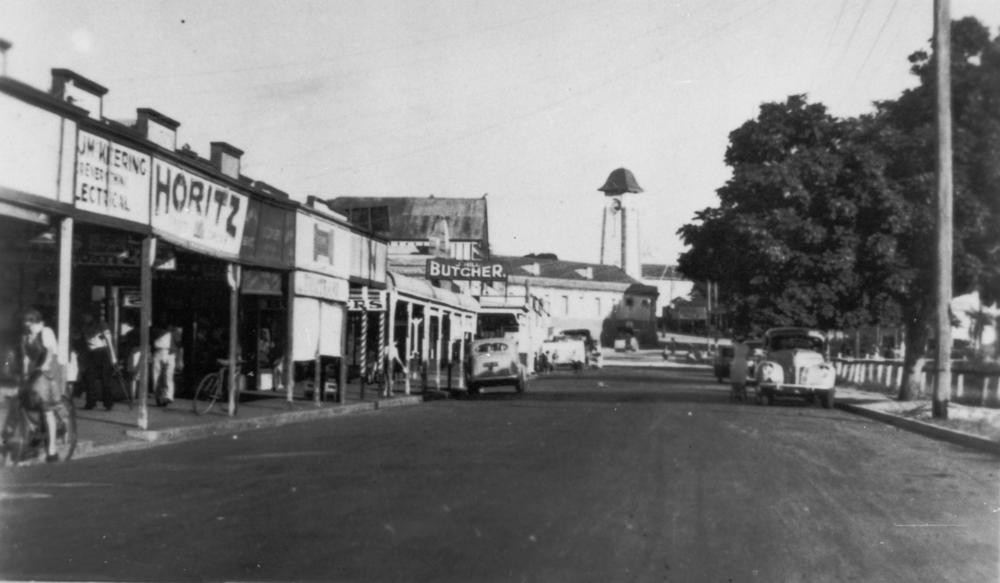 Looking down Brighton Rd, Sandgate, ca. 1930. John Oxley Library, State Library of Queensland. Neg 93432
The suburb now known as Sandgate was originally called Cabbage Tree Creek. The Aborigines called the area Warra which means a stretch or expanse of water. The town is situated upon the western shore of Moreton Bay, a few miles north-west of the entrance to the Brisbane River, and has been, in years past, a fashionable watering place for pastoralists from the Darling Downs. In 1880 Sandgate was declared a town by the Governor of Queensland. The population steadily grew as more people moved to the area and local business began to develop, one such business belonged to Dymoke Percival Dart.
Pamela Connan, nee Dart, was the daughter of Dymoke Percival Dart and Jean Ethel Willkie. Dymoke was born in Sleaford, Lincolnshire, England and the son of John Dart and Ellen Brewster Harrison. They came to Australia, settling at first in Victoria. Dymoke and Jean had two children and moved their family to Queensland and settled in Sandgate.
Dymoke established a business known as Dym. Dart Clothier and Mercer which was situated on Brighton Road, Sandgate opposite the Einbunpin Lagoon. They stocked a grand array of gentleman's attire and were known for the elasta-strap and gripu trousers.
Sunshine Advocate, Friday, 1 October 1937, pg. 9
In the period around 1920 - 21 their finances slumped, and Dymoke became unwell. Another daughter Patricia, born in Australia, was about two years old; and Ethel made the heart-breaking (but to her mind, necessary) decision in 1922 to send Pamela back to England until the family fortunes were restored in Queensland. The eleven-year old girl made the long sea voyage accompanied only by a chaperone. Once in England her time was divided between Dart relatives in Lincoln and the Mr and Mrs Charles Gray Hill at Wyken, near Coventry. Through her mother's letters in particular we can see the young girl's struggles to adapt to the unknown, and to try to behave in the manner expected of her. The voyage to England departed just before Christmas 1922 and correspondence from her mother, dated 20 December 1922, gives a clear insight to how Jean Dart felt.
"My dearest Pam, Next Monday is Xmas Day and if the grocer had not reminded me I should never have known, for all the days are alike to me here and I never know one from the other – but I do want to think of you having your dinner on board ship and unpacking the little presents from home darling – if only mummy could give you a kiss and watch your face"…
Pamela was eleven years old at the time. Pamela eventually returned to Australia later marrying Gordon Connan in 1935.
The John Oxley Library holds letters written to Pamela from her family, friends and others, during her time away at school and after her marriage to Gordon Connan. The letters are intermittent until her marriage in the late 1930s and continue regularly from this time until the death of both parents. The collection includes letters, photographs and some cuttings.
Letter to Pam. Pamela Connan Papers, John Oxley Library, State Library of Queensland
Comments
Your email address will not be published.
We welcome relevant, respectful comments.