Out of the Port - Floods in Queensland
By JOL Admin | 21 February 2011
On Saturday 19 February, as part of the opening weekend events held at the State Library, historian Dr Helen Gregory spoke in conversation with the John Oxley Library's Louise Denoon on the timely topic of floods in Queensland.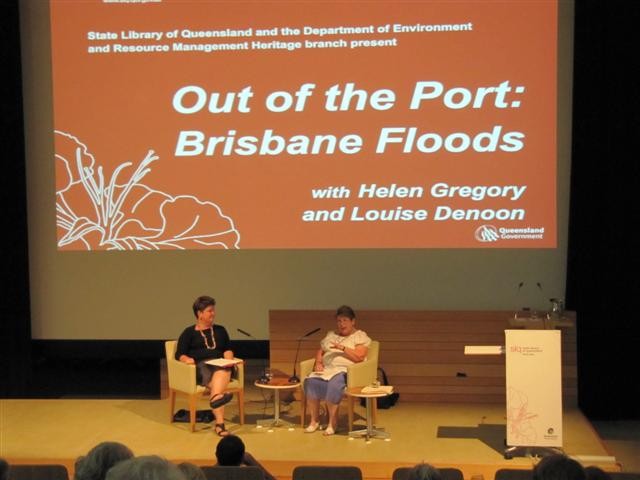 Louise Denoon in conversation with Dr Helen Gregory, 19 February 2011.
Dr Gregory explored the dramatic impact of some of the state's largest floods including those of 1890, 1893, 1918, 1942, 1974 and 2011. She also spoke about her personal recollections of the 1974 flood in Brisbane and compared it with the recent experience of 2010/11.
Visitors to this session also made their way up to the Fox Family White Gloves Room on level 4 to view collections relating to floods from the John Oxley Library. These included paintings, photographs, cuttings books, maps and recent acquisitions such as Premier Anna Bligh's original handwritten notes for her "We are Queenslanders" speech delivered a press conference at the hight of the floods
This was the first of our Out of the Port talks for 2011 in which the John Oxley Library and the Heritage Branch of the Department of Environment and Resource Management have come together to present a series of informative - and sometimes provocative - monthly talks promoting new research on Queensland.
From March onwards 'Out of the Port' talks will occur every 3rd Wednesday in auditorium 2, level 2 of the State Library at 12.30pm up to and including November this year. In the next session on 16 March join Dr Dale Kerwin in auditorium 2 where he'll speak on the topic of aboriginal place names in Queensland.
Out of the Port: Floods in Queensland. Join Queensland historian Helen Gregory for an intriguing conversation about floods in Brisbane and learn more about why history matters. Hear about the frequency of floods, the warnings, heroes, scandals, generosity, despair, hope and renewal. How have the significant floods of 1893 and 1974 been remembered and what has been forgotten? What legacy will 2011 leave?
Comments
Your email address will not be published.
We welcome relevant, respectful comments.