Open Data Day 2018
By Jacinta Sutton | 2 March 2018
Saturday 3 March 2018 is Open Data Day, an international celebration of government and other organisations openly sharing data for anyone to use. State Library of Queensland supports open access to information and ideas and has developed an Open Data Strategy. The Library has contributed more than 20 different open datasets to the Australian data portal and the Queensland government portal.
Recently I reviewed the existing State Library's datasets and identified opportunities for publishing updated data. State Library's datasets include annual corporate information, and library collection records that we share under a Creative Commons Attribution 3.0 Australia license. An interesting set of collection material that was ready for an update was the digitised Queensland Real Estate Maps (ca.1850s – 1950s). The previous dataset published in 2013 included data on 165 maps and we now have descriptions and links for 798 maps.
During my review I noticed that a few of the Library's datasets include geographical information such as latitude and longitude coordinates, place names or postcodes. The data is presented in comma separated values (CSV) files, which can be viewed as text or as a spreadsheet. The spreadsheet view can be useful for searching and filtering data, but can also be difficult to interpret quickly. Using maps or charts to visualize large amounts of complex data makes it easier to analyse, because of the way the human brain processes information. I wondered whether anyone had been using the geographic information in our files to explore the data visually on a map. I discovered the Australian government data portal has a link to a National Map service that is designed to provide map-based access to spatial data from Australian government agencies.
I made some minor modifications to the Real Estate Map file so the data could display on the National Map. This included renaming columns so the map service would recognise them. If using geographical coordinates, you need a latitude column labelled 'lat' and a longitude column labelled 'lon'. The National Map service can also interpret standard place names or postcodes.
My first experiments were successful! It was exciting to point the National Map service to a file that usually appeared as a wall of text in spreadsheet cells, and a moment later see a map full of dots that accurately represented the locations of our digitised Real Estate Maps.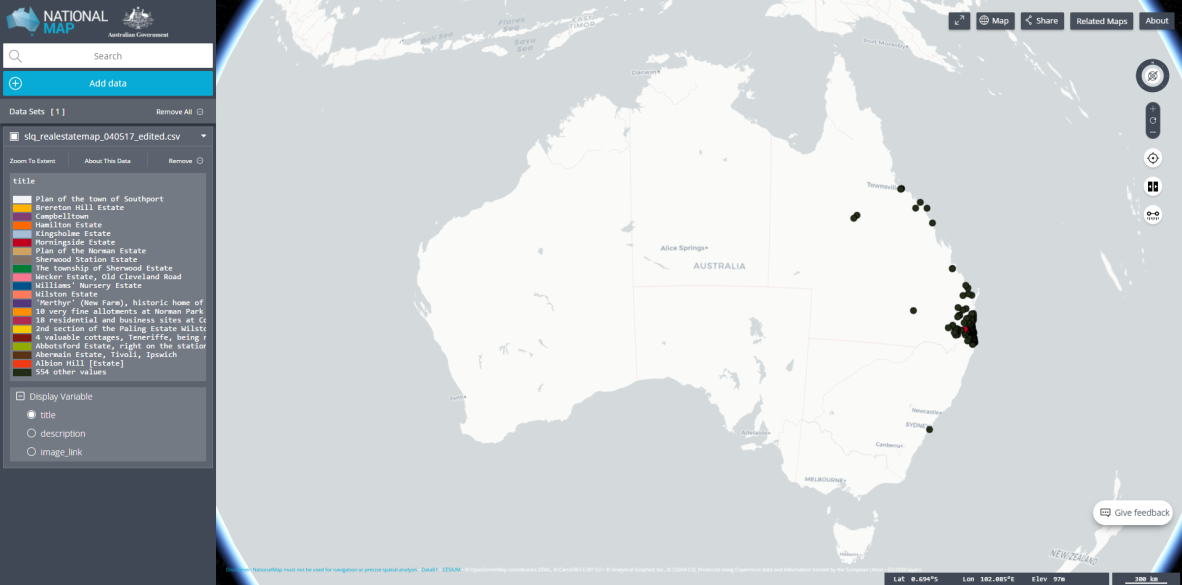 Data on National Map
Data on National Map
Clicking on one of the dots revealed the description of the Real Estate Map that matched that location, including the link to the map image.
Township of Sherwood. Click to access the digitised real estate map of Sherwood.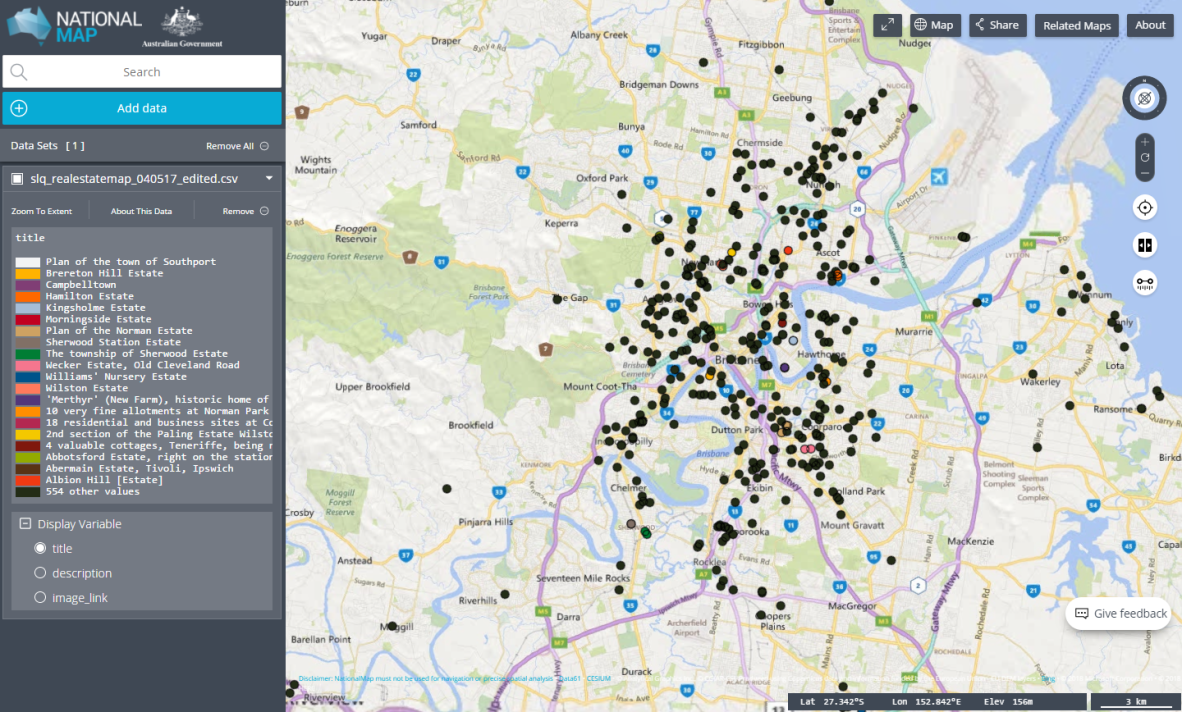 The Real Estate Maps dataset is now published and available. Click on the image below to access the interactive on the National Map.
The Real Estate Maps dataset is now published and available. Click on the image below to access the interactive on the National Map.

With a successful experiment completed, I look forward to working with more State Library datasets and making them available on the National Map Service for people to discover and access our collections in new ways.
For more information please contact opendata@slq.qld.gov.au
Comments
Your email address will not be published.
We welcome relevant, respectful comments.