Nine recruits for No 1 AGH, 1914
By Marg Powell, Specialist Library Technician, Metadata Services | 17 December 2015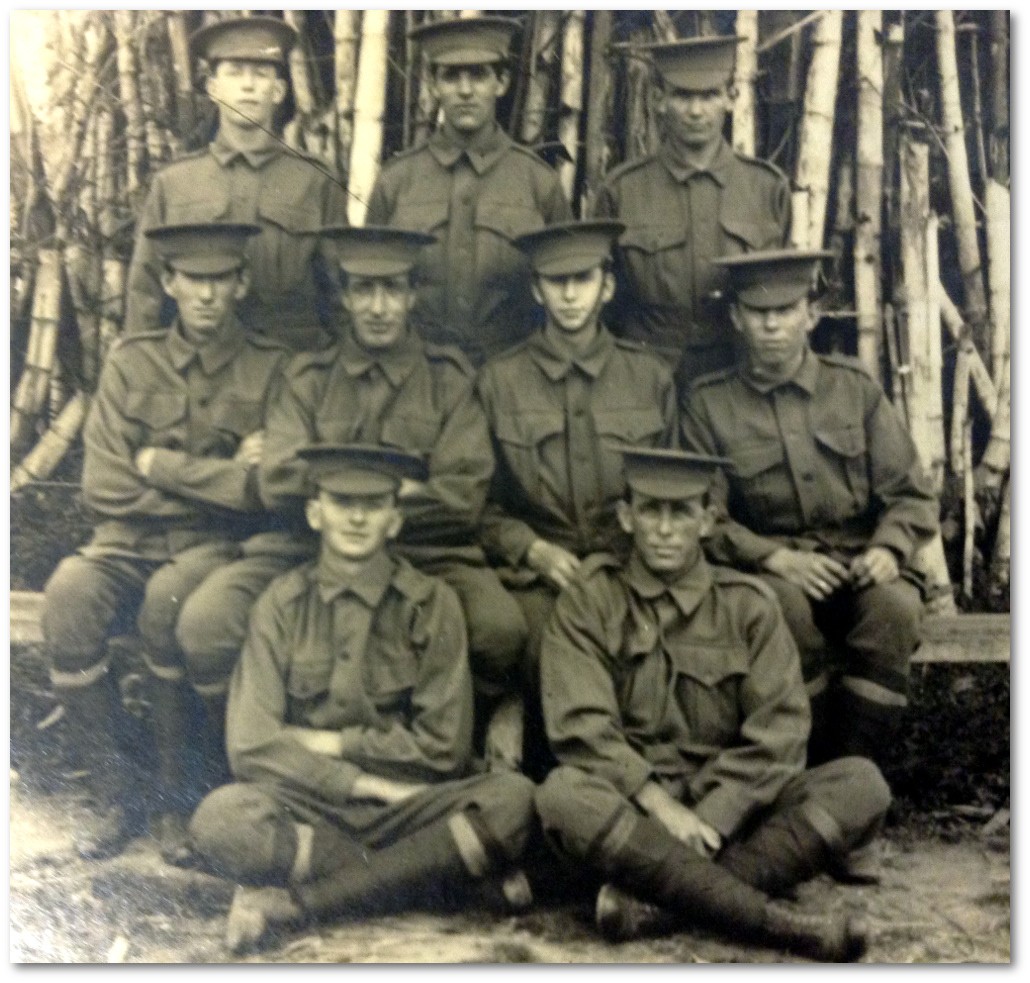 No 1 Australian General Hospitalformed at Enoggera in October 1914. From the Caldwell Family collection of papers and photographs, this autographed souvenir was taken prior to the Unit's departure in November 1914.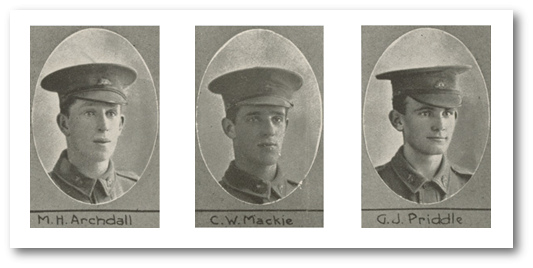 BACK: M.H. Archdall, C.W. Mackie, G.J. Priddle
Mervyn Henry ARCHDALL #46
Mervyn was only 19 when he enlisted, and assigned to No 1 AGH. Born in Taringa he served initially as one of the medical staff on Sea Transport duty, then in March 1916 transferred, along with his brother Roy ARCHDALL, to the
3rd Field Ambulance
They served together in France, and were both awarded
Military Medals
for their courage and gallantry, Mervyn also gaining a Bar to his Military Medal in 1918. Several of their letters home were published in the
Brisbane Courier
, one describes the death of another of their group,
Claude Mackie
Claude William MACKIE #50 Claude was also only 19 when he enlisted, and also from Taringa. He transferred to the 1st Australian Field Ambulance in 1916, and was working alongside Mervyn and Roy ARCHDALL in France, when he was killed by a high explosive shell, 23 July 1916.
George James PRIDDLE #49 Age 19, George Priddle enlisted on the same day as Mervyn ARCHDALL and Claude MACKIE. A school teacher from Hill End, Brisbane, his brother Maurice also enlisted, in October 1915 to serve with the 12 Australian Field Ambulance. George transferred to the 2nd Casualty Clearance Station in June 1916, and served in France until 1918, when he was given 2 months home leave, just prior to the Armistice in November.
CENTRE: S. Paton, E.C. Julian, W.L. Dowd, D.M. Sisley
Samuel PATON
This recruit enlisted on 1 October 1914, but was discharged 4 weeks later. Samuel was a grocer with his father in Manly, and later, with his wife Sarah, moved north to Peachester to dairy farm.
Ernest Charles JULIAN #48 One of four brothers who served, two with the AIF and two with the British forces, Ernest was age 26 and working as an Assistant Superintendent on the Peel Island Leper Colony, when he enlisted late September 1914. He served with No 1 A.G.H. in France and in England; in April 1917 he took leave to marry Nurse Beatrice Crossley from Camden Town, who joined him in Australia after his return home in January 1919.
William Leslie DOWD #12 William Dowd was 21 when he enlisted and assigned to No 1 A.G.H. in September 1914. Appointed Staff Sergeant he escorted privates on board the troop ship Ceramic in 1915 and later reported for duty in Egypt. He was Mentioned in Despatches in 1916, promoted to Warrant Officer in 1917, and in 1918 trained and graduated as a Flying Officer with the Australian Flying Corp in Wendover. He was appointed to Lieutenant before his return to Brisbane in 1919, when he married Mary Land.
Donald Moir SISLEY #51 Don Sisley age 19 also enlisted 29 September 1914, he served with No 1 A.G.H. in Egypt and France before transferring to the 5th Australian Field Ambulance. He was poisoned by mustard gas in 1918, and after recuperating, returned to Australia in February 1919. Don Married Dorothy Hamley in 1922 and worked as a wool classer until his retirement in the 1950's. His brother Philip SISLEY also served, with the 4th Infantry Battalion, but was killed by a sniper in France in April 1918.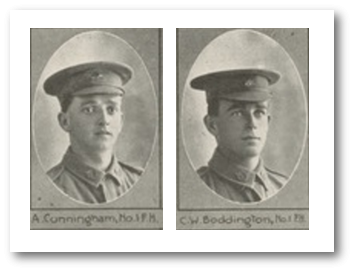 FRONT: A.E. Cunnington, C.N. Boddington
Albert Edward CUNNINGTON #65
Aged 20, Bert Cunnington enlisted 1 October 1914. He was promoted to Corporal in February 1916 and transferred to
3rd Australian Field Ambulance
in September of that same year. Bert was also returned to Australia just prior to the armistice in November 1918 on 'special 1914 leave'. Sadly he died in January 1921, just 26 years old. Bert's service record shows a letter from May Priddle, George Priddle's sister, seeking his address in 1916
The image shown, sourced from the Queenslander Pictorial, is believed to be that of A.E. CUNNINGTON, the surname has been misspelled.
Charles Norman BODDINGTON #19 Aged 24, when he enlisted early October 1914, Charles was promoted to Lance Corporal whilst still in the training camp at Enoggera. He was admitted to the 4th Australian Auxiliary Hospital, Abassia when he arrived in Egypt, with mumps, then rejoined his unit as they embarked for France and the Western Front. Charles was promoted Sergeant in December 1916, but in 1917 after the death of his two brothers, Charles was returned to Australia and shortly after was discharged.
Fred BODDINGTON, 46th Infantry Battalion, was killed in action 11 April 1917 & George BODDINGTON, died of wounds 12 May 1917. Charles' parents would have been so relieved to have their surviving son, returned to them in good health.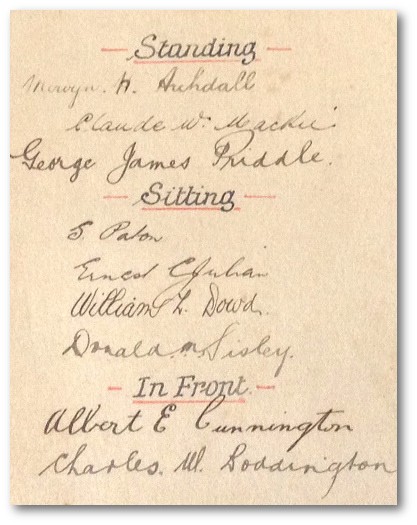 Many thanks to QANZAC 100 Volunteer, Judy Gilloway for her assistance identifying these Queenslanders. Additional images sourced from the Queenslander Pictorial, supplement to the Queenslander, and the Caldwell Family Collection.
Marg Powell
QANZAC 100 Content Technician
State Library of Queensland
Comments
Your email address will not be published.
We welcome relevant, respectful comments.