A Night in the JOL - the community music spirit in Queensland
By JOL Admin | 6 June 2013
Come along to the latest free event in our regular A Night in the JOL series next Wednesday night, 12 June, from 6.00p-8.00pm. Join the lively evening forum with Dr. Brydie-Leigh Bartleet and Professor Peter Roennfeldt from the Queensland Conservatorium in conversation with Dr Kate Evans, ABC Radio National. Discussion will centre on community music making and its importance in the lives of Queenslanders from colonial times to now. Treasures from the John Oxley Library will be on display, including photographs, programmes, posters, scores and memorabilia from music makers and music lovers throughout Queensland's history.
Bush band performing at Mount Surprise, Queensland, c.1905, John Oxley Library, State Library of Queensland Neg: 55054
As this event is part of the Live! Queensland Band Culture exhibition program, a special curator's tour of the exhibition will be held at 5.00pm before A Night in the JOL begins at 6.00pm. See you next Wednesday in the John Oxley Library, Level 4 of the State Library of Queensland.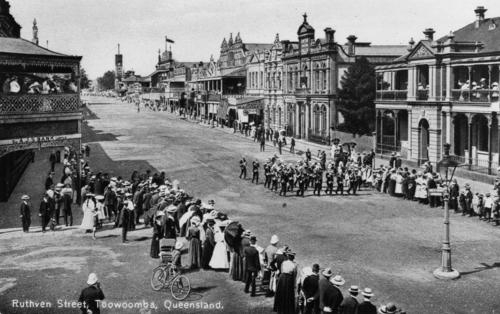 Brass band in Ruthven Street, Toowoomba, ca.1907, John Oxley Library, State Library of Queensland Neg: 61994
Comments
Your email address will not be published.
We welcome relevant, respectful comments.