New Seed Library and Community Garden at Calliope Library
By Administrator | 23 November 2018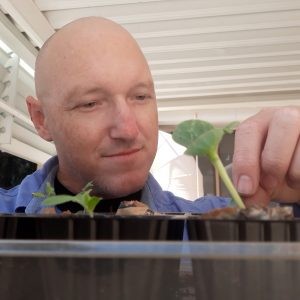 Let me invoke the goddess to ensure an eloquent tale full of fun, food and family. Then again, I think Calliope knows a lost cause and instead of epic poetry we've got an epic seed library and garden project instead. For those less familiar with my writing style, WARNING! there will be puns.
Change is creeping up at Calliope Library in the Gladstone Region, with its new Bush Tucker Garden, Library Community Garden, and Seed Library. The "Let it Grow" – #HomeMakerSpace Project is designed to complement the existing MakerSpace/STEM Club and digital literacy programs currently run, by offering a range of activities that draws upon a broad range of low-tech practical skills from the past and utilizing digital literacy training sessions to aid in the sharing and preservation of local knowledge and skills across the generations.
The Calliope organ was steam driven so it's only right that we embrace S.T.E.A.M. here at the Calliope Library. The tag #HomeMakerSpace is a combination of the two terms, Homemaker, encompassing traditional "home" skills, and MakerSpace embracing the basic "give it a go" principle of all makerspace programs. This isn't (just) a project to see how many different departments in council I can work with, it's also about thinking outside the perceived four walls and letting people know that knowledge isn't just in books or online.
I've already got a fiction and a junior collection, well now I've got a garden collection too. Seed libraries are sprouting up everywhere and they don't really take that much money or effort to start, it just depends on how flash you want it to look. How it works is simple. The example I've been giving is you borrow a packet of watermelon seeds, grow them, harvest the melons and eat them.
Now instead of the kids spitting the seeds at each other (come on, we've all done it) you collect the seeds and bring them back to the library to "return" your loan. With my background in horticulture it was a natural idea, for me, when the local Friends of the Library offered some funding, but once the idea germinated the project turned out to be a bit more organic.
The kernel of the project started with just a seed library but has grown to include a community garden a bush tucker garden and a sensory garden, activating previously "wasted" spaces (this is where Parks, Botanic Gardens, and a few other sections in council have been a huge help). Of course, once you've grown it you've got to use it, and so we're expanding to promote skills like cooking, preserving, weaving and all the other old skills.
From garden to gift we've got the information you need, if not on the shelf then in the mind of locals. It's always fun to watch the look on faces when I list the arts and crafts I learnt growing up. It was by osmosis, or maybe just a survival skill, when your grandmother and mother are incurably crafty ladies. Spinning, cooking, knitting, sewing, gardening and embroidery just to name a few.
Some years ago, when I taught a colleague how to finger knit for the yarn bombing program she was running I realized that not everyone got the chance to learn these skills like I did. So now it's time, for those that never learnt, to embrace the past, get crafty, get growing, share the knowledge and plant the seeds of change today.
For more information about the Let it Grow − #HomeMaker Space Project visit the website
About the author
Jamie Treble is the new Senior Library Officer running the Calliope Branch in Gladstone Regional Council Library Service. Easily recognizable by his Akubra hat, sweet tooth and booming laugh he is a strong advocate for local history, digital literacy and strengthening community ties (and makes his own wine).
Comments
Your email address will not be published.
We welcome relevant, respectful comments.