New Acquisition: Terry Swann Works of Art of Yarrabah and the Torres Strait
By JOL Admin | 19 March 2013
The John Oxley Library has been fortunate to receive five beautiful paintings by Terry Swann, one of Australia's foremost contemporary watercolourists. Mrs Swann was born in Sydney but lived for many years on the Gold Coast with her late husband, Dr. Ken Meehan. She has been painting full time for more than twenty years, winning many awards and gaining inspiration for her works from the landscapes of the remoter parts of Australia.
Her late husband, Dr. Ken Meehan, was educated at Downlands College, Toowoomba, and the University of Queensland, specialising in tropical medicine. Through this interest he first went to Papua New Guinea to live with the tribal people before studying at the London School of Tropical Medicine. In 1983 he began seven years at the Yarrabah Aboriginal Community in North Queensland where he was the sole doctor caring for about 2000 aboriginal people. In 1989 he and his wife also spent time on Murray Island in the Torres Strait where he did a medical aid posting as there was no resident doctor on the island. During this time Mrs Swann painted the three works below which include her own descriptions.
Murray Island painted from the top of Mount Gelam.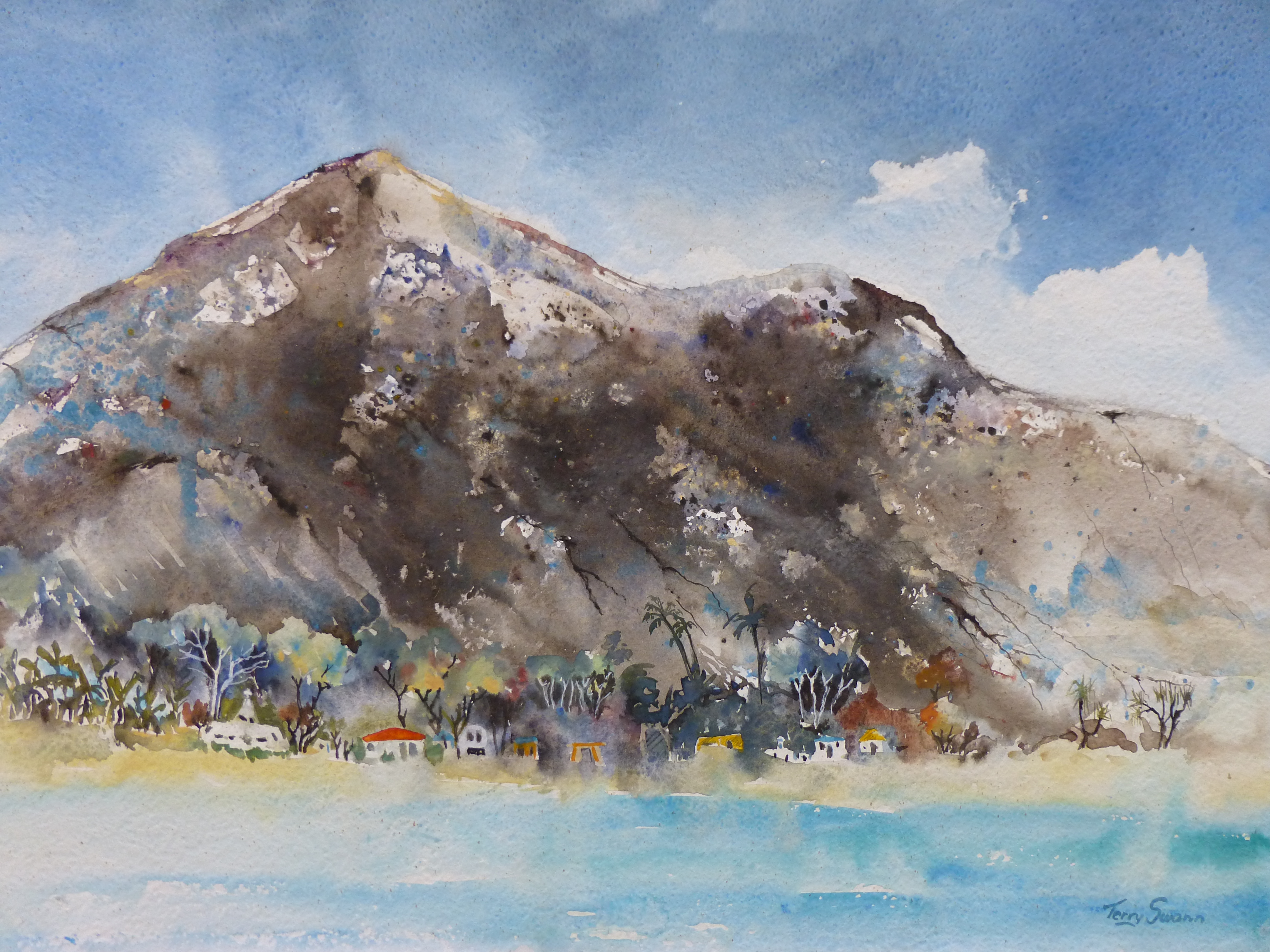 Murray Island painted from the water
Waier Island in the Torres Strait
"Waier Island is a small uninhabited island, just off Murray Island. It had an infamous past as many years ago human sacrifices were carried out there. It had 'bad vibes' to me. In such a tropical, beautiful setting there is a tall towering rock face with black jagged rocks on top - like black teeth. In the painting I have depicted some symbols from the past and that of the present: 1. a crouching pagan figure, watching, hidden; 2. a drum, still used by the Meriam people with a shark's head at one end; 3. the symbol of the cross - the current religion of the people."
The next two works were painted during Mrs Swann's time at Yarrabah. She described the experience as follows "I lived in Yarrabah Aboriginal Community from 1987 to 1990 with my doctor husband, Dr. Ken Meehan. As an artist I spent time encouraging the local people to make and paint artworks. During my time I heard many stories of loss and sadness. Some knew their 'roots' but many didn't as they came to the mission many years ago and their language and culture were left behind."
Lost Heritage
The Land and its People
"A similar figure of the 'human fig tree' but underneath is a swirling mass of colour and shapes not clearly defined. This is symbolic of the people's past heritage which is, hopefully, waiting to be discovered".
The original artworks may be viewed at the John Oxley Library - Acc: 28948, Map Cabinet 4D/136-B7. The paintings were donated to the library to honour the memory of Terry Swann's late husband, Dr. Ken Meehan, who died in 2003.
Lynn Meyers - Original Materials Librarian, State Library of Queensland
Comments
Your email address will not be published.
We welcome relevant, respectful comments.