New Acquisition - The Maryvale Gazettes 1892-1893
By JOL Admin | 25 January 2012
The Maryvale Gazettes were privately compiled monthly magazines which circulated in the 1890s between properties and families in the Warwick area, including Glengallen, Maryvale, Talgai, Fassifern and Coton Grange. The magazines were hand written, illustrated and beautifully bound, containing drawings, articles, verse and local news. After each family had received, read and added their contribution the gazette was despatched to the next property.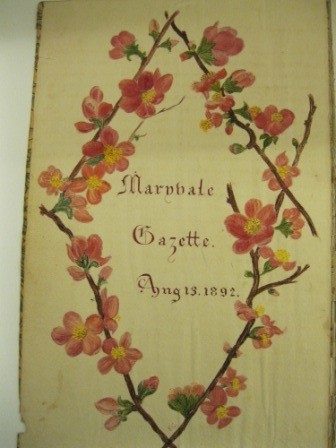 The gazettes were acquired for the library by Brian Randall, Queensland Places Coordinator, while he was conducting a white gloves tour in Warwick. Mysteriously the gazettes had been left as a donation for the State Library by an anonymous donor so we do not know who to thank for this unique and beautiful collection. (Acc: 28154, Box 16011 O/S A3)
Lynn Meyers, Original Materials Librarian
Comments
Your email address will not be published.
We welcome relevant, respectful comments.