New accessions: German New Guinea Photograph Album (Accession 29711)
By JOL Admin | 16 April 2015
This interesting new acquisition comprises a photograph album documenting a year in service of the German cruiser S.M.S. Bussard (November 1895 to November 1896) under the command of K. K. Winkler.
S.M.S. Bussard at Matupi, 24 May 1896
The crew of S.M.S. Bussard
The album contains 27 photographs of the ship, its crew, native villages and landscapes. The ship's itinerary for the period covered in the album included places in the Bismarck Archipelago - Matupi and Herbertshöh; Nauru Island, Arno and Jaluit in the German Marshall Islands; and Apia and Pago Pago in Samoa. In Australia, S.M.S. Bussard visited Jervis Bay for torpedo exercises, as we learn from the ship's itinerary published in 'Marshall Islands History Sources No. 28'. There are also photographs of Cooktown and Lord Howe Island and possibly Sydney.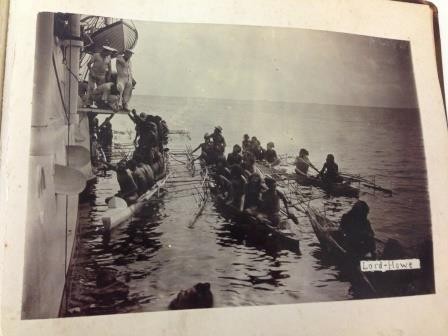 The crew of S.M.S. Bussard at Lord Howe Island
The crew of S.M.S. Bussard at Lord Howe Island
S.M.S. Bussard was launched in 1890 and was always deployed in the German colonies. In July 1893 she was one of the ships sent to suppress the revolt led by Mata'afa Iosefo in Samoa. After reconstruction in Danzig, the ship was sent to China to help fight the Boxer rebellion.
The first three photographs in the album document the 1889 cyclone at Apia, the capital of Samoa. The cyclone struck on 15 March 1889. Several nations had their ships in the exposed harbour of Apia and, although well aware of the risk, neither American nor German ships left the harbour in time to avoid the cyclone. One of the wrecks in the photographs below is probably that of the German ship S.M.S. Adler. New York Times (30 March 1889) reported on the disaster: 'Dispatches from Samoa state that ... the German man-of-war Adler, Olga and Eber were driven on a reef during a violent storm and totally wrecked.'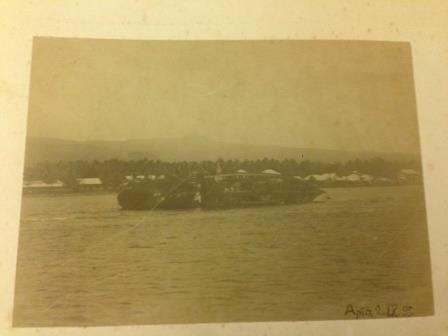 A wreck at Apia (Apia, 2 September 1895)
A wreck in the harbour of Apia, Samoa
Apia, monument to the victims of the 1889 cyclone
A cow is being lifted onto the ship's deck at Herbertshoh in the Bismarck Archipelago.
The crew of S.M.S. Bussard posing with a shark
Comments
Your email address will not be published.
We welcome relevant, respectful comments.