New Accession: Hirche Family Papers 1860-1890
By JOL Admin | 29 May 2012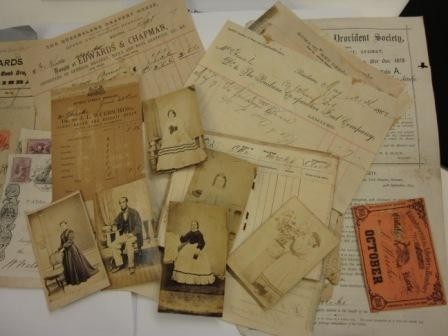 Hirche family papers. State Library of Queensland
Collection of documents pertaining to the life of Carl Hirche and his family in 19th century Brisbane. In the 1970s, during the demolition of a wooden cottage in Wharf Street, Brisbane, the demolishers discovered, sealed between two walls, a large hoard of 19th century newspapers, magazines, original correspondence, family and business papers, and commercial and social ephemera. The hoard was very extensive and the many documents it contained embraced the household, business and social activities of a Mr Carl Hirche and his family from the 1860s to the 1890s.
Carl (Charles) Friedrich Emil Hirche was born in Prussia (now Poland) in 1837 . He arrived in Melbourne in 1859 and then travelled overland to Sydney and in January 1861 sailed to Brisbane. He found employment in his trade as joiner and cabinet-maker and took up a property, Argovia, at 84 Wharf St. He married Carolina and they had three children. Around 1918 he and Carolina retired and moved to Newstead Tce, Newstead where their house was also called Argovia. Carl died in 1925.
The collection is a unique and intimate documentary record of the daily life of Carl Hirche and his family in 19th century Brisbane and covers their personal, family, domestic, business and social activities. It includes personal and domestic records of the family, the children's school exercise books, personal correspondence in English and German, documents related to properties owned by Carl as well as his dealings in Gympie gold shres, documents related to his work as a joiner and cabinet-maker and documents relating to the Brisbane German Club, the Brisbane German Glee Club, and the German Society for the Sick .
Join us on Saturday 2 June for the John Oxley Library Discovery Day, as we explore the diversity of migration to Queensland with personal stories from our migrant communities and the discovery of photos, documents and oral histories in the John Oxley Library collection.
Patricia Parr - Retrospective Collecting Coordinator, State Library of Queensland
Comments
Your email address will not be published.
We welcome relevant, respectful comments.