Nashville Estate, Sandgate, 1882 (Map of the Week)
By JOL Admin | 13 December 2016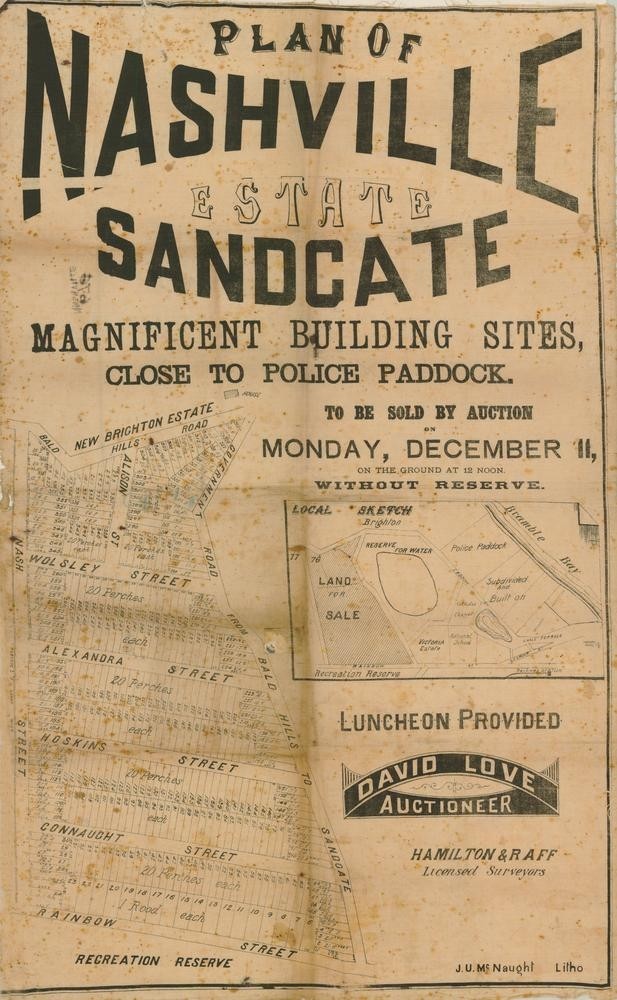 Plan of Nashville Estate, Sandgate (1882). John Oxley Library, State Library of Queensland
State Library of Queensland has an extensive collection of historical maps of Queensland, some of which have been digitised and can be viewed online.
Plan of Nashville Estate, Sandgate (1882). John Oxley Library, State Library of Queensland
This real estate map from 1882 advertises over 350 allotments of land for sale at the Nashville Estate in the Brisbane suburb of Sandgate. The allotments were situated along Nash Street, Wolsley Street, Alexandra Street, Hoskins Street, Connaught Street, Rainbow Street (now Kempster Street), Alison Street (now Albion Street), Bald Hills Road (now Deagon Street) and an unnamed government road (now Southerden Street).
Prior to the sale extensive publicity was published in Brisbane newspapers.
"David Love has received instructions to positively sell 352 magnificent building sites, the pick of Sangate on Separation Day, all of which must be sold without reserve, to satisfy the demands of a generous public who place every faith in the auctioneer when he states the sale is positively unreserved." (Brisbane Courier, December 4, 1882).
Advertisement from Brisbane Telegraph, December 2, 1882
A public auction was held at the site on the afternoon of December 11, 1882. The Week newspaper reported the results of the sale.
"The "Nashville" Estate - Most of our readers are aware that this is the name of a property at Sandgate which has been subdivided into building allotments and placed in the hands of Mr Love, auctioneer, Queen Street for sale by auction. So confident was Mr Love of being able to dispose of the lots that he advertised his determination to present £10 to the Brisbane charities if he did not sell the whole of the allotments. The charities will not get the money, as Mr Love sold every lot - 352 in number. The sale realised £2,215." (The Week, December 16, 1882)
A higher resolution image of this map can be viewed through our One Search catalogue.
Prints of this map are also available through the Library Shop.
You can browse a compendium of our previous maps of the week on our blog.
Myles Sinnamon – Project Coordinator, State Library of Queensland
Comments
Your email address will not be published.
We welcome relevant, respectful comments.