Messy Play in Libraries - 5 TOP TIPS FROM FIRST 5 FOREVER
By Administrator | 25 September 2018
Did you tune into the Play in Libraries First 5 Forever Webinar? Library staff from Moreton Regional Council shared ideas for embedding play opportunities into library programs including STEAM, outreach and playtime in libraries. All webinars are recorded, click here to view the one hour Webinar.
Sheree Arnett and the team from Cairns Libraries also have some great tips for embracing messy play and all its great benefits for early literacy. Here are their top tips for including messy play in your library programs.



Promote conversations – Messy play is a Cairns Libraries initiative that seeks to create storytime environments that are less intimidating to parents and carers. The sessions incorporate singing, storytelling, oral language and play to promote conversation and participation in group activities for everyone attending.


Explain the benefits – Sheree suggests beginning each session with a short welcome and brief discussion on the benefits of messy play: not only is it great fun, but it is fantastic for growing brains as well. Messy play allows children and families to lead the experience and to explore using all their senses. Have information on hand for parents, including information that lets them know all the great benefits of open-ended, exploration-based play opportunities.


Invite interaction – remind adults attending that these play experiences are for them to participate in with their child. When discussing and explaining the experiences available on the day provide adults with suggestions on how they can be involved, conversations they could initiate with their child and opportunities to engage with others attending the event.


Take a step back – one of the best things about messy play experiences is that library staff can circulate around the space rather than having to "facilitate" from a single position. Have fun and join in with the messy play! Model discussion and encourage families to discover all the opportunities you have set up. Suggest books from the collection that relate to the activities.


Link to home – encourage families to continue their messy play explorations at home. "What toy animals do you have at home you could hide in leaves, sand and water?" "Collect boxes that you can create your own animals/machines out of. Remember to talk about what you are doing together." Connect families to other books in your collection they could use as a starting point for their own messy play times. For example, Puddles Are For Jumping by Kylie Dunstan, Leaf Man by Lois Ehlert, or Mr Archimedes Bath by Pamela Allen.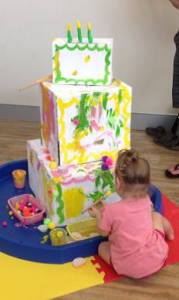 If you like the sound of incorporating some messy play into your library day, Sheree and her team have provided examples of their session plans for your use and a copy of the concept brief they developed outlining the aims, objectives and resourcing to provide these programs in their libraries.
For more ideas, you also might like to watch the reinventing craft for libraries First 5 Forever webinar.
Comments
Your email address will not be published.
We welcome relevant, respectful comments.